If you're using an Android phone, you would use the voice search feature that is also called the "OK Google". But, other than Android phone if you're using a Windows computer or laptop, then how can you use voice search feature to search things on Google with your voice commands. Let me tell you via this article which is all about enabling the voice search option in Google Chrome browser.
By enabling the voice search in Chrome browser, you will be able to search on Google by voice commands, in fact you won't need to type your query, rather just speak it to Google.
Here's How to Enable Voice Search in Google Chrome
It's very easy to enable voice search feature in your Google Chrome browser. You don't need any kind extension or software as the voice search feature in already present in Google Chrome browser.
So, to enable voice search in Chrome, just open Google Chrome in your computer, click on the dropdown menu button at the top right corner or the browser window and choose Settings.
Or you can directly open settings page of Google Chrome browser by typing chrome://settings/ in the address bar of your Chrome browser and then hit the Enter.
Now, in the Settings page of Google Chrome, scroll down the page to Search option. Now, set Google as your default search engine. And just below this search option you will see a check box "Enable OK Google to start voice search". So, check out this box and it's all.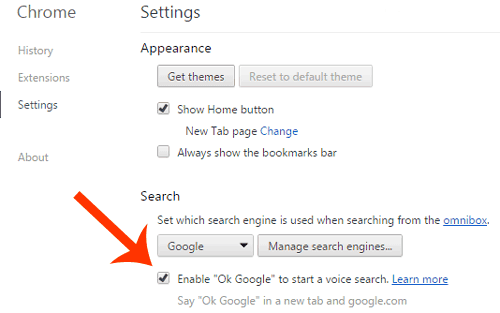 After making these changes in your Chrome browser, you will now be able to see a microphone icon at the right side of the search box, as shown in following picture.

MUST READ: Funny & Useful Tips For Google Chrome Users
That's all about enabling voice search feature in Google Chrome browser to search on Google by giving voice commands.