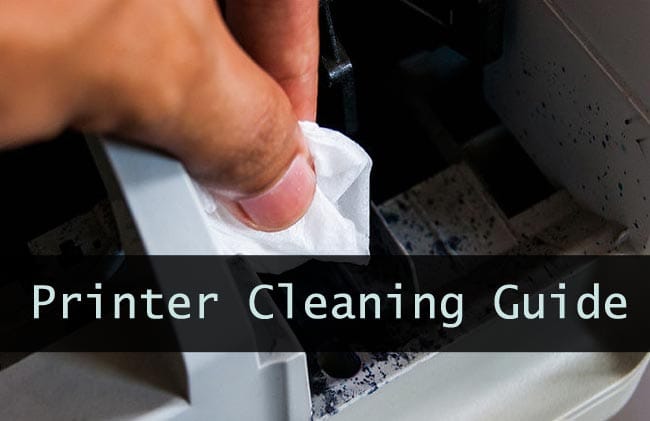 If your printer isn't giving the satisfied results, you're now required to clean it up. Maintenance of any machine at the right time is very important as it prevents you from wasteful expenditure.
So, you should time to time clean your printer to keep it new all the time. But before start cleaning your printer, you should read out the manufacturer's documents or booklets. You can also read the maintenance related instructions on the manufacturer's website.
The official instructions from the manufacturer are very important as they instructs what to do and what not. So, you must read and follow the instructions by your printer's manufacturer, and clean only those parts of the printer which are suggested by manufacturer.
Understanding the Laser & Inkjet Printer Before Start Cleaning
Laser and Inkjet are two different type of printers available in the market. Laser and inkjet printers have toner and ink cartridges respectively.
However, the inkjet printers are least expensive as compared to laser printers. The black and white laser printers can be bit cost-effective but the color laser printers have higher price tag, often several times higher.
Inkjet printers come with ink cartridges which are actually less expensive but have a higher cost per page when it comes to printing, due to their rather inefficient usage of ink, whereas laser printers are much more efficient with their toner.
When it comes to cleaning, inkjet printers sometimes don't stand the test of time. Cleaning an inkjet printer is not that easy task as inkjet cartridges can sometimes leak, and the ink can stain almost anything it comes in contact with, including clothes and hands. So, you should be more careful while cleaning inkjet printers.
However toner does not stain like ink and that's why cleaning a laser printer is not the messy as compared to an Inkjet printer.
How to Clean the Laser Printer: Step-by-Step Guide
However, cleaning the laser printer isn't that messy as compared to inkjet printers as already told you above but still you should have sufficient knowledge before start cleaning. For that, you should read out the manufacturer's instructions, and then do the following things carefully.
Turn off Printer. Turn off the printer first, remove the plug from power outlet and wait until its temperature gets bit low.
Remove Papers from the Tray. Now remove the papers from the tray to keep them safe while cleaning the printer.
Carefully Remove Toner Cartridge. Remove the toner cartridge and keep it at a clean paper. Toner cartridges have parts that are sensitive to light and should be kept in the dark. You can also cover the cartridge with a paper or cloth to keep it safe from light exposure.
Clean the Cavity Inside Toner. You can use a soft and flat cloth or printer brush to clean the dirt inside the toner. Also clean the toner from paper's waste.
Printer Glass Cleaning. Clean the printer glass very carefully using the printer brush. If you don't have the brush, don't touch the glass!
Clean Printer Rollers. Paper misfeeds and paper jams are often caused by dirty or dusty rollers. It's very important to keep them clean for optimum performance. So, reveal the rollers and clean them with a wet cloth, carefully. It will be good if you take some help of someone expert nearby if possible.
That's all. Now simply re-install the toner cartridge and put papers again in the paper tray to get your printer ready again.
These are the very simple and easy to apply steps to clean your Laserjet printer but still you should do everything under the guidance of your manufacturer (as instructed in the booklet).
How to Clean Inkjet Printers in Very Simple Steps
There's a self cleaning system in the control panel of most inkjet printers by which an inkjet printer can clean itself without human help. But, if it doesn't work for you or don't know how to use this method, you may try the following methods to clean your inkjet printer manually.
Turn off the Printer. To clean the inkjet printer from inside, it's mandatory to remove the plug from power outlet and wait until its temperature gets bit low.
Remove Ink Cartridges & Printing Papers. Removing the ink cartridges and printing papers is very important step because in the cleaning process ink can stain almost anything it comes in contact with including your cloths, hands, papers etc.
Clean Print Heads. If your printer has print heads, you should clean them now. It can be done by spraying the alcohol on a paper towel and rub it gently along the print heads on the back or underside of the ink cartridges.
Clean the Ribbon Very Carefully. You should be very careful when cleaning the ribbon with a minimal pressure because it becomes very difficult to reconnect the ribbon once it's disconnected from printer.
Cleaning of Ink Cartridge Tray. You can use a little bit of alcohol on a cotton swab to clean up the ink from ink cartridge tray (the ink reservoir).
Finally Clean the Paper Pickup Rollers. Finally, it's time to clean up the paper pickup rollers in the back of the printer. The best way to clean these printers by using a cotton swab with alcohol or window cleaner. Other than this, computer vacuum can also be used to remove dust from rollers but some manufacturers don't recommend to use vacuum for cleaning rollers can it can generate moisture in the printer.
So, this is all about cleaning your inkjet printer manually by applying some simple steps. It's till recommended to follow the instructions by your manufacturer before proceed.
[su_note note_color="#f0f5f7″ text_color="#222222″ radius="2″]MUST Read: 11 Computer Myths Everybody Must Know[/su_note]
That's all guys! I hope this post will help you clean your printers safely without any hassle. All you need to follow the above mentioned steps carefully, complying with the instructions by your printer's manufacturer.