If you're a regular reader of All Useful Info, you would be noticed that I've wrote a detailed guide on "How to put your WordPress blog on Maintenance mode" and if you've read that post, you won't need to read it because in that post I've used a WordPress plugin called WP Maintenance Mode for putting the blog or website on maintenance mode very easily.
However, here I'm going to provide a few other WordPress maintenance mode plugins so that you can find a best one for you. These WordPress plugins make your job very easy and without letting you write any single code, put your blog or website on maintenance mode.
Different plugins may have different features such as some allow you to add your own logo on the maintenance page and some not. So, look at the following plugins to find a better plugin to put your site on maintenance mode.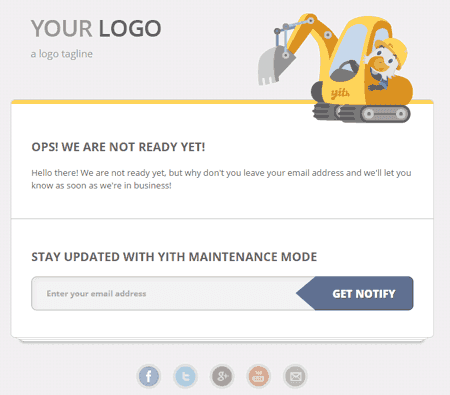 YITM Maintenance Mode is the great plugin for putting your WordPress blog or website on maintenance mode when you're working on it and would like to make it known to your visitors. With this plugin you can set a lovely customizable page by adding your website's logo to let your visitors know the site is closed for maintenance.
Features:
You can add your website's logo on the maintenance page
Link social media profiles
Let your visitors enter their emails to get notify when maintenance completes
This plugin is 100% compatible with WPML
Different skins are available to set on maintenance page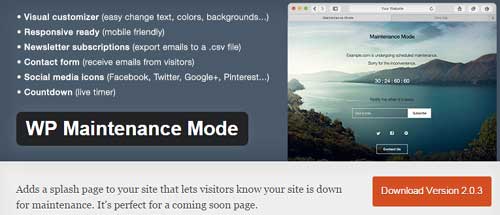 WP Maintenance Mode is another popular plugin to put your blog on maintenance mode anytime whenever you required. As I told you above that a few days ago I've created a guide for how can you put your website on maintenance mode, so honestly I used this plugin for the whole process. Here's some features of this plugin that you may like.
Features:
Create fully customization maintenance page
Subscription form can be added on the maintenance page
Countdown timer can be set to tell visitors the remaining time for site to be ready
Different templates for landing page
Responsive design and works with any WordPress theme
SEO Options (Very important feature)
Ultimate Maintenance Mode WordPress plugin also lets you work on your website behinds the scenes by display a Maintenance Mode page to your visitors. One of its features is really laudable, i.e it automatically creates a screenshot of your website and uses it as the background for your maintenance mode page. Some of its more features are following that will also blow your mind.
Features:
Works with any WordPress theme
You won't see the maintenance page while all non-logged in visitors will
Easily add a Custom Headline, Message & Background Image
Returns a 503 http status and retry header so search engines know your site is down.
So, how did you find these WordPress plugins to put your website or blog on maintenance mode? I hope fantastic as of me. 🙂
Must Read: How to Put Your WordPress Site on Maintenance Mode
However, there are lots of WordPress plugins available for putting your website or blog on maintenance mode but I'm sure that after using any of the above mentioned plugin, you won't further need to search any other plugin for putting your site on maintenance mode.
Nonetheless, if you find any plugin (other than mentioned above) and working fantastically for you, share with other visitors via comments.