Many times it may be needed to put your WordPress blog on maintenance mode while you are experimenting new themes or doing any other maintenance work on your blog. So, it is good idea to put your blog on maintenance for that time so that your visitors won't confuse with sudden changes and understand that blog is under maintenance for a limited time.
The professional bloggers and businesses always take care about their visitors or customers and don't confuse them because of any maintenance work on the website. So, the at the time of maintenance, you should put your blog or website on maintenance mode so that whenever people will visit your website (any URL of website), it will display the maintenance page.
With this article, I will tell you how can you put your WordPress blog at maintenance mode without any hassle or problem. All you need to do is just install a WordPress plugin.
How to Put Your WordPress Website on Maintenance Mode
However, there are lots of WordPress plugins available for putting your blog or website on maintenance mode, but the plugin I'm going to disclose is WP Maintenance Mode. It is a popular WordPress plugin that downloaded more than 1,523,659 times.
So, first of let me tell you how can you download this plugin and activate maintenance mode on your website.
To download this plugin visit WP Maintenance Mode and download it in PC. Now, under plugins upload and activate it. OR you can directly search it in your plugins section and install and activate.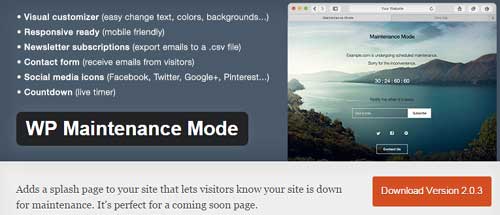 After activating the plugin, just navigate to Settings > WP Maintenance Mode and here you will see the option to Activate or Deactivate maintenance mode. So, as shown in the following image, tick on Activated and the maintenance mode will be enabled for you WordPress blog or website.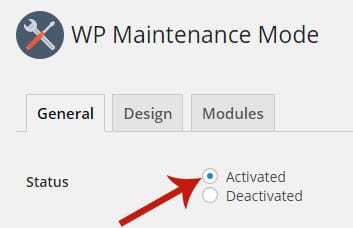 That's all. As soon as you will click on Activated and save the changes, the maintenance mode will will be enabled for your website and a default maintenance page will be shown to the visitors. However, you can also design your own maintenance page by using this plugin and setup a countdown to tell visitors how much time it will take to re-start the website.
Designing Maintenance Page & Showing Countdown
You can very easily design your own maintenance page with this WordPress plugin. Designing your maintenance page means you can put your own text to show on maintenance page, add a background image (if you want) etc.
So, if you wanna design your maintenance page, just click on Design tab and here you will find the text editor to add text for maintenance page. You can also browse a background image from your PC or select from pre-defined backgrounds. If you don't wanna use background, you can simply use a background color!
Similarly, if you wanna show a countdown on the maintenance page, just click on Module tab and add the remaining time (days-hours-minutes).
So, guys by using this plugin you can very easily put your WordPress website on maintenance mode to aware your visitors or customers that your site is undergoing maintenance for a limited time.
More Readings: