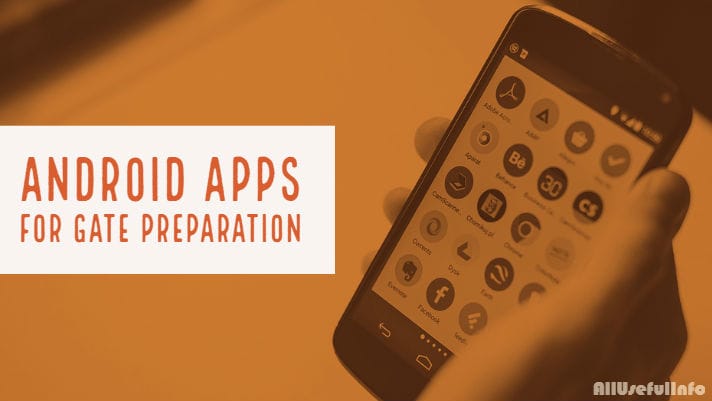 Every engineering student wants to qualify for the GATE (Graduate Aptitude Test in Engineering) exam and that's why takes much coaching to prepare for that. Together with your coaching, I prepared a list of the 8 best Android apps that will help you to prepare for the Gate exam.
These apps have something or other information related to Gate. I hope you'll find them useful. In case, you're out of home, these Android apps will help you to prepare for Gate on the go without wasting your time.
The Best Android Apps For Gate Exam Preparation
This Gate Preparation app carries MCQ Questions, GATE Solved Question Papers and solutions, Online Mock Tests, Exhaustive Question Bank, GATE Online Mock Test Series, etc.
You can find topic-wise Online Tests, GATE Previous Year Question Papers with solutions, and revision notes for all the important Engineering streams such as Mechanical Engineering (ME), Computer Science Engineering (CSE), Electrical Engineering (EE), Civil Engineering (CE), and Electrical & Electronics Engineering (ECE).
Preparing for IAS? Must Bookmark THESE WEBSITES!
Kreatryx is one of the best GATE preparation apps for GATE (EE, ECE, ME & CE) Aspirants. It is an easy-to-use app wherein you can get access to Video courses, test series, postal plans, Free Quizzes, and Open Tests for GATE.
Why you should download this app? Well apart from some basic features, it has advanced features as well for example making notes while watching video lectures, bookmarking important questions or videos, detailed analysis of your performance, etc.
The GATE Solved Papers and Solutions Android app contains hundreds of previous years' questions with comprehensive explanations and tips and tricks to solve difficult problems and improve lateral thinking.
It consists of more than 10000 exam questions for the last 10 years with solutions, over 5000 Practice Tests & MCQs, and 10 years solved question papers.
It is not only for your Gate exam preparation but you can also prepare for SSC, Bank Exam, IBPS Clerk SO, KVS CTET PRT UPTET, JE, JEE Main NEET, RPF SI Constable, SBI RBI, UPSC CDS & CAT using this app.
Start your GATE 2019 preparation for GATE Mechanical Engineering 2019, Civil, Computer Science, Electrical, Electronics with GATE Question Bank for Civil, ECE, EEE, ME, CSE, and previous year solved question papers.
Nimbus Learning is an Android app that provides customized GATE preparation classes and video material exclusively for students to crack the GATE exam.
Nimbus Learning app provides you a simple and user-friendly interface and makes it easy to prepare for different technical exams and courses such as Computer Science / Information Technology, Electrical, Mechanical, Electronics & Telecommunication, Chemical, Civil Engineering, and Analytical abilities.
Preparing for TOEFL? Install THESE ANDROID APPS!
If you are a student of Mechanical Engineering, then this Android app will be best for you because it contains a syllabus and many mock tests and topic-wise test samples for your Gate preparation for Mechanical Engineering students.
The app has a very simple and user-friendly interface in which you can even work offline. The app will also tell you how much time you take to solve a question. You can install this Gate (ME) app from Google Play.
7. Gate Civil Question Bank
This app is made especially for civil students to crack the Gate exam. Here you'll find many question papers of previous years (2003 to 2013 ++) and keys to answer these questions with detailed explanations.
The app gives you two options to choose one to continue – Study and Exam mode. You can install the "Gate Civil Question Bank" app from Google Play.
If you're a computer science engineering student preparing for the upcoming GATE exam, this Android can be useful for you. It contains easy-to-use tips and techniques to bring amazing results in your GATE exam for Computer Science.
Further Reading:
Conclusion
It may happen to anybody who needs to go out of home or city for any reason and it can disturb your study of GATE exam. But Android phones will be with you each time, so these Android apps will be able to prepare for the GATE exam on the way.
Another thing is that many of these apps also provide very useful information about the GATE exams such as syllabus, previous exam papers, tricks to crack exams, and many more. So, in my opinion, you should install some of these Android apps on your device for better preparation for your GATE exam.