TOEFL (Test of English as a Foreign Language) is mainly organized for those students whose mother tongue is not English. This test is conducted to check the knowledge of English. Not only that but some countries permit the Visa only on the basis of the TOEFL score. So, as the title of the article indicates, I've come up with 5 best and free Android Apps for TOEFL Preparation. These apps will help you to gain a high score in this exam.
Moreover, if you want to study abroad, you must try these apps because almost 130 countries worldwide conduct this test for entrance.
Best & Free Android Apps For TOEFL Preparation
The most challenging in the TOEFL test is that you have to be familiar with a wide knowledge of sciences such as biology, archeology, history, art, environment, social and human science. Therefore, it is so difficult to have enough vocabulary for the specific science, especially, you may even confuse with the meaning of the word in the specialized field.
So, these apps will cover all such fields and will make you able to fight the TOEFL Exam. Have a look at these Top 5 Free Android Apps For TOEFL Preparation.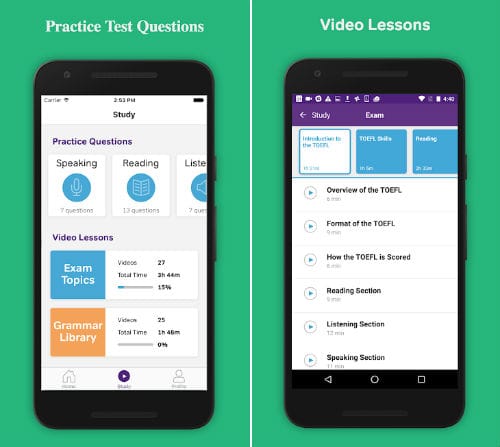 Magoosh has some of the best and very educational Android apps on the Play Store. Its TOEFL Prep & Practice app is one of the best Android apps for TOEFL preparation.
Tens of thousands of TOEFL students have studied with Magoosh's world-class video lessons and practice questions on the go.
The app contains lots of useful study materials for TOEFL students such as video lessons, text articles, reading and listening to exam questions, and more.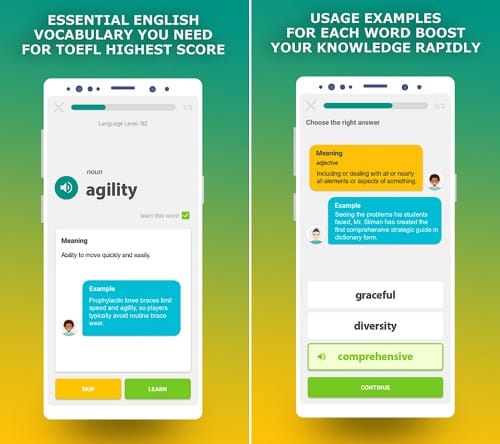 This is another Android app for TOEFL preparation. This Android app is mainly focused on the essential English vocabulary you need for the highest score in the TOEFL exam.
It allows you to learn up to 3000 new English words every month which are most commonly used in the TOEFL exam. Each English word is pronounced by native English speakers so that you can learn how to easily pronounce them.
This is another Android app for TOEFL preparation from Magoosh. It lets you master the 600 most important TOEFL vocabulary words with the highly-rated free flashcards for your Android phone or tablet.
All vocabulary words, definitions, and example sentences on the flashcards are written and selected by the top TOEFL experts from Magoosh.
TOEFL Test Pro lets you study for TOEFL free with questions, practice tests, flashcards, and score reports with detailed analytics.
This Android app comes with many exciting features that help a lot in TOEFL preparation such as 3000+ questions by experts, track strengths and weaknesses with in-app analytics, daily calendar review, supports offline mode, etc.
TOEFL Infinite is another great Android app for TOEFL preparation that helps you learn English speaking, essay writing, and other important things to score 110+ in the TOEFL exam.
It has some most useful features interesting ways to prepare for TOEFL such as answering questions by recording voice, listen to lectures and then answer multiple-choice questions and many other ways of preparation.
That's all. These apps will help you to fight the TOEFL Exam. In my opinion, all the Android users must have these apps in their phone whether you are preparing for TOEFL or not.