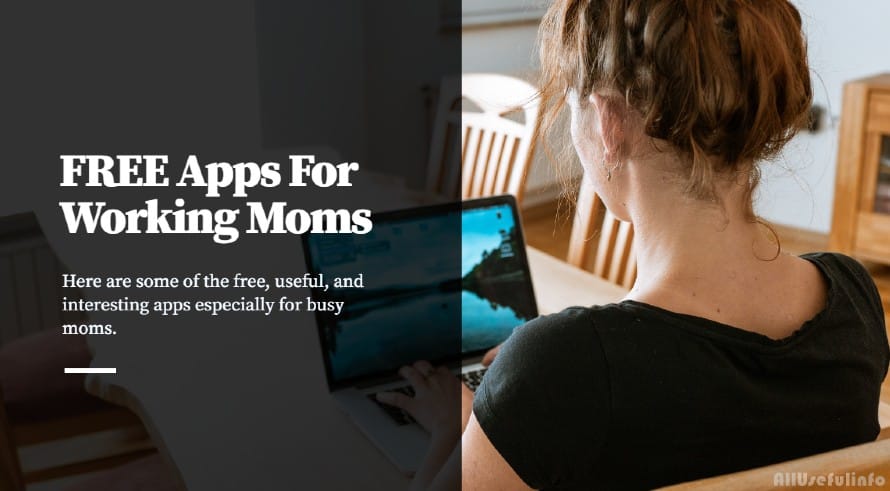 As it is very difficult for all working moms to manage the housework together with office tasks, here are some of the free useful and interesting iPhone apps especially for busy moms. These free iPhone apps are really useful for all working women. All these apps are made for different purposes.
On seeing the demand of busy working moms, I searched and found them very interesting and useful apps for moms. These apps are useful for different tasks such as creating your Grocery list, finding numerous food recipes, and more. If you are looking for a free iPhone app that can help your mom, you should check out this list of the best free iPhone apps for working moms.
The Free Best iPhone Apps For Working Moms
As we are talking about the best iPhone apps for working moms, we have to consider the apps that can help moms to manage work life with all the household tasks.
In that order, the below-mentioned two apps are about managing the lifestyle and one is for taking care of their health. Now, you can have a look at the list of these 3 best iPhone apps for working moms.
For moms who are busy with household chores, it is often difficult to keep each item in mind to take from the market. And we all experience it. Like we see that every time our mothers skip the items from the grocery or any other indeed things list. No worries, there is an app, AnyList, that can solve this issue and help working moms a lot.
AnyList is one of the best iPhone apps for working moms. You can help your mother by installing it on your mother's smartphone. With the help of the AnyList app, your mother can create a shareable list of daily kitchen groceries and other household items. Along with creating a grocery and shopping list, your mother can save various recipes here.
How AnyList App Helps Working Moms?
While creating the grocery list, the app will suggest common items, which your mom adds to the list often.
Its sync feature will allow her to make changes in the list even after sharing it. The changes will be visible in the list automatically.
Generally, mothers don't like to type more. AnyList app will let them add items to the list by voice command.
For different types of meals and ingredients, your mother can make separate categories like Bakery, Healthy, etc.
Moreover, photos and quantities can be added with the name of the item.
The app is operational on iOS for free. But to use it in macOS, you have to pay for it. Along with all the free features, it has some premium features like Meal Planning Calendar, Add Item Photos, Price, Apple Watch Connectivity, etc.
The most important thing above all is health. Working moms with household tasks seem careless about their health. In actuality, taking care of the health of all of us, they forget to take care of their health. It is our responsibility to take care of it.
But, for most people, it is not possible to ask about their mother's health every time. They can do it with the help of the WebMD app. It is one of the best iPhone apps for working moms that incorporates personalized, engaging multimedia lifestyle content.
This app is really helpful for working moms. It helps parents to check out the symptoms of any disease and helps to find suitable medicine for that instantly. Moreover, it works as a medication reminder.
How WebMD App Takes Care of Your Mom's Health?
Its tons of content related to various health issues will make working moms aware of health.
It avails the experts' suggestions to take care of the health in different conditions.
The app also provides facilities to find nearby doctors.
Its most useful Symptoms Checker feature will help your mother to detect the disease according to symptoms.
The WebMD app is completely free to use. There are no charges for any of its services. And you can use it on your iPhone or iPad.
A mother has to plan and manage everything at home. From planning a short family event to managing the meal for every family member. And it is a very difficult task as every member has a different schedule. To manage all these things, she needs an organizer.
The Cozi Family Organizer app will help a working mom to organize all the things with its four useful features; Family Calendar, Event Tracker, Shopping & To Do List, and Recipe Box.
Its Family Calendar feature is really useful and interesting. All the family members list their schedules inside the Family Calendar option. And, this schedule can be updated anytime.
How Cozi Family Organizer Helps Working Moms?
The Family Calendar feature will tell your mother the exact schedule of every family so that she can adjust the meal timings and manage any family event accordingly.
She can ping and set a reminder for all the family members.
It allows sending daily or weekly emails to all family members.
Its Event Tracker feature can help her to have enough time to plan for any upcoming event.
Although the app is free to use, it has some premium features like a Birthday Tracker, Event Tracker, and more. All the premium features are available in In-app purchasing. You can use the app on iPhone, iPad, and macOS.
All these three iPhone apps are really useful for working moms. If you want to help your mother with her daily tasks, you can install these free apps on her iPhone and lighten half her workload. Trust me, installing these iPhone apps on your mother's smartphone will be a great present for your mother.