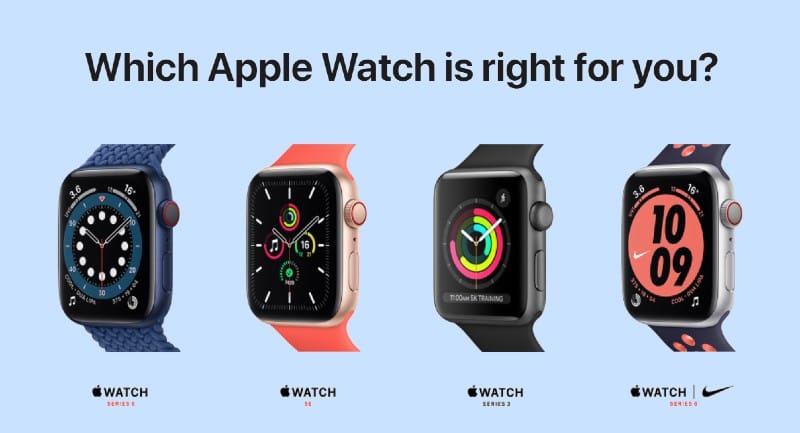 A good watch isn't only recognized by its looks, but also by its functional capacities. From tracking workouts to measuring heart rates, they also add up more style and aesthetics to your personality. While you're wearing an Apple Watch, you don't have to worry about the phone, instead, you can leave it in your pocket.
Sure! Your wrist doesn't recognize the difference, but Apple has the best and most appreciable watch design in the smartwatch industry, so be it Watch Series 3, Series 5, Series 6 or even SE, any of them will look great on your wrist.
But if you are a tech person and always ensure the most advanced products for use, then you have to know the difference between all of them.
In case, you are a little mixed up between the Apple Watch series, you have come to the right place. In this article, I am going to compare Apple Watch Series 3 vs Series 5 vs Series 6 vs SE through the different features of these watches that will help you to decide the suitable one.
So, let's get started.
Design
When it comes to the Apple Watch models, they are all featured a solid rectangular body with a digital crown. Its right side contains separate buttons, and the left side contains a speaker and microphone.
Every model is waterproof up to 50-metres allowing consumers to carry them underwater.
Despite that in structure, they have slight differences such as the Series 3 is thicker than series 6 and SE.
Series 6 and 5 both have the Digital Crown that is featured with an in-built electrical heart rate sensor on the watch's underside.
The main difference in design is that watch series 6 has a blood oxygen measuring feature, which is not present in other watch series.
Hardware & Connectivity
Let's start with the Apple Watch Series 3. It has a dual-core processor named the S3 under its cover, joined with a wireless chip called W2.
Watch SE has a dual-core processor named S5 which is two times faster than the S3. The wireless chip joined in S5 is the same next-generational chip which is also present in series 6.
Apple Watch Series 6 is featured with an upgraded processor said to be 20 % faster than the S5.
Both Series 6 and SE have GPS and cellular models or GPS only with 32GB of memory. The GPS and cellular model also has LTE connectivity, enabling the users to make phone calls and text messages and all other functions even without having your iPhone in close proximity.
All models are featured with in-built GPS, optical heart rate sensor, microphone, speaker, emergency SOS, ambient light sensor, and are water-resistant up to 50metres.
Operating System
Although all watch models run on watchOS7, watch series 5, 6 and SE have some additional features, such as fall detection and the ECG function, the Always-On Display, a built-in compass and blood Oxygen monitoring (only in series 6)
Watch series 5 only has an always-on-display and compass functions whereas watch SE has fall detection and compass only.
Variants
The Apple Watch Series 3 comes with either an aluminium case, silver or space grey. Size options are only 38mm and 42mm, but only with the GPS variant, there is no size option available with GPS and cellular.
However, the watch SE only comes in aluminium along with three other colour variants such as gold, silver, and space grey in both GPS only and GPS and cellular models.
On the other hand, available size variants are 40mm and 44mm both in GPS only and GPS and cellular models.
Watch Series 6 has more finished availability as compared to watch series 3 and SE.
Series 6 comes in Nike models with the availability of all Nike straps and Hermes models. The Hermès models are all GPS and Cellular as standard. Nevertheless, all the standard Series 6 models and the Nike models are available in both case sizes, but some of the Hermès models are only available either in 40mm or 44mm.
Display Features
Here all watches series are being compared on the basis of OLED retina displays with force touch. This is a practical application where the display performs flex ever so lightly, enabling the device to sense pressure for Force Touch input.
Both Watch Series 6 and SE contain 30% larger displays and rounded edges compared with Series 3.
The more open display ratio makes the Series 6 and Watch SE seem pretty distinct from the Series 3.
Additionally, the Apple watch series 6 also has a built-in retina display, which is absent in series 3 and SE.
Note: Always-on-retina means there is no need to wake up your screen by raising the wrist instead a tap of the display or on the wrist will brighten the display both in series 5 and 6.
Price
Let's start with the cheapest one; Apple watch series 3 with built-in GPS, optical heart rate sensor and water resistance is the most affordable one to get your hands on. Its starting price is ₹20,900, although the watch lacks a GPS and cellular model, Or series 3 with GPS and cellular costs ₹29000 which is a good deal under this budget.
Watch SE costs ₹29,000 which is comparably cheaper than then watch series 6.
Apple watches series 5 starts from ₹40,900 and Apple Watch Series 5 (GPS + Cellular) starts at ₹49,900.
The Apple Watch Series 6 with GPS and Cellular starts at ₹40,900 including silver, gold, and space grey aluminium case sport band. But prices are high if you want to buy it in a stainless-steel case with a sports band; it starts from ₹69,900. Whereas stainless steel case with the Milanese loop in silver, gold and graphite colour starts from ₹73,900.
Final Words
If you are tired of changing watches every season, and this time you've decided to get your hands on an apple watch, then this article will help you decide.
It all depends upon you, whether you are going with more advanced features or the features of series 3 are satisfying to you.
Opting for the series 3 will definitely save you money because it is the cheaper option with good features. But if you are opting for either series 6 or SE, you have to pay more, but you still get the bigger display design and other additional features.
At last apple series 6, which is the most advanced one but it will also hit your wallet. Along with additional features, it is also available with maximum finishes so customization is very easy with this series.
Compared with the series 3, the series 6 has so plenty of other upgraded features that can make your life easier. But when compared with the series 5 or SE then series 6 has only ECG, blood oxygen and an always-on-display feature and also a faster processor and the U1 chip with the remaining same features.
If you are first buying the apple watch, you can go for watch series 5 or Se, but if you have tried all of the previous series and looking for an upgrade, then series 6 is a good option for you.