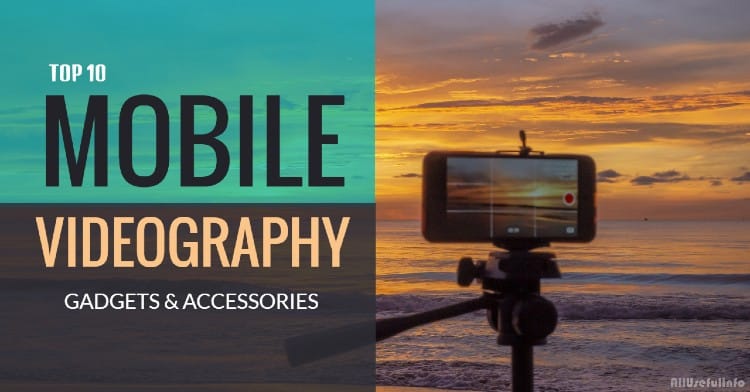 Have you ever been in a situation where you wish you could shoot some video but don't have a camera? Nowadays, almost everyone has a mobile phone. However, relatively few people know about all the useful gadgets and accessories available for better mobile videography and photography.
Converting your smartphone into a movie maker is very easy nowadays. Smartphones have become so advanced that they give you enough power to create a decent video that people would want to watch. You do not now need high-end equipment and a DSLR camera to create a great video. All you need is some accessories for your smartphone, and you are ready to start shooting.
So, you start narrowing down ideas for your videos, and I will help you to find out the 10 useful gadgets & accessories for better mobile videography.
1. Ring Lights
Some call it an "alchemy light", others call it a "magical work of art". Its technical name is the ring light. But no matter what they call it, you can be sure that once you see this lighting equipment in action, you will instantly fall in love with its unique properties.
With the ring light, creating soft and beautiful photographs is as simple as flipping a switch. You heard it right! A ring light is lighting equipment that looks literally like a ring.
Good lighting can make or break a photograph. That's why the ring light was created. The ring light is great for selfies, videos, and taking professional-quality photographs.
The ring light provides a flamboyant look as the light concentrates on the subject. The look is considered more of a film look.
Ring light comes in inches; it ranges between 8 to 20 inches.
Here are my 2 favorite brands that you can consider buying:
Digitech professional ring light
Prolite 18 inch Professional Big LED Ring.
2. Tripod
The modern-day tripod serves as much more than a stationary platform for your camera. Now it's a multi-functional tool used as a drag to keep your camera rolling, as a monitor stand, and can even be used to stabilize your shots when you don't have that extra hand.
These tripods now allow you to be adventurous by filming in all sorts of situations that used to be impossible or very difficult.
Here are my two suggestions for a tripod; well these are two affordable, and best options:
DIGITEK (DTR 260 GT) Gorilla Tripod
Syvo WT 3130 Aluminum Tripod.
3. Sealed Transparent Plastic Bag
If there is one thing that will make your travels more interesting, it's taking photos of the world around you. But how cool would it be if you could make videos underwater?
You can discover the most beautiful places on the planet in a whole new way with this waterproof phone case and take videos and pictures while snorkeling or scuba diving. Of course, if you're looking to take pictures and videos of things above ground, then this isn't for you. But if you want to take photos and videos underwater, this is the only pouch that will do.
Get this waterproof pouch before you go snorkeling or scuba diving.
This Sealed Dry Bag has a double-zip seal that keeps water, dirt, and sand out of your device. This pouch allows you to take your phone underwater to take photos and videos without worrying about damaging it.
These two are best convenient and affordable options:
Blackrapid wander bundle-smartphone safety tether system
BOBO Universal Waterproof Pouch.
Related: 4 Gadgets To Make Your Mobile Waterproof
4. Smartphone Gimbal
If you're a video creator, a smartphone gimbal is an incredible tool to have in your arsenal. That is because it can assist you with your daily vlogs, create awesome hyper-lapse videos, and allow you to film those epic tracking shots easily. This smartphone gimbal has many other features, such as gesture control, active tracking, hyper-lapse, and even more.
It is basically a three-axis mechanical arm that allows you to pan, tilt smoothly, and roll the camera with a handheld gimbal or crane system.
They are not limited in any way and will make your work stand out above what ordinary (shaky) camera work looks like.
To help you out, I am two excellent options to choose from:
DJI Osmo Mobile 3 Combo
DIGITEK® 3-Axis Handheld Gimbal Stabilizer.
5. Mini LED Video Light
The best way to get the perfect shots on your small camera gimbal is by adding light. There are several ways to do this, but I prefer LED lights for their convenience, size, and battery life. Of course, these are not the only best mini led lights, but these are a great option to consider if you plan to use your gimbal more than usual.
Ulanzi ultra-bright LED video light
96 LED video light.
6. Microphone
If you blog, you have to talk about it. So at this point, you need a microphone that will help you record. Well, you don't need a big fancy mic and studio, just a basic recording setup that lets you gather ideas directly and move on with your day.
Have you ever wondered how some of those pro YouTubers get such crisp, clear audio out of their videos? Well, they don't use a stock microphone that came with their phone.
They use different types of mic that help them to record without any noise. The mic amplifies their voice while reducing excess noise that may enter through the mic (i.e. echoes, noises from the environment).
You can choose from these two options:
Boya BYM1 Omnidirectional Lavalier Condenser Microphone
MAONO AU-902 USB Condenser.
7. Filters, Cages, and More
Of course, when you're shooting with your phone instead of a full-size camera, things like audio and video quality are bound to suffer. So to help you get the most out of your external lens setup, we turn to mobile filmmaking experts.
ND filters can be a big help to keep your shots smooth if you're shooting in low light, and they're just small enough to hang from a keychain or slip into your pocket.
Whether you're shooting in low light conditions or need to remove the shine from shimmering water, a neutral density filter will provide you a professional quality shot.
Check out these companion mobile ND filters:
Tiffen clip-on ND filter
Moment ND Filter Set.
8. Grip
Who doesn't want to improve the quality of their phone's video? BeastGrip offers a simple solution to enhance the video you capture dramatically–no unnecessary frills or features to get in your way.
The BeastGrip Pro is destined to become the new standard for mobile phone cinema. Made by filmmakers for filmmakers, this mobile phone ring opens up possibilities to anyone with a smartphone.
These features make it a versatile tool and resource that you can utilize to improve your mobile productions.
Options to choose from:
Beastgrip pro
Shoulderpod G2.
9. Camera Straps
It's simple. It's a strap that attaches to your smartphone or case to make it difficult to lose. It is a clever feature that allows your smartphone to be securely attached to your wrist. So you don't have to worry about your phone, you can take your shots very quickly, even while walking or running.
Options to choose from:
WristID™ Lanyard Wrist Strap
BUENDIA Finger Sling Strap.
10. Additional power
Have you ever been out shooting video on your smartphone and wish you had a better battery to last longer? We all have. Until more significant breakthroughs in battery tech occur, you'll always want to have a portable cell phone charger on hand. This way, you can shoot your videos without any interruption.
Red Power Bank 20000 mAh
Mi Pocket Power Bank Pro 10000 mAh
Read Also: 11 Tips to Charge Your Smartphone 10 Times Faster
Take Away
You don't need to spend much money on an editing software, lighting kits, and other fancy tools to start capturing better videos. After all, your phone has everything you need to make great videos. However, if you do have some extra money to invest in these gadgets & accessories for better mobile videography, you can take your videos from good to great.
So, what accessories are you using to shoot amazing videos? Tell me in the comment section.