Are you fond of photography and also want to improve your photography skills? So, for photography lovers, here I listed 5 photography-oriented websites which will help you to learn photography very closely.
These websites have numerous photos captured by photographers and tips about how they captured them are provided. So, these photographs and related tips may be proven very helpful for your photography career.
Some of these websites also provide Photoshop tutorials and much more photography-related stuff that you'll definitely love to learn and see.
Here are the 5 Photography Oriented Websites
So, look at these great websites to learn photography very closely:
This website contains photographs, tutorials, news, reviews, and photographers' interviews. You'll find many photography-related articles, how-to guides, and much more stuff on this website. So, if you're a good reader, then this website will be proven very helpful for you.
This is also an awesome photography website that contains tutorials, tips, Photoshop tips, and many more articles that can be proven very useful for a photographer as well as a beginner. Here, you can read out the articles on many professional photographers. It also contains photography tips for beginners, portrait and landscape photography tips, etc.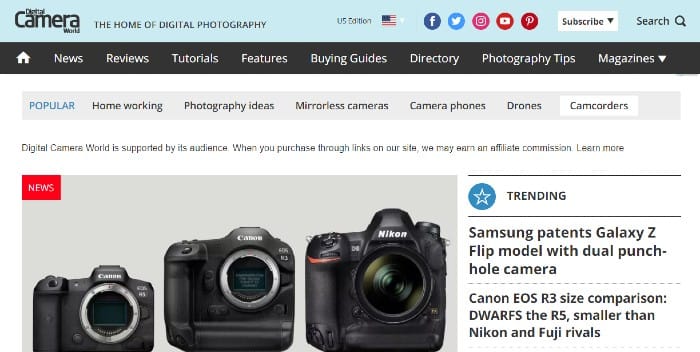 On CameraDigitalWorld.com, you'll find a lot of photography tips, tutorials, reviews, camera features, and buying guides. This is a perfect website for you if you want to learn photography very closely.
PhotographyTalk is also another website to learn photography tips. If you're a beginner and avid learner of photography, then this website is best for you! This website not only provides you with interesting photography articles and tips but also offers you some useful photography courses to learn photography very closely.
5. Photo.net
This is one of the best sites for photographers by photographers. So, this website is all about photography. According to the tagline of this website, photographers from around the globe inspire and guide each other on this platform.
Here, you'll learn Wedding Photography, Travel Photography, Stock Photography, Studio Lighting, Digital Darkroom, and the list continues. Photo.net covers the basics of photography, interesting columns about photography, and everything in between you might want to learn about.
Further Reading:
That's all! these are the websites for learning all about photography and I sure that if you love photography, then you'll definitely like these websites! According to my, every photographer or beginner must follow these websites to learn photography very closely.