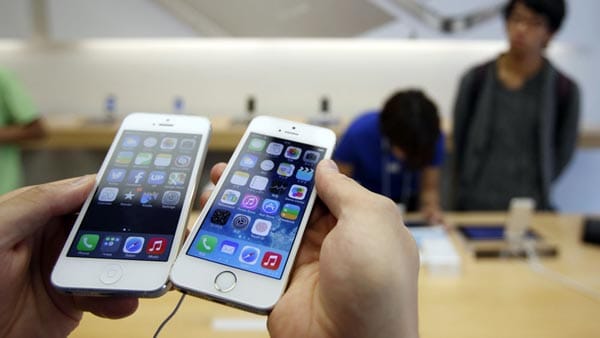 A few days back I was gone through a news that fake iPhone 6S and iPhone 6S Plus are being sold in China. This is not the only case as there are lots of cases emerging about fake iPhones being sold in market and real iPhone aspirants are being gulled in extreme daylight.
On seeing these issues in the market, people should understand the difference between a fake and original iPhone as iPhones are costly and nobody want to be gulled by traitors.
And that's the reason I published this article. In this post, I'm going to tell you 11 very important clues to easily detect if an iPhone is fake or real.
So, I will recommend everybody to essentially read out this resource and have a well understanding of a fake and real iPhone before going to buy a new iPhone.
Here's How to Check if an iPhone is Fake or Real
Now, check out the 11 important clues that will distinguish between a fake iPhone and an original iPhone:
#1. Check out the Serial Number
Every iPhone has a serial number that identifies it. So, by looking up the serial number you can identify that whether your iPhone is available in Apple's database or not.
For this, locate the serial number by tapping "Settings," choosing "General" and selecting "About" and finally Scroll down to "Serial Number".
Now, enter your iPhone serial number to detect if it is real or not. If you receive the message "we're sorry, but this serial number is not valid. Please check your information and try again", it is likely that the iPhone is fake.
#2. Check for the Apple Logo
Everybody knows that brands always include their logo on the products. So, on the back of the iPhone you must see an iPhone (Apple) logo. If you can't find the logo, then it is not a real iPhone.
#3. Check for Siri
Siri on Apple iPhone, iPad, and iPod touch lets you use your voice to send messages, make calls, set reminders, and more.
Siri has a great specialty that it can only be launched to an original iPhone. And the fake one definitely can't run it. So, by this fact having in mind you can check if the iPhone is fake or real.
#4. Look up the Memory Card Slot
The original iPhones always have the fixed memory storage such as 16 GB, 32 GB and 64 GB. The real iPhone doesn't have any SD Card slot to expand the memory capacity.
So, take a look at the iPhone carefully to lookup the memory card slot, and if you find the one, it means the iPhone is not real. It's a fake iPhone and you shouldn't buy it.
#5. Look for the Screws
The original iPhone use the pentalobe screws, while the fake one uses the normal cross screws. This might be proven a very important clue to detect a fake iPhone.
#6. Check out the Position of iPhone Buttons
Generally, on the real iPhone, the sleep/wake button is on the top right corner, while the volume switch and ringer switch are on the upper left side. If the switch or buttons are not where they should be, then the phone you are looking at is a fake one.
#7. Look at the Welcome Screen
If you're unable to distinguish between a fake and real iPhone, this clue will help you a lot. By having a look at the iPhone's welcome message and screen, you can easily find out if it's fake or real.
So, turn off and then on the iPhone. A fake iPhone will have a welcome screen, like the word "Welcome," while the original one will show you the logo of the iPhone.
Other than this, on the home screen you will find an iPhone store icon. Just click on it. If it takes you to the Google store, the iPhone is 100% fake.
#8. Try Connecting iPhone with iTunes
If you purchased the iPhone and not sure that it's real or fake, you can use this tip and on finding the fake device you can refund later.
So, connect your new iPhone with a computer and try to run it with iTunes. If you are receiving an error, then it means iTunes does not recognize your phone; thus it is undetectable and fake.
#9. Check out the Font and Language
It's another bigger clue that lets you easily find out the fake iPhone. Just go to Messages and check out the font of the SMS, and it will show you the Chinese character. So, you will have to configure your iPhone to enable English. And it simply means that iPhone is not original.
#10. Check out the Number of SIM Card Slots
Before buying an iPhone, you should check out the number of SIM card slots in an iPhone or ask it from dealer that how many SIM cards can be used in an iPhone. If dealer says two SIM cards can be used at the same time, it's definitely a fake iPhone because Apple designs iPhone modes with only single SIM card slot.
#11. Look for the Pre-installed Applications
Every real iPhone comes with some built-in apps such as Music, Photos, Settings, Calculator, etc. If one of those are missing, the phone might be jailbroken.
To be sure try to restore the original firmware. If some built-in application is still missing after restoring the original firmware, then it's definitely a clone iPhone.
A Few Bonus Tips to Check if the iPhone is Real or Fake
I'm really amazed if the above tips didn't work for you. No problem, following are some short tips that may also help you detect the reality of the iPhone; whether it's original or fake.
Check the screen. The screen of original iPhone should be clear and not pixelated.
Only iOS. Apple uses only iOS as its official operating system. If you see any application other than iOS, it is 100 percent fake.
No warranty. Sellers of fake iPhones will not give you a warranty to a certified iPhone service center.
Cheap price. If it is being sold far cheaper than a regular iPhone's suggested price, then think twice before buying the product.
RECOMMENDED FOR YOU:
That's all! I hope this resource has all the tips and clues to detect if an iPhone is fake or original, and that's why I say that it's the must read article for everybody who're thinking to buy a new iPhone.
In case if your phone passes all the tests mentioned above and still have doubts, go to the nearest iPhone store. Ask for their technician to check for your phone. They can run a diagnostic test to check for the authenticity of your device.