You all would know very well that jailbreaking the iPhone or rooting Android is always a risky process because mostly it is done without the permission of manufactures. So, while you're unable to take help from your manufacturer for jailbreaking your iDevice, you should yourself take some precautions before attempting to jailbreak your iPhone or any other iOS device.
Here're 5 precautions you must take before attempting to jailbreak your iPhone, iPad or iPod Touch. In one of my previous article, I've written about how to jailbreak an iPhone and there in that post I shortly mentioned some essentials precautions to take before jailbreak. But, when I seen that many people are converting their devices into a brick just due to rooting and jailbreaking, I thought to separately write an article on its precautions so that more and more people could succeed in their effort.
MUST READ: Is it Illegal to Jailbreak iPhone or Root Android?
Precautions to Take Before Attempting to Jailbreak iPhone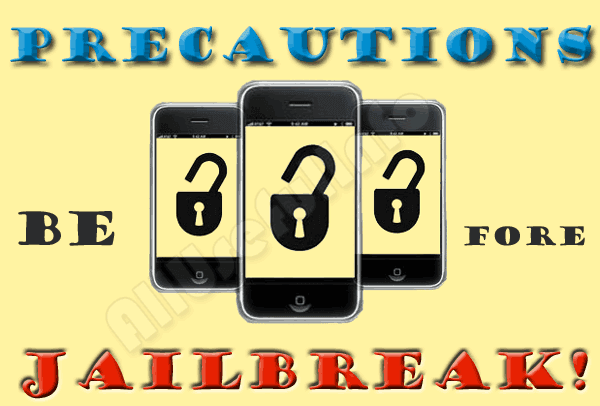 Now, have a look on the following important precautions you must take before attempting to jailbreak your iOS device.
1. Backup your device
It is very common precaution that you all would take care of. However, jailbreak doesn't actually change or erase any of existing data in your device but still for critical cases you should keep the back of your files and data.
You should backup your device using iTunes (or iCloud) before jailbreaking so that if something breaks, you'll always be able to recover your data.
2. Disable the lock passcode
It's also very important step you all should take before jailbreaking the iOS device. You should disable the lock passcode of your iOS device before attempting to jailbreak the iPhone because it can cause issues. It's also good to keep your phone on airplane mode or disable the Find my iPhone feature in system settings.
3. Check your device and iOS version
Today, almost every iOS version can be jailbroken but it may be possible that different version use different tool to jailbreak it. So, this is why you need to have the correct knowledge about your iOS version. The same case with devices, meaning different devices may also sometimes use different tools to jailbreak. So, it's also a must taken precaution before jailbreaking iPhone. In fact, you should be sure that the tool you're using is suitable with your device and iOS version.
4. Check the Jailbreak Tool and its success rate
Yea, it's also a important thing that should be take care of. In fact, you should have sufficient information about the jailbreak tool you're going to use to jailbreak your iPhone. This is because there are lots of fake jailbreak tools available on the web to defraud users. So, if you're beginner to jailbreaking, you might be fooled with such fake jailbreak tools. The only way to be safe is the get more and more information about tool by searching it on Google.
Other than this, if the tool is not fake and it's an authentic app, then still you should be aware of its success rate, and specially for your iOS version so that you find if it is really worth using or not.
5. Avoid all the iOS or iTunes related tasks
Avoid all iOS and iTunes related tasks until the jailnreaking process is complete. Why not just enjoy a brief break from the computer to stretch your legs? 😉
PRO TIP: If the process gets stuck somewhere, it's safe to restart the program, reboot the device (if necessary by holding down Power and Home until it shuts down), and rerun the process.
LEARN: How to Jailbreak iPhone, iPad or iPod Touch
That's almost everything you should know before jailbreaking! These 5 precautions are very necessary to take before attempting to jailbreak your iPhone, iPad or iPod Touch. Still, if you've any doubt and wanna know anything else, feel free to ask me via comments, I will be happy to answer back you.