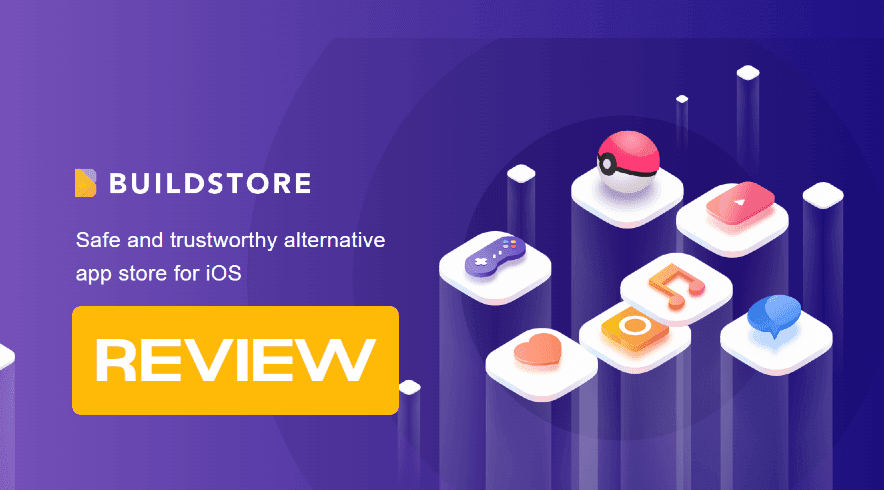 Are you looking for an App Store alternative? Did you ever look for an Android app in your Apple App Store and couldn't find it? This article will gonna introduce you to one of the best App Store alternatives i.e., Builds.io. This article is simply a Builds.io review in which you will get to know what actually Builds.io is, what are its features, and its challenges.
So, for an instance, you are using any application from the Google Play Store on your Android phone, but when you switch to iPhone, you don't get it on the App Store. Most of the time, it happens. Unfortunately, in this case, either you'll have to compromise or you will have to keep an Android phone along with iPhone.
This is where Builds.io comes into play. This App Store alternative has a combination of secured and developer-verified apps. Here you can even find those apps which are banned by Apple on their App Store. You can install those apps on your iPhone without jailbreaking with the help of Apple's Safari browser. So, let's discuss Builds.io, its features, and its challenges.
What is Builds.io (BuildStore)?
Builds.io allows you to get customized versions of your favorite iOS apps. These customized applications will provide access to features that are either not accessible in the original version of the app or are only available to premium customers.
As we all know, iOS does not allow the installation of spam or other apps, which may lead to risk. Many apps on PlayStore are not accessible in Apple's official AppStore. BuildStore has a collection of those apps in an updated and safe form.
Many of you might think that installing restricted apps can be risky, but there is nothing like that. Due to apple's super strict rules and regulations and charging tax on the app and in-app purchases of up to 30%, many app developers clashed with Apple's tax policy, and Apple removed their apps from the App Store.
Third-party applications could only run on an iPhone if installed via the Apple App Store. This application allows users to install programs not approved in the App Store. With builds.io (BuildStore), you gain access to more apps. These apps also include emulators, launcher customizations, and torrent clients.
How to Install Apps from BuildStore?
All you need to go to the official website of builds.io on your Safari browser and sign up for an account. There is nothing so critical about utilizing BuildStore. Before you begin, make sure you exit Safari's Private Mode, it is not recommended to use it in Private Mode.
Alternatively, you can open the website on your PC and signup. After signing up, a link will appear on the screen with the "copy link" button. Copy this link and paste it into your Safari browser.
After signing up, you will have to choose a plan from the given list and pay for the selected program. After subscribing, you can install a profile on your device by tapping the Install Profile button. The app will be downloaded to your device. After that, exit Safari and launch the Settings app.
The 'Profile Downloaded' option is located at the top of the Settings app. Then, tap it to install it on your phone. Once you have successfully installed it, you need to enter your passcode. That's it.
Now, visit the Builds.io website in Safari and search for the application you wish to install on your device. Tap on the app's icon, then on the following page, select the Install option. This will start the app installation process, and once downloaded and installed successfully, the app's icon will appear on your device's home screen, just like other apps installed from Apple's App Store.
What are the Features of Builds.io?
This App Store alternative is a savior for those unable to enjoy restricted but useful applications. At present, this application is trusted by a number of countries with thousands of active daily users. It claims to be a safe and trustworthy app marketplace with over 300 continually updated games and applications and new apps are continuously added to this store.
The following are the best features you will get by using the Builds.io app marketplace for your iPhone:
1. Diverse app collection
Get access to a much more diverse collection of applications. You can enjoy the apps on your iPhones that were inaccessible by Apple's app store. These are some of the most popular modified and tweaked Applications available on the Build store website (that are prohibited on Appstore).
Some of them are PPSSPP, uTorrent, YouTube++, UFC++, SoundCloud++, Music Pocket, Flappy Bird, GBAiOS 2.1, ChannelsTV, PlayTV, unc0ver JB, and Flappy Bird.
2. Get access to your favorite app without jailbreaking
You do not need to jailbreak (the process of breaking restrictions in the phone) your iPhone or other iOS device and ruin its warranty period. This helps you save much money as iPhone repair costs are skyrocketing daily. Often Jailbreaking iPhones for using your favorite app, you might make a real mess out of it. And restoring it to your original iOS is a very hectic procedure. All this is avoided when you use the Build store.
3. Tested and safe applications
Apps inside builds.io (BuildStore) Appstore are manually tested and safe. There is no risk of malware and other harmful viruses. Installation of any app from builds.io won't harm your iPhone or the data stored in your mobile phone.
So, you can enjoy apps from their marketplace without any worries. The app developers also provide time-to-time updates on their applications through the Build store App. Hence you can enjoy the apps with their latest versions like other applications.
4. Compatible with all iOS versions
Build store supports all devices irrespective of their iOS version, which is one of its best features and why it is preferred over jailbreaking iOS. You would have no trouble installing the Build store on your iPhone 12 Pro running iOS 14.2 and downloading apps like YouTube++.
What are the Challenges for Users?
Only some programs in the Builds.io marketplace are well-optimized for every model of iPhone. Although some users also reported that it is compatible with different models of iPhone. You might face this challenge while using it. You could download an app that runs smoothly on your iPhone 13 but crashes on your iPhone X.
Another challenge is with payment. Account transfers are not allowed for all users; therefore, you cannot use the same BuildStore membership on a separate iPhone. Only Plus Subscription members can use the account transfer facility. The Basic plan costs $19.99 a month and offers full library access, a referral program, round-the-clock support, limitless apps, and the option to request a new version or a custom app upload, which is available on builds.io.
Warning: Some apps on this platform allow you to do tweaks with WhatsApp, Twitter, Instagram, etc. which are generally not allowed/supported officially by these companies. If you use such tweaks, your accounts may get banned.
Is BuildStore (builds.io) Legit?
The official website of builds.io claims that it does not contain malware and does not allow programs with viruses, and all apps are manually tested. As a result, it is almost impossible to harm your device when using the BuildStore. Installing the BuildStore and downloading apps on your device is typically quick and straightforward.
The apps come in a wide range of quality; some are well-optimized for new iPhone models and operate smoothly without crashing, while others crack immediately or shortly after. Other programs, for example, Marvel vs. Capcom 2, are accessible for free download, while a functioning version costs $4.99 in Apple's App Store.
BuildStore is safe to use until fraudulent are not targeting it. Some programs appear deceptive at best and malicious at worst. At the same time, some other applications seem to violate copyright. Overall, BuildStore is legit.
Conclusion
Finally, we can see that BuildStore is an innovative concept; it provides a simple method to install a diverse collection of applications. It is a viable solution for iPhone owners who do not want to jailbreak or spend time developing their apps for emulation.
The torrent client provided was adequate as well. If you want more than emulators, you should jailbreak your iPhone, lose your device warranty, or move to Android, where a more fantastic choice of apps is accessible without compromising your security.