You all would know that everybody is crazy about iPhone as compared to Android phones, I don't know why? May be due to their high cost……just joking 🙂 Here I don't want to demean iPhone or iPad devices because I know iPhones are truly the great and extra ordinary feature rich smartphones but still at least for some extent Android phones can beat them. Yes guys, with the help of this article I'm going to let you know about the 10 reasons that explain why Android phones are better than iPhones.
Why Android Phones are Better than iPhones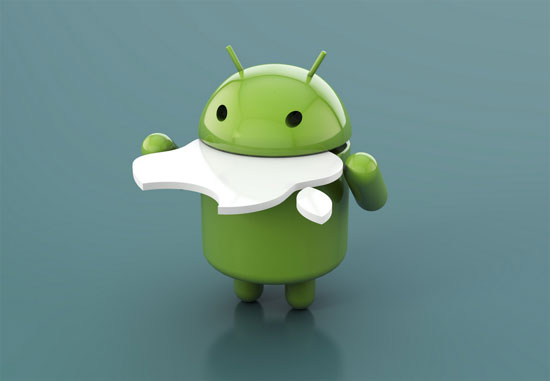 Here are the 10 noticeable reasons that will tell you why Android phones are better than iPhones. Have a look:
iPhones don't come with expandable memory or SD card slot
Every iPhone model come with the built-in flash memory that you can never extend. So, at the time of buying an iPhone you have to select a correct model according to your memory needs. But, this is not the case with Android phones. Most of the Android phones come with SD Card Slot by which the memory of smartphone can be extended. So, it may be a strong reason which makes Android phones better than iPhones.
Recommended Posts:
Android phone has removable battery but iPhone doesn't
If your Android phone's battery starts creating any problem like heating, you can easily remove it from the phone or replace it with the new one but it's not the case with iPhone. iPhones come with non-removable batteries so you can't replace the battery of an iPhone in any condition.
So, the people who can see the future or understand this problem will definitely give priority to Android phones and will shout out loud that Android phones are better than iPhone, at least in this case.
iPhone can't be used as TV remote
It is another reason that proves that Android phones are better than iPhones. Most of Android phones (including LG G3, Galaxy S5 and HTC One) can be used as a remote because they have infrared blasters on the top but iPhones don't.
iPhones require iTunes to download music but Android doesn't have such restriction
Android doesn't care where from your are downloading the music but Apple or iOS 8, however, require iTunes it you want to load your iPhone with music. Similarly if you want to get your photos onto your computer you will be needed iPhoto.
Any micro-USB cable can be used to charge an Android phone unlike iPhone
Yes friends, you can use any micro-USB cable to charge the Android phone but in case of iPhone you will be needed Apple's specific Lightning cable.
Apple's maps app isn't as good as Google's
Apple's own maps application is not that good as compared to Google Maps. But, the worst thing with iPhone is that you can't make Google Maps your default maps app. And it may hurt the users!
Most Android phones come with pattern or face unlocks, but iPhones don't
Most of the Android smartphones come with several options for phone lock such as pattern or face lock. But in iPhone there is only fingerprint and passcode option to unlock the device. So, it may sometimes also disappoint users.
Android screen can be customized much more than iPhone
However, it's not that great issue but still if you love to design the phone's home screen, then iPhone may disappoint a little as compared to an Android phone because in an Android phone you can design your home screen by plenty of ways such as by adding widgets etc.
Android phones shows notifications on the top but iPhones don't
One of the best things about Android phones is that the notifications are visible on the top of the screen to remind you quickly but this is not the case with iPhones. In iPhone, you will have to visit different app or service to check if there is any notification.
iPhone's file system is not that that impressive as compared to Android
In Android phones any of your photos, screenshots, downloaded pictures and photos saved from messages or WhatsApp are stored in their relevant separate folder. But, it's not with iPhones.
Also when you connect your Android phone with the computer, you will see the very familiar file system or just like the one you'd work with. But, Apple doesn't give such kind of access of files. So, it may be another reason for loving Android phones rather than iPhones.
Further Reading:
That's why Android phones are better than iPhones. I'm sure these reasons may strike you mind and will force you think, at least once that Android phones are better than iPhones.