Have you ever needed to compress a PDF file because of its big size but don't wanna download any software for this? So, today let me tell you a few best and absolutely free PDF compressors to compress PDF files online very easily.
It may happen that due to the bigger size of the PDF files, you're unable to upload them somewhere (exceeds the max size limit), so with the help of the following mentioned PDF compressor tools, you can reduce the size of PDF files by compressing them online absolutely free.
Best Tools to Compress PDF Files Online for Free
Now, look at the following PDF compressor tools to compress PDF files and reduce file size online for free.
It's the best and free online PDF compressor I ever found on the web and I mostly use it for compressing the PDF files and it really works like a charm. You just need to visit SmallPDF's PDF compressor and it will ask you to drag your PDF file to compress (or you can upload a file) and as soon you drag or upload the file, it will compress it immediately and give you the option to download the compressed PDF file.
PDFCompress is another online PDF compressor that helps you compress your PDF files absolutely free. I also tested it and worked very well. All you need to do is visit PDFCompress.com and upload the file. As soon as you'll click on Compress button, it will automatically download the compressed version of your PDF file.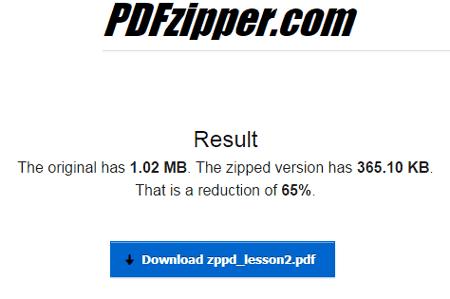 PDF zipper.com is also an online PDF compressor that offers a free service but I'm less impressed with its service than the above two. This is because the above listed two PDF compressor tools compressed the file up to 85% but it compressed up to 65%. But expect this, it worked very well for compressing one of my PDF files and after compressing, I downloaded it.
It is another PDF compressor I tried yesterday. It compressed my tested file up to 80% and gave a better result that's why I also recommending you this online PDF compressing tool. It is very easy to use and unlike other services this tool doesn't change the DPI, thus keeping your documents printable and zoomable.
Further Reading:
That's all!
That's all guys. The above-mentioned online PDF compressors are very easy to use and help you out in compressing your PDF file of different bigger sizes so that you could easily upload them anywhere whether to your website or social media.
If you want any other online PDF compressor to be listed in this article, tell me about that in the comments. 🙂