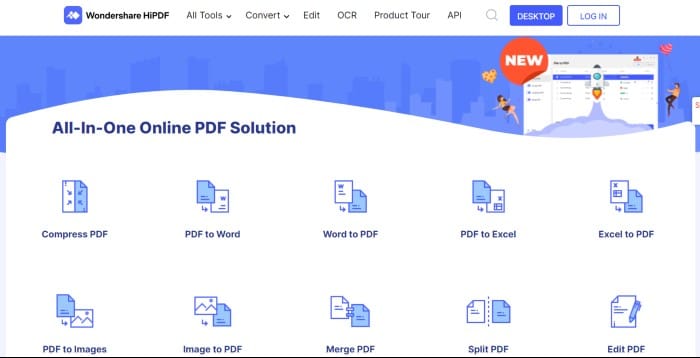 We need to perform different PDF operations in our everyday life. Whether you want to edit, compress, merge, or convert a PDF file into a different format like Word, you don't now need a different tool for a different PDF operation. Here comes the all-in-one online PDF solution, Wondershare HiPDF that not only lets you convert PDF to Word document but also allows you to perform different operations like compress PDF, reduce PDF file size, merge, etc.
The Wondershare HiPDF is a browser-based online PDF solution that solves all your PDF-related problems anywhere and anytime. The best part about this online PDF solution is that most of its features are absolutely free to use.
The HiPDF website is designed very well and user-friendly. As soon as you'll visit the website, you'll find out all the necessary PDF solutions like "Compress PDF", "PDF to Word", "Word to PDF", "Merge PDF", "Edit PDF", and many others you might be looking for.
On the HiPDF website, you'll find it very easy to perform any of these PDF operations as it doesn't even require signing up to start using its services. Only if you want to use its premium services like batch operations or OCR, you can subscribe to the premium plan.
Online PDF to Word Converter
PDF to Word is one of the most used PDF operations in the everyday life. Editing any information in the PDF file or unavailability of a PDF reader, there might be many reasons for converting a PDF to Word format.
Unlike many other PDF converters, HiPDF's Online PDF to Word Converter makes it very easy and fast to convert PDF to Word online in a few clicks.
See the step-by-step guide to know how it works:
Visit the official HiPDF website and click on the PDF to Word option.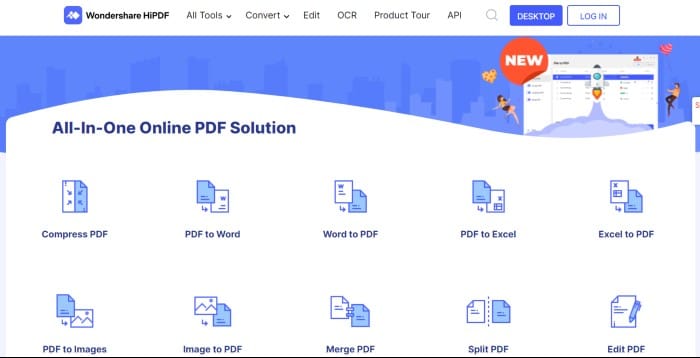 Now, choose a PDF file from your PC to upload. You can also upload the one from Dropbox, OneDrive, or Box.
Once the file is successfully uploaded, click the Convert button. It will take just a few seconds to convert your PDF into a Word format.
Finally, click the Download button to download the PDF to Word converted document.
The HiPDF also allows you to batch convert multiple PDF files into Word format but for that, you'll need to subscribe for a premium plan. Once you're subscribed to a premium plan, it will allow you to select multiple PDF files to upload and convert into Word format.
Compress PDF Online Using HiPDF
Difficulty in sending a big size PDF file via email or other online mediums due to size limits is one of the main reasons for compressing a PDF file. But, while you compress a PDF file, it's very important to take care of the quality of the compressed file. And this is where you need HiPDF's online PDF compressor.
Wondershare's HiPDF makes it convenient to compress any PDF file easily while taking care of the quality of the compressed file. It lets you decide the level of compression which is directly related to the quality of the compressed file.
Let's see how it works:
Visit the HiPDF website and click on the Compress PDF option.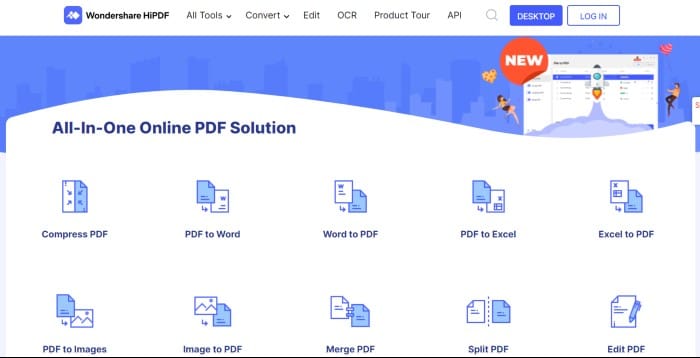 Now, upload the PDF file that you want to compress.
Once the file is uploaded, choose the quality of the compression and click the Compress button.
At last, click the Download button for downloaded the compressed PDF file.
The batch compression is also possible with HiPDF's online PDF compression tool. But, for that, you must be a premium subscriber of the service. Once you're subscribed, you can batch process the PDF files on HiPDF online.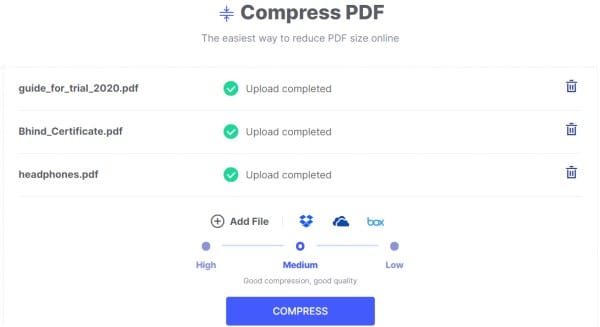 Related: 4 Free Online PDF File Compressors
Merge PDF Files Online
Merge PDF means combining two or more PDF files into one document. There might be many reasons for merging PDF files. For an instance, you want to print multiple PDF files, then you'll have to give the print command for all of them one by one that will take a lot of time. This is where HiPDF helps by merging PDF online.
Using HiPDF, you can very easily combine multiple PDF files online without even need to downloading the software or signing up for the service. All you need to visit the HiPDF website and follow the simple steps instructed below.
On the HiPDF website, click on the Merge PDF option.
Now, select all the PDFs you want to combine into one.
Once you've added all the PDFs to combine, click the Merge button.
It will combine all the PDFs in seconds and allow you to download the merged PDF.
I found HiPDF's online PDF merging tool the easiest and fastest way to merge PDFs.
Online OCR by HiPDF
What if you want to convert scanned PDF or images into editable Word, Excel, and PPT documents? This is when we need an OCR (Optical Character Recognition) tool. Luckily, being an all-in-one PDF solution, HiPDF provides this feature too.
It's very easy to use HiPDF's online OCR. But, the only thing you need to know is that it is a premium feature therefore if you're willing to use this feature, you will need to become a premium subscriber of HiPDF.
If you've subscribed to HiPDF Pro membership, follow the steps to use HiPDF online OCR:
Once you're logged in to your Pro account, click on OCR.
Choose a scanned PDF or image to convert it into an editable version.
Once it's uploaded, you can tweak with OCR settings like choosing document language and the output format.
Now, click on the Convert button.
Once, the file is successfully converted, you can download it on your computer.
Read Also: How to Convert Scanned PDF into Editable Word Files
HiPDF Desktop For Offline Processing
However HiPDF lets you perform all PDF operations online without needing to download any software on your computer but if you want to perform PDF operations offline, you may use HiPDF's Desktop version which is also free-to-use with limited features.
With the free version of HiPDF Desktop, you will have access to all PDF tools except batch processing, access to OCR, ability to select processing range. Unlike this, with the HiPDF Desktop Pro version that costs $8/month, you'll get the full version with all the features available.
Final Thoughts
The PDF tools on HiPDF are made so that everyone can use them completely free of cost. And the best part is that you don't need to worry about your file's privacy or security because all the files uploaded on HiPDF website will be deleted permanently after an hour. No one else will have access to your files.
The HiPDF provides the API service too for developers. It claims to be a feature-rich PDF API for developers. All you need to visit the API page and contact them for more details.
The browser-based HiPDF tools work on several platforms like Mac, Windows, and Linux. If the files are stored on your cloud platforms like Dropbox, OneDrive, etc., you can directly connect with them and perform the PDF task without draining your computer's capacity.
Until you want to become a pro subscriber for features like batch processing, the HiPDF doesn't even ask for your email address or any other information to start processing your PDF files. So, I think it's one of the best and easiest all-in-one online PDF solutions available on the web.