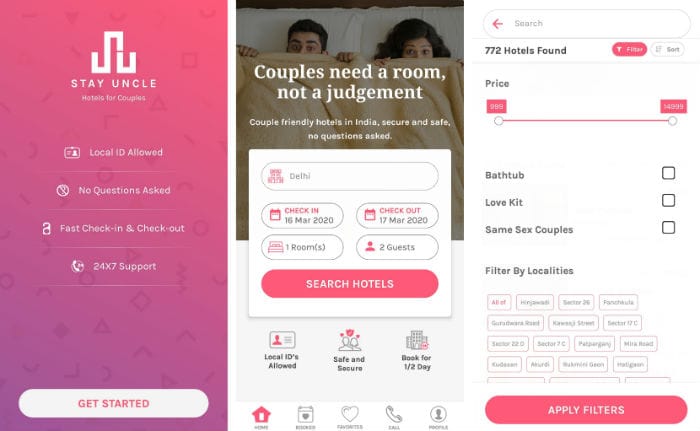 Neither all hotels are good nor hotel booking apps. Actually, there're numerous hotels and hotel booking apps available but only a few of them are trustworthy. Especially, in the case of couples, it's mandatory to choose an extremely safe hotel booking app for a safe and comfortable stay.
So, if you're traveling as a couple, you would have always looked for a safe and secure hotel to stay in. It happens even more complicated if you're willing to book a hotel with your girlfriend or just a female friend. But, without needing to worry, you just need to find out a safe hotel booking app that allows booking hotel rooms for couples.
I'm compiling a list of 6 extremely safe Android apps in this article for couples and even unmarried couples to book hotel rooms in India without burning your head with confusing questions.
Here're The 6 Safest Hotel Booking Android Apps For Couples
Even in this age of modern society, people in India still hesitate to book hotels with their female friend, girlfriend, and sometimes even with wife. The biggest reason behind this is rumors like "unmarried couples cannot book a hotel room to stay together". Well, it's absolutely foolish rumor because no law in the country that prohibits an unmarried couple to stay in a hotel room.
So, now all you need to be concerned about is which hotels are accepting bookings for couples because not all the hotels allow it. For that, I'm sharing with you the 6 extremely safe hotel Booking Android apps for couples. Let's see:
When it comes to booking a hotel room with your girlfriend, OYO Rooms stands in first place. When it comes to the quality, hygiene, and cleanliness of the rooms, OYO Rooms stands in the first place. When it comes to booking the best and safest hotel at the most affordable price in the market, OYO Rooms stands in first place.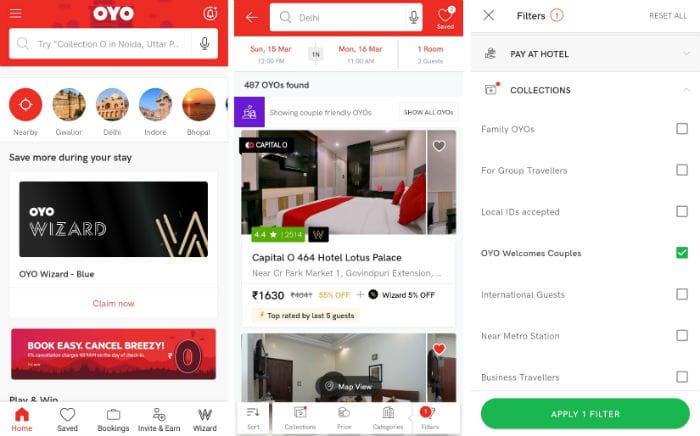 So, whether you're a married couple traveling with your wife or an unmarried couple traveling with your girlfriend, I would like to suggest OYO Rooms to make a booking.
It's very simple to book a hotel using the OYO app. Just install and open the app, enter the location or use your current location to find nearby hotels, compare hotels based upon the pricing and reviews, and once you find the best one, tap on Book Room to confirm your booking. If you're booking as a couple, check if the hotel welcomes couples in the description before you confirm the booking.
Goibibo is India's largest travel booking app which not only lets you book hotels online but also allows you to book flights, bus, car and train tickets at budget-friendly prices.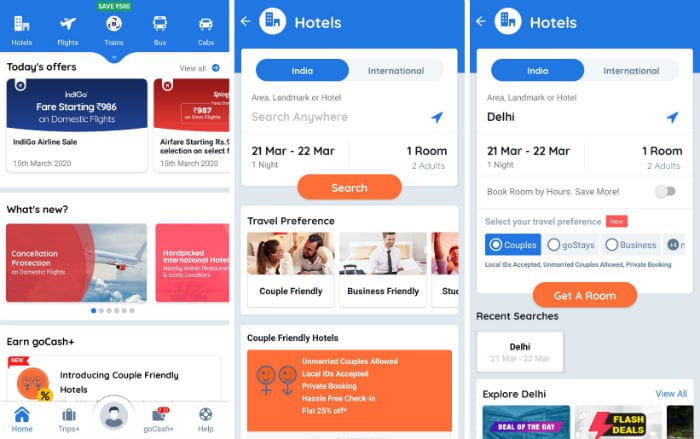 Goibibo has a separate section of couple-friendly hotels so that you can easily find and book a perfect hotel for your stay. It also allows booking hotels for unmarried couples. All you need to find a hotel according to your location, budget, and other needs.
To book a hotel room using Goibibo, just install the application through Google Play Store and open it, go to Hotels booking, enter your location, enter a check-in and check-out date, select your travel preference (choose "Couples" for couple-friendly hotels) and tap the Search button. It will display all the couple-friendly hotels where unmarried couples can book a room, even with local IDs. Isn't it cool?
It's a name that I think doesn't need an introduction. Trusted by over 50 million people, MakeMyTrip is one of the best solutions for all travel needs like booking Flights, hotels, trains, holidays, buses, cabs, experiences, homestay & a lot more.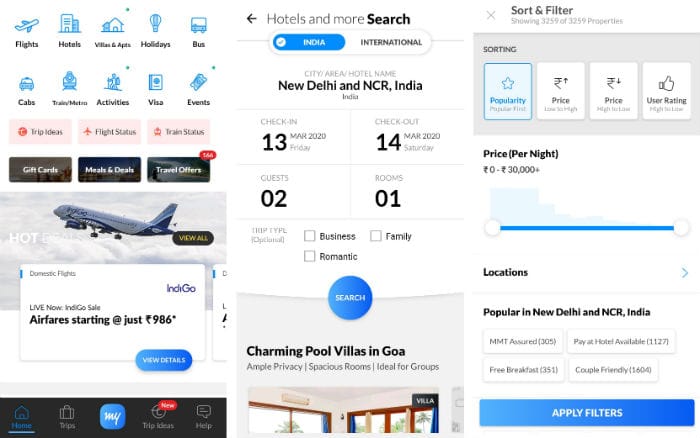 MakeMyTrip lets you book domestic as well as international hotels easily at affordable pricing. If you're an unmarried couple looking to book a hotel room for your stay, you can use the MakeMyTrip Android app.
You need to install the app from Play Store and open it. Navigate to Hotels, enter your city, check-in and check-out date, number of guests, and hit the Search button. It will find out hundreds of hotels for your stay. If you're looking for a couple of friendly hotels, just go to Filters and choose the Couple Friendly option out there. It will filter out only Couple Friendly hotels for you. It's simple. Right?
Just like MakeMyTrip, Yatra is another travel app that lets you book flights, hotels, buses, cabs, trains, holiday packages, and more. In case of hotel booking, you are at a good place as it has a network of 70,000+ Domestic & 5,00,000+ International hotels to fulfill your needs.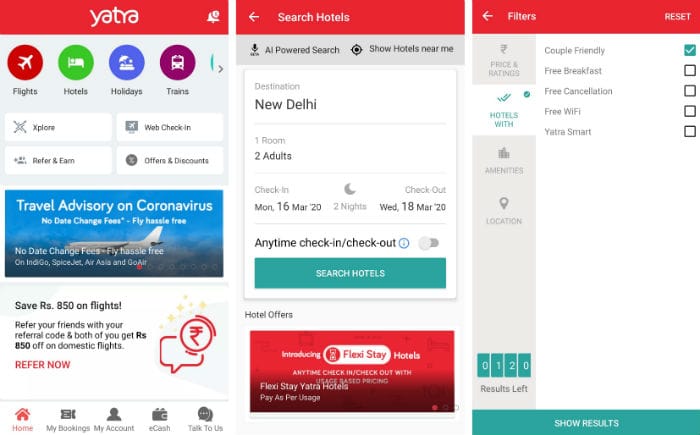 Here, you can search rooms by entering your city name, local area, and hotel name, and you can even filter them by star ratings, facilities, price, TripAdvisor rating, location, etc. If you're looking for couple-friendly hotel rooms, you will find out some really safe and cool hotels to stay.
All you need to install the Yatra app on your Android smartphone and go to the Hotels category to book the one for you. Now, enter your destination or place where you're looking for a hotel, check-in, and check-out date. Every hotel has its own terms and policies. You can read their policies and find out if the hotel is couple-friendly or not. You can either use the filter option or choose to show only couple-friendly hotels.
FabHotels is yet another online hotel booking Android app which lets you book hotel rooms for unmarried couples in India. It is one of the best and safest alternatives to OYO Rooms.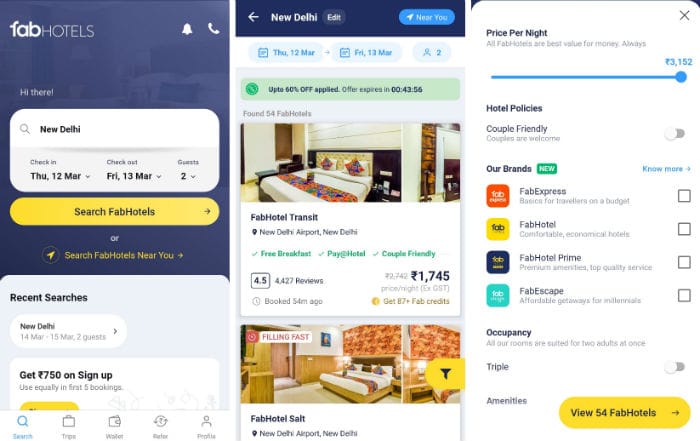 Over 600 hotels are listed at FabHotels, all are located at the most convenient locations near central business hubs, airports, railway stations, metro stations, and popular tourist attractions.
If you're looking to book a hotel room for unmarried couples anywhere in India, this FabHotels Android app will also be a great choice. Install the app on your phone, enter the location where you're looking for the hotel, enter the check-in and check-out time, and a number of guests, and hit the Search button. Below the name of every hotel, you can clearly see if it is couple friendly or not. You can also filter out the couple-friendly hotels easily through the Filter feature in the app.
StayUncle is another hotel booking platform for Indian couples. It is known for booking couple-friendly (both married and unmarried couples) hotels in India. Most people see it as a pure alternative to OYO Rooms.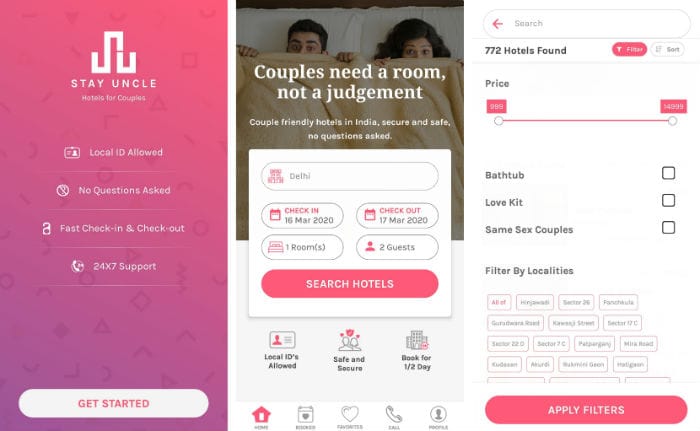 It lets you book hotel rooms in over 40 cities in India with more than 800 premium hotels available. All the hotels available on this app are couple-friendly so you just don't need to apply any filter etc.
Just download the app from Play Store and open it. It will first ask you to sign up using your phone number. After that, search for your location, enter a check-in and check-out date, and a number of guests, and tap on the Search button. It also allows you to book hotels for some hours only.
What's Your Choice Now?
In the article, I've already mentioned 6 of the top-rated and extremely safe hotel booking Android apps for couples in India. However, all of them are good enough to start using for your future travel and stay plans but if you're still confused to book couple-friendly hotels in your location, I will recommend you one name that you can trust with closed eyes which is OYO Rooms.
OYO Rooms is one of the most trusted and widely popular hotel chains spreading across the world. With great quality customer support and the choice of extremely safe hotels in the network, they're doing great as compared to others in the market.
Generally, some other apps like MakeMyTrip, Goibibo, PayTM, etc. partner with OYO to provide users with a good collection of hotels for their stay.
In the starting days, StayUncle was emerging great enough but I'm not sure now as its reviews on the Google Play Store are not that great. So, I'm not preferably recommending it to all of you. But, if you're comfortable enough, you can give it a try for sure.
You can try FabHotels if you're looking for 3-star or even better hotels at affordable pricing. I will have to say that it's a much better option as compared to StayUncle. FabHotels has some really great collections of hotels in 50+ cities across the country.
So, what's your choice? Do let me know via comments which of the hotel booking app you're going to use for your next booking. Share your thoughts and experiences to help others. Keep visiting.