Everybody is fond of traveling overseas and want to have an awesome journey. So, if you are planning for any journey, you can take full advantage of your smartphone. There are various apps are available on Google Play by which you can collect the information about transport, tourist spots, and hotels of every city around the world, convert the currencies according to your region, and many more. So, I'm here with such free Android apps. These apps will make your overseas journey better than ever before.
If it is your first traveling experience or you are planning to go abroad and want to have a peaceful journey, you must have a look at these apps.
Best Android Apps for Better Overseas Travel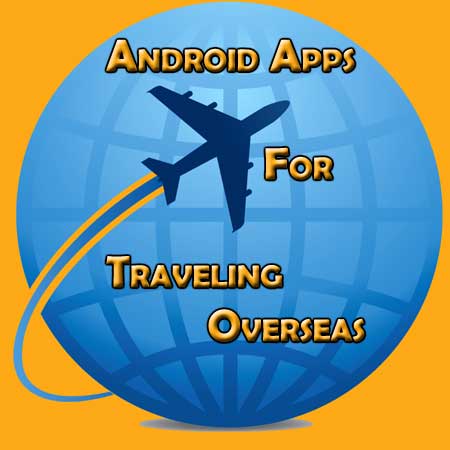 So guys, without spending your busy time, I just move on to the list of 6 free and best Android apps for travelers who often travel overseas.
TripAdvisor is a free Android app and as the name suggests, it is specially made for all the travelers. It is a total solution for your travel issues and problems. This app will provide you the complete details and information about the place where you are planning to go. It will also help you select the best option for flights, hotels, and many more.
With over 100 million reviews and opinions by travelers, TripAdvisor makes it easy to find the lowest airfare, best hotels, great restaurants, and fun things to do, wherever you go.
TripIt Travel Organizer is a free Android app helpful in traveling and journey. It is brought to you by Concur. If you are planning for a new trip or you need to plan for your future trips, this app may be helpful for you. So, you can organize your travel plans in one place with TripIt free Android app. You can forward your travel confirmation emails to plans@tripit.com to create a detailed itinerary for your every trip.
TripIt has more features include Accessing itineraries anytime even offline, Getting directions, maps and weather for each destination, Syncing trip plans with your Google Calendar or Outlook, and much more.
Travelzoo is another free Android app to make you aware of worldwide travel deals. With Travelzoo app, you can join 26 million people worldwide and discover the latest Travel, Entertainment and Local Deals. Travelzoo's global team of Deal Experts scours the market every day for the most outstanding deals and recommend only the best. Now, this free Android app makes it easy to find and take advantage of great deals.
With the Free Travelzoo Android app, you can find high-quality travel, entertainment, and local deals, Purchase deals directly from your phone, view and use your vouchers directly from your phone.
KAYAK is another mobile travel app for Android users. It is absolutely free to use. You can compare hundreds of travel sites to find the best deal. With this app, you can search and book hotels, flights, and cars very simply. This app also provides you the facility of flight tracker and itinerary management.
Some more features of this app at a glance –
Compare hotel, flight, and car rental deals
Book your hotel, flight or car rental, right in the app
Track your flight status
View and manage your itinerary with My Trips
Look up baggage fees, airline numbers, and airport information.
5. Poynt
This app helps you quickly find nearby restaurants, Hotels, Gas stations, and other businesses on your mobile in seconds. The app uses your mobile GPS or cell site location to find nearby places in no time.
Poynt for Android allows you to interact with your search results through placing calls to businesses, mapping directions, viewing showtimes and movie trailers, or reserving a table at a local restaurant.
XE Currency is another useful Android app for those who often travel to different countries. So, if you travel in different countries, you would be needed the best currency converter and the XE Currency Android app will be the best fit for the same.
It offers live proprietary currency rates and charts, and even stores the last updated rates so it works when the Internet doesn't.
Related Articles:
Other than these apps, there are many other apps that may also be useful for a better overseas journey such as Google Translate or Word Lens for language translation, Skype, or WhatsApp to stay in touch with your family and friends, etc.