In one of my previous articles, I've already discussed the best money saving tips for online shopping. Now, this article will also help you to save lots of money in online shopping. In fact, in today's post you'll get 5 best websites where you'll find the best deals for shopping products in every festival season.
As we all know that in festival seasons, every online shopping site provides various offers on many products. So, these websites will help you to find best price for desired product and also you can compare prices of multiple products on multiple shopping sites at one place. Isn't it very useful for saving money guys!
Top Websites to Find Best Deals for Shopping Products
Now, look at the following websites that every day come with the new and interesting deals for users:
Dealnews.com is the must reach destination for all the lovers of online shopping. In the other words, if you're thinking to buy lots of products online in the festival season, then this website may help you to find the best deals on multiple online shopping sites at one place to save your money.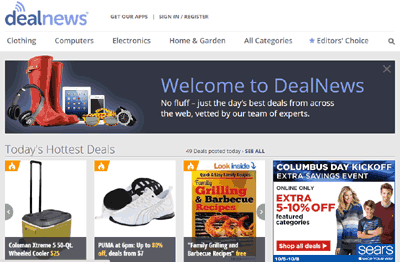 At Dealnews.com, you can find online coupons and promo codes for many online shopping stores such as eBay, Walmart, Amazon, Travel Zoo, Sears and many more.
Slickdeals.net is the great website to find best deals, online coupons, promo codes and discounts from the various online shopping websites around the world.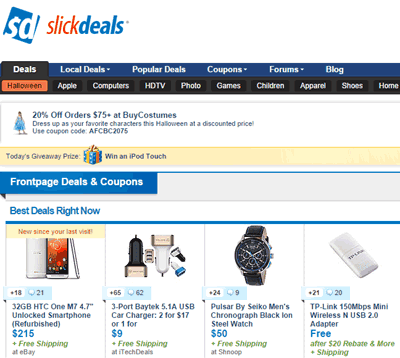 It has Macys, Newegg, Walmart, Amazon, Sears, Kmart, Cardcash and many more. You can also find here which shopping site is offering free shipping on the desired product.
Yes, Indians it's your turn! So, visit Dealsofthedayindia.com for get the best deals and coupon codes from the popular Indian online shopping sites such as Flipkart, Snapdeal, Amazon.in, Homeshop18 and more.
I'm sure that all the Indians will definitely like this site as me. I really liked it because the site provides very easy to use navigation to find best deals for shopping products and different categories are provided for searching the deals on you desired product easily.
This website is completely dedicated to provide you best deals and offers to save time and money. At Offers.com, more than 6000 companies update their deals to attract users.
You can search the best deals for clothes, shoes, electronics, toys, beauty products, travel products and many more, browsing through 300 categories. You can also find the deals by searching with the store or brand name.
Google Shopping is another free service by Google after Gmail, Webmaster tools etc. So, if you want to save lots of money in online shopping, you should have a look on Google Shopping before go for shopping.
It's just like a search engine for deals where you can search for any product you desire and find the best deals and compare price among many online shopping stores.
More Interesting Articles:
Conclusion
Guys, cheerfully visit these websites to save your money during online shopping and enjoy every festival and celebrations without having any headache about high money spending. So, find the best deals on these sites and save lots of money in online shopping.