Netflix is the most popular on-demand video streaming platform that contains hundreds of movies and series. I've been using Netflix for the last 6 months and found some of the most entertaining series that I'm going to share in this article.
If you're willing to buy a Netflix subscription, I have a watchlist ready for you. And I'm sure you won't be tired of watching these top 10 Netflix series again and again. So, let's check out this list of my all-time favorite top 10 Netflix series you must watch right now.
List: Top 10 Most Entertaining Netflix Series You Must Watch
Whether you're in love with the genres like comedy-drama, thriller, mystery, romance, horror, or something else, this list of the Netflix series will be going to entertain you the most. Let's check them out:
1. Stranger Things
This is a mysterious Netflix original drama in which a young boy disappears and in order to get him back, his mother, friends, and a police chief face terrifying supernatural forces and a series of mysteries caused by the secret government experiments.
It is one of the most popular Netflix originals with an outstanding IMDb rating of 8.8 out of 10. It is originally made in the English language but users can watch it in both Hindi and English. So far 3 seasons of this web series have already released and the 4th one is coming very soon.
2. Lucifer
Lucifer is a comedy romantic drama series in which Lucifer, a demon, returns from hell to spend some time on the earth to better understand humanity. He runs a club in Los Angeles, the city of angels. Later, he starts solving some tricky criminal cases with the local police and this is where he meets his love, Chloe Decker.
This is one of my favorite web series on Netflix which has gained a great IMDb rating of 8.2 out of 10. The original language of this series is English but users can watch its Hindi dubbed version too. A total of 6 seasons have been released. The 6th season was released in just a few days.
3. Sex Education
This is a sex comedy romantic drama Netflix series in which a teenage boy Otis who lives with a sex therapist mother teams up with a high school classmate Maeve to run an underground sex therapy clinic at school to improve his status in School.
Sex Education is one of the most entertaining Netflix series filled with almost all the emotions. It has an 8.3 IMDb rating. The series is produced originally in the English language but also dubbed into Hindi for the Indian audience. Right now, all three seasons are available.
4. Money Heist
Money Heist, originally La casa de papel, "The House of Paper", is a thriller crime drama series on Netflix full of suspense and mystery. This is a story of the biggest heist in the recorded history by a criminal mastermind "The Professor" to print billions of euros in the Royal Mint of Spain.
This is a very interesting Netflix series that gained worldwide popularity and an 8.4 IMDb rating. The original audio language of this web series is European Spanish but for the users outside of Spain, it's dubbed in English too. The fifth and last season was also released recently.
5. Titans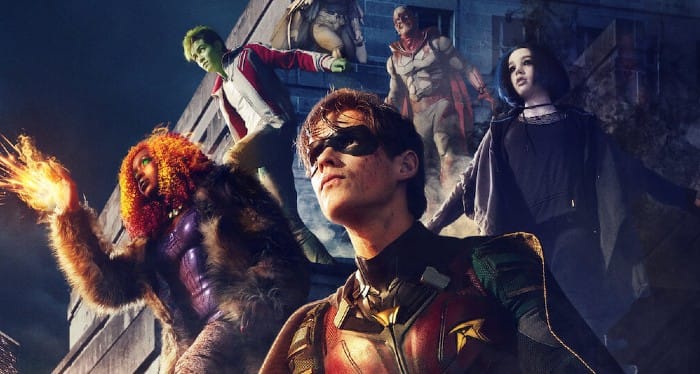 Titans is an action and superhero fiction drama series that follows young heroes from across the DC Universe as they come of age and find where they belong. In this Netflix series, a team of young superheroes fights the evil to save the earth.
If you're a big fan of DC comics and superhero fiction, you're definitely going to love this series. It achieved a 7.7 IMDb rating. Originally released in English but also dubbed in the Hindi language, the series has 2 seasons available right now.
6. Anne With An E
Anne With An E is a historical period drama adapted from Lucy Maud Montgomery's classic book, Anne of Green Gables. This is a very emotional and heart-touching story about a young orphan girl who is seeking love, acceptance, and her place in the world.
I found this Netflix series very emotional and inspirational. I learned to never lose hope and keep believing for the good. With a great storyline and heart-melting presentation, this series gained much popularity and an 8.7 IMDb rating. Available only in the English language, the series has 3 seasons for you to watch now.
7. Peaky Blinders
Peaky Blinders is a historical fiction crime drama loosely based on a real 19th-century urban youth gang named Peaky Blinders, who were active in Birmingham, England from the 1890s to the early twentieth century.
This is one of the highest-rated Netflix series on IMDb with a rating of 8.8 out of 10. So far the series on Netflix has 5 seasons and the rumors about the 6th season are coming around. You can watch this amazing series on Netflix in English only.
8. Chilling Adventures of Sabrina
Chilling Adventures of Sabrina is a supernatural horror fiction Netflix series based on the Archie comic book series of the same name. Sabrina Spellman, a teenage witch with dual nature, half-witch, half-mortal, stands against the evil forces that threaten her, her family including aunts Hilda and Zelda.
This interesting and entertaining Netflix series gained a 7.6 IMDb rating out of 10. Produced originally in English, this web series is also dubbed in the Hindi language. There're 3 seasons right now available on Netflix of this series.
9. The Punisher
The Punisher is an action and crime fictional drama created especially for Netflix by Steve Lightfoot. It is adapted from the Marvel Comics character of the same name. After the murder of his family, Frank Castle uncovers a conspiracy that runs deeper than New York's criminal underworld.
This most entertaining Netflix series has an outstanding IMDb rating of 8.5 out of 10. Marvel's The Punisher is available only in English audio with 2 seasons right now.
10. Narcos
This is one of the most popular and entertaining gangster drama series available on Netflix inspired by the true story of Colombia's infamously violent and powerful drug cartels.
You can understand it's popularity and fanbase by its IMDb rating of 8.8 out of 10. Available in both English and Hindi language, this Netflix series has a total of 3 seasons. The final season was released in 2017.
Final Words
All the above-mentioned Netflix series are top-rated and most entertaining. If you've got some free time and want to spend that by watching some of the great Netflix series, then I think these top 10 Netflix series you must watch right now.
If you have an interest in the supernatural mysterious drama, then I suggest you watch Stranger Things as this is an interestingly mysterious series on Netflix. If you want to watch a series full of suspense and thriller, then Money Heist is a great choice.
As for me, Stranger Things, Money Heist, and Anne With An E are the favorite web series I've ever watched on Netflix. I also recommend everyone to watch these series if you really want to watch something interesting, entertaining, and worth giving your time on Netflix.
Apart from these 10 Netflix series, if you have watched any other web series and found it very entertaining and worth watching, then please share the name in the comments. I will be very happy to have more suggestions and recommendations.