Mostly everyone loves or needs to travel now and then around the world to see different origins for business accommodation or spending a weekend in Malaysia or Singapore likewise places with family and friends. Nevertheless, one thing that puts full stop or say barriers to my and your desire is the sky touching rates of hotels around these cities. So keeping this thing in mind, today I am going to let you know about such websites that make you available the best and affordable penny of the hotels from all across the world.
Top 5 Worldwide Hotels Booking Websites
Now, have a look on the top 5 websites to book national and international hotels online:
Trivago is the world's largest hotel search website that allows you to compare hotel prices in just a few clicks from more than 200 booking sites and from over 700,000 hotels throughout the world. With Trivago you can easily find your ideal hotel at the best rate.
Simply enter where you want to go and your desired travel dates and live it on Trivago's search engine to compare an accommodation price for you. Then it refines your search result based on the rate, distance of the hotel from tourist places & more, star categories, facilities, and other point of views. Form a budget hotel to a luxurious one, Trivago helps you to book it easily online.
Expedia.co.in is a travel company that offers more hotel booking options and provides a better reservation experience. It handover the best hotel prices from the largest selection of hotel and resorts from all across the world.
Whether you are looking for a brief stay in Kochi, a weekend getaway in Singapore, business accommodations in Hong Kong, or a two-week holiday across Europe, Expedia delivers the widest range of cheap hotels available from all across the world.
MakeMyTrip.com is India's leading travel company, which was found in the year 2000 by Deep Kalra. Its aim is to offer a range of best-value products and services along with cutting-edge technology and provides superior customer service, 24*7.
It offers you the best deals on the hotels to your destination because the site works in partnership with the hotel owners. In addition to this, it offers you to book the best hotels in Bangkok, Singapore, Phuket, Dubai, New York, New South Wales, Algarve, Rio, Bali, Brazil, Cusco, Crete, Hong Kong, Honolulu, and many more cities of the world.
Booking.com is based in Amsterdam in the Netherland that was established in 1996 and is supported internationally by 115 offices in over 50 countries all around the world. It also provides the option of book now and pay when you stay.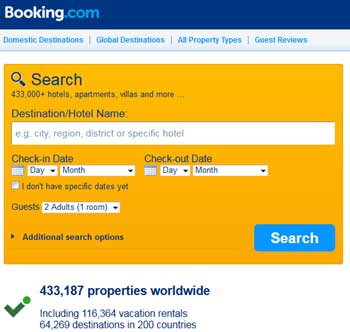 It guarantees to offer you the best prices for every type of property, from small, family-run bed and breakfasts to executive apartments and five-star luxury suites. Booking.com is available in more than 40 languages and offers over 433,261 properties in 200 countries. So now, save money by no booking fees on Booking.com.
Yatra.com is a leading online travel services provider in India, UK, and the US that offers the best deals in hotel bookings and holiday packages across the world.
Yatra.com comes up with over 14,000 hotels in India and more than 430,000 hotels associated with the site worldwide. It will definitely deliver you an appropriate hotel no matter the budget. So, book the best dealing hotel for you with the Yatra.com now and enjoy your tour.
MORE ARTICLES FOR YOU:
Wind Up
I hope that you will like the above-discussed websites. There may be other websites to book hotels worldwide at reasonable prices, but I provided a filtered list of top 5 national and international hotel booking websites. So, enjoy your trips by booking hotels online from any of these websites at affordable prices.