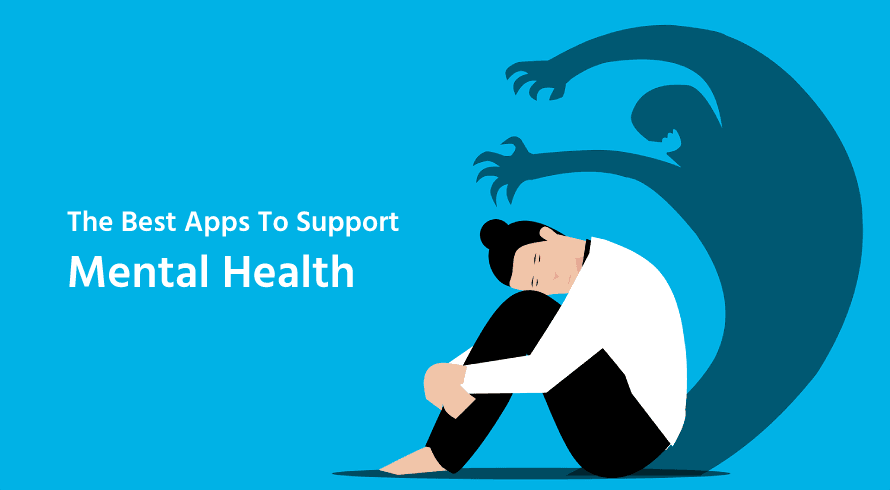 Everyone says our emotional and mental health is suffering because of smartphones, social media, and the internet. And it is a terrible truth. However, social media apps, smartphones, and the internet are not the only reasons for our poor emotional and mental health. Many more other messes or complications of life are behind there.
Whatever the reasons are. The question is – how to get rid of our poor emotional and mental health?
There are actually many ways to improve our emotional and mental health such as exercise & Yoga, enhancements in eating & sleeping, drinking enough water, sessions with doctors, and many more.
Along with these things, some health apps can also be the nearest approach to support your emotional and mental health. In this article, I am going to share the best mental health apps to support your emotional and mental health.
What Actually the Mental Health Apps Are?
Emotional and Mental health apps! What are these? Let me explain it. As the name suggests, mental health apps improve our mental health and help with emotional health. These apps assign us some practices and advise us with some tips. The apps give this advice according to our input about our health state.
Some of the health apps also provide consultations with doctors. On the mental health apps, you will most specifically find psychiatrists who are experts in psychiatry. These doctors are experts in helping people deal with their mental and emotional health.
However, we found that there are numerous mental health apps available on the internet. Some of them are paid and some are available for free. You may confuse to find the best application to deal with your mental and emotional health. To make it easy for you, I am listing the 10 best mental health apps to support your emotional and mental health.
10 Best Apps to Support Your Emotional and Mental Health
This list of the best mental health apps is created after enough research. Even I added most mental health apps to this list after testing them. Hopefully, these apps will help you to improve your emotional and mental health.
1. Happify
Happify helps you to improve your mental health with some interesting activities like games and quizzes. First, it will assess your health by asking you some questions about your thought procedure and life routine. And then it will assist you with some quizzes and games to play.
Moreover, it offers numerous programs for meditation, personal growth, relationships, health, work, etc. It gives you a task, and you have to complete them within the given time.
The mental health app Happify provides free and paid both types of services. Maximum available services on the app are available for free and others after paying subscription charges of the app.
Download Happify on Android and iOS.
2. Calm
Calm is one of the best premium mental health apps. It helps in improving sleep quality, reducing stress or anxiety, improving focus, self-improvement, and many more things. And for that, it provides sleep stories, masterclasses, and relaxing music.
The calm app doesn't provide any service for free, you have to pay for using the Calm app services.
Calm mental health app is one of the best mental health apps as it has more than 1.5 million 5 stars reviews and more than 100 million users use the application already.
Download the Calm app on Android and iOS.
3. Talkspace Counselling & Therapy
As mentioned in the article, some of these mental health apps provide virtual sessions with doctors. This app is one of them. Talkspace arranges live chats or video calls with licensed therapists. Services on Talkspace are Online Therapy, Psychiatry, and Couple therapy.
The therapists, on the other side, assess your health and then start to diagnose the issue. The services on the app are available 24/7. Talkspace's services are completely paid.
Download Talkspace on Android and iOS.
4. Mindshift CBT
Mindshift CBT is helpful for those who have anxiety, perfectionism, and various phobias. The app provides some tips or challenges to get you rid of that phobia or anxiety. Like if you have social anxiety, you can get rid of that by using the given tips on the Mindshift CBT app.
Apart from that, multiple tools are also on the app. These tools, including Healthy thinking, chill Zone, and Taking Action will get you used to do such things by practicing around them a lot. Interestingly, all the services on Mindshift CBT are free.
Download the Mindshift CBT app on Android and iOS.
5. ReGain
The dispute in relationships is one of the major reasons for poor emotional and mental health. ReGain is an app that is specially designed for resolving couples' relationship issues. Moreover, it also gives individual service, even if your partner is not along with you.
ReGain app provides online counseling by licensed doctors. First, the app asks you some automated questions and then arranges video counseling with a doctor. ReGain is a premium app that only gives services with its subscription plan.
Download ReGain app on Android and iOS.
6.  Lumosity
Lumosity checks and improves your mental health with some games. It is for those who recently found their mental health poor. Basically, it is useful in the initial stages of poor mental health. It provides exercises for memory, speed, problem-solving, and attention.
Although Lumosity is free to use, but only offers limited services for free. And for some exclusive features, you have to pay.
Download the Lumosity app on Android and iOS.
7. Headspace
As we all know, practicing meditation kills all emotional and mental diseases. But practicing meditation is not everyone's cup of tea. Especially for beginners, it is very hard to learn and practice meditation from the first day.
The Headspace app instructs beginners and professionals in meditation. Along with teaching meditation, the app also provides some practices for self-love, breathing, and improving self-worth. It is also a premium application that costs for its services.
Download Headspace on Android and iOS.
8. Moodfit
This mental health app is also free for use. Moodfit tracks your daily moods and gives daily goals to make your mood happy. It shows the progress of your daily goals. Moreover, the app also suggests some extra exercises for sleeping, anxiety, and breathing.
It also provides a proper nutrition diet chart that helps to keep your mood constant. Nevertheless, the app also avails some exclusive features like a meditation guide, reminders, and behavioral therapy with its paid plan.
Download Moodfit on Android and iOS.
9. ThinkRightMe
ThinkRightMe is a completely free Indian app to support your emotional and mental help. It instructs the users on meditation from the beginning level. Dharma Gurus of India instructs here daily through the live sessions. Moreover, the content on meditation is also posted here every day.
As ThinkMeRight is an Indian app, it is available in the Hindi language as well. All the services of ThinkMeRight app are available for free. It doesn't have any paid plan as of now.
Download ThinkRightMe on Android and iOS.
10. SuperBetter
Last but not least, SuperBetter is a free-to-use mental health app that helps people in maintaining their mental health by playing games. It tracks your daily performance according to the levels that you complete.
Moreover, SupperBetter provides a To-Do list, which can be customized according to the users. The SuperBetter app is completely free to use.
Download Superbetter on Android and iOS.
Here's the list of the best mental health apps completed. If you find any of these mental health apps interesting and want to give them a try, you can download them on both Android and iOS devices. Also, you can use the web version of these apps while using the browser.