Laughter is the best medicine! Right? You should agree that laughter is a powerful antidote to stress, pain, and conflict. Nothing works faster or more dependably to bring your mind and body back into balance than a good laugh. So, there are many hilarious and funny websites I used to visit every day to keep the stress and pain away from my mind.
Would you like to know about these sites? I'm excitedly going to mention 10 of my favorite humor websites which contain an ultimate collection of fun that will force you to laugh out loud.
These funny websites are leaving the great laughter content on the Internet such as jokes, funny Shayari or quotes, satire, too funny fake news, funny cartoons, memes, and much more.
10 Humor Websites to Make You Laugh Out Loud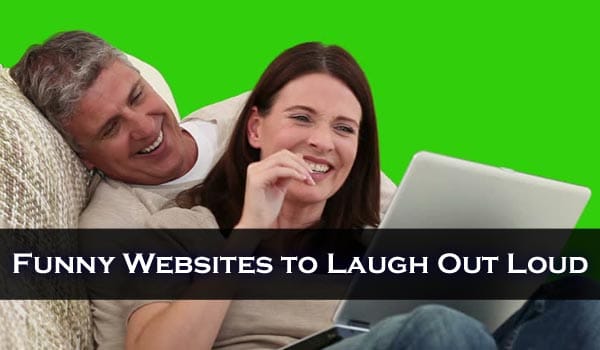 1. Faking News
Faking News is the leading Indian news satire and humor website. It contains cutting edge satire on the political and social scenario of India.
As suggests the name of the website it contains mostly the nonsense, funny and hilarious news headlines. It has an ultimate collection of political satire and satirical news.
2. The UnReal Times
The UnReal Times is most likely similar to Faking News. It's India's favorite satire, spoof, parody, and humor portal.
Just like Faking News, its name also suggests that it just provides most of the stuff on nonsense or funny and hilarious news on politics, cricket, business, governance, technology, and more.
3. Scoop Whoop
ScoopWhoop is however an internet media and news company from India but it also contains lots of fun and entertaining stuff.
I used to visit Scoop Whoop almost every day to read the entertaining news and lots of funny photos, videos and articles to fresh up the mind.
4. Santa Banta
SantaBanta is a one-stop destination for Jokes, SMS, Bollywood News, Wallpaper, Games, Screensavers, E-cards, and Event Gallery.
5. Gustakhi Maaf
Gustakhi Maaf is the home of endless humor, provides funny articles, Hindi jokes, funny pictures, cartoons, and Classical Sher-O-Shayari of prominent poets.
I many times a day visit GustakhiMaaf.com to read political satire, jokes, Shayari and see funny photos from all around the world.
6. Teekhi Mirchi
Teekhi Mirchi is my favorite Indian news satire and humor website. It brings to you political and social satire from India and around the world that includes fake news, sarcasm, parody, spoof, humor, comic, meme, and sometimes strong and provocative opinion.
7. Gazab Post
GazabPost is a ScoopWhoop website which is launched to target Hindi readers. It contains lots of humor and entertainment kinds of stuff such as funny photos captured all around the world.
7. Cracked
Cracked is a funny website filled with funny videos, pics, articles, and a whole bunch of other funny stuff. It's a very old American humor website which is continuously providing great humor stuff to amuse people.
8. TheChive
theCHIVE is a photo-entertainment website independently owned and operated by Resignation, LLC. Images and videos appearing on theCHIVE.com are selected by staff to offer great humor and entertainment to the end-user.
9. College Humor
College Humor is another humor and entertainment website which tries to entertain its users by providing funny photos and videos which mostly make sense to college students.
10. Quick Meme
QuickMeme is the best destination to find and share funny memes on the Internet. You can share & caption memes, and post anything you find interesting or that makes you laugh.
Disclaimer: Please be advised that the content on some of these websites may not be suitable for those under the age of 18. If you're not of the legal age, you should visit the only website confirmed by your parents.
MORE ARTICLES TO READ:
That's all! These 10 are my all-time favorite humor and entertainment websites I would like to visit every day to fresh up my mind. Let me know which one you like the most.