Laughter is the best medicine! Right? You should agree that laughter is a powerful antidote to stress, pain, and conflict. Nothing works faster or more dependably to bring your mind and body back into balance than a good laugh. So, there are many hilarious and funny websites I used to visit every day to keep the stress and pain away from my mind.
Would you like to know about these sites? I'm excitedly going to mention 10 of my favorite humor websites which contain an ultimate collection of fun that will force you to laugh out loud.
These funny websites are leaving great laughter content on the Internet such as jokes, funny Shayari or quotes, satire, too funny fake news, funny cartoons, memes, and much more.
10 Humor Websites to Make You Laugh Out Loud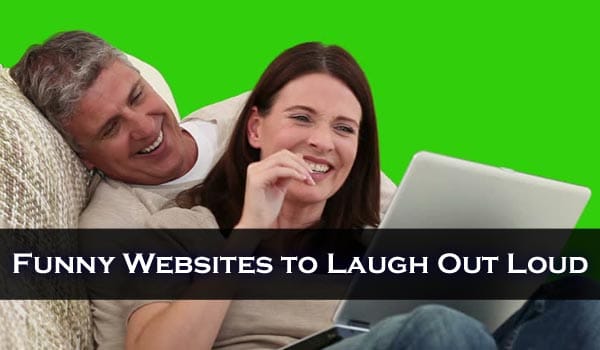 1. 9GAG
9GAG is online humor and social media website that focuses on user-generated content. If you've something interesting to share, you can upload it on 9GAG and share the others' posts and photos on Facebook and other social platforms.
If you want to kill your time without getting bored, 9GAG is the best place for you to visit. You may also use its mobile app for your regular entertainment dose.
2. Babylon Bee
Babylon Bee is a comical news satire website where you can read satirical articles on different topics like politics, Christian living, finance, technology, and everyday life. Not only the articles, but you can enjoy the site by watching videos and listening to interesting podcasts.
3. Scoop Whoop
ScoopWhoop is however an internet media and news company from India but it also contains lots of fun and entertaining stuff.
I used to visit Scoop Whoop almost every day to read the entertainment news and lots of funny photos, videos, and articles to fresh up the mind.
4. Santa Banta
SantaBanta is a one-stop destination for Jokes, SMS, Bollywood News, Wallpaper, Games, Screensavers, E-cards, and Event Gallery. It's an Indian entertainment website where you'll find jokes in both Hindi and English language.
5. Funny or Die
Funny or Die is another comedy website full of funny videos, pictures, and articles. It is actually a film production company so you can also watch its originals on its official website.
6. The Oatmeal
The Oatmeal is my favorite webcomic and humor website created by cartoonist Matthew Boyd Inman. I like it because of its clean and simple design and creative cartoons and ideas.
If you love reading comics, this website can be the best humor website for you because you're going to get a lot of comical content which absolutely original and free.
7. Imgur
Imgur is a website where you'll find funny and interesting images from all around the world. There's no article to read on Imgur. Only the images and animated GIFs to keep you busy. It mostly hosts the viral images and memes posted on Reddit.
7. Cracked
Cracked is a funny website filled with funny videos, pics, articles, and a whole bunch of other funny stuff. It's a very old American humor website which is continuously providing great humor stuff to amuse people.
8. TheChive
theCHIVE is a photo-entertainment website independently owned and operated by Resignation, LLC. Images and videos appearing on theCHIVE.com are selected by staff to offer great humor and entertainment to the end-user.
9. College Humor
College Humor is another humor and entertainment website which tries to entertain its users by providing funny photos and videos which mostly make sense to college students.
10. Quick Meme
QuickMeme is the best destination to find and share funny memes on the Internet. You can share & caption memes, and post anything you find interesting or that makes you laugh.
Disclaimer: Please be advised that the content on some of these websites may not be suitable for those under the age of 18. If you're not of legal age, you should visit the only website confirmed by your parents.
MORE ARTICLES TO READ:
That's all! These 10 are my all-time favorite humor and entertainment websites I would like to visit every day to fresh up my mind. Let me know which one you like the most.