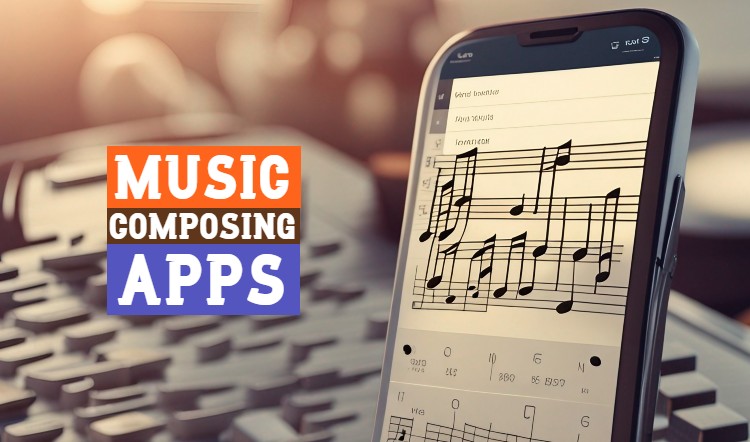 As we see in our surroundings, every youngster wants to become an actor, singer, music artist, music composer, etc. But if you don't have a lot of resources and are interested in music composing, these Free music composing apps for Android Phones will surely help you. You can install these apps from the Google play store for free on your Android phone.
So, don't throttle your dream and interest in music composing. Read carefully about these top 5 free music composing apps for Android phones, and opt for anyone according to the combination of your uses and features of these apps.
Music Maker JAM is one of the top free music-composing apps for Android phones. It is the easiest music creator application on the Google Play Store. It lets you compose music in a variety of genres like EDM, trap, hip-hop, house, pop, rock, and more.
All you need to install the app and pick from thousands of studio-quality loops, beats, and samples to start mixing your new track and then share it instantly with a worldwide audience.
Well, here are some of the features of the Music Maker JAM Android app:
300+ Mix Packs with 500k+ loops
Produce your own song with an 8-channel mixer
Thousands of studio-quality loops
Easily adjust tempo and harmonies
Remix tracks
Record your own vocals.
If you have a deep interest in music composition, it's the best app for you. You can compose music with this app on your Android phone and share it on SoundCloud, Facebook, WhatsApp, and other social platforms to get noticed by millions.
In the list of free music apps for Android apps, BandLab comes in the second position. As the last one, BandLab allows you to make, share, and explore music like never before. And the app provides a powerful Digital Audio Workstation (DAW) that is incredibly user-friendly.
With the help of BandLab's tracks, cloud storage, royalty-free sounds, and real-time collaboration, you can take your music composition journey to the next level. And the best part is BandLab is compatible with all types of users, whether a beginner or a pro.
Following are some of its main features that you should keep in mind:
Multi-track Studio
MIDI Editor
Royalty-free sounds
Virtual Instruments
Collaboration
Cloud storage
Tutorials.
You can visit the Music Studio app on Google Play Store via the above link and check out the whole features. Or just give it a try by installing it on your device and check if it's suitable for you or not.
Groovepad is another free music composer app on Android phones to compose music on your phone and tablet. It offers a vast library of over 100 loops and samples, covering a wide range of genres. This extensive collection allows you to effortlessly create your own unique music compositions.
Moreover, Groovepad has a simple, and intuitive interface that caters to users of all skill levels. You will find the app easy to navigate and create your music.
You can have a look at the features of Groovepad.
A wide variety of loops and samples
A variety of effects
A simple and intuitive interface
Allows to share created music
Beat maker and some tutorials.
Visit the link to see more features and details about the app. You can also install this app from this link on your Android device.
Maestro is a perfect music composer Android app for music students, classical music composers, songwriters, and everyone who wishes to write music easily.
It contains lots of interesting features for music composition and the best part of this app is that it's absolutely free to use without any limitations.
Some of its main features are:
Write and learn musical notations
Draw Notes, Chorded Notes, Rests, Measure Bars, and Repeat Bars
Draw Articulations, Note Relationships (Tie, Slur, Triplets, and more), Accidentals, Dynamics, Octave Up and Down, and more.
Play your music with 127 MIDI Instruments.
It comes with many more great features such as giving names to your masterpiece by naming titles, subtitles, and composers, listening to it anytime, and more.
Last but not least, Moises is the app where you can compose your own music. It is an AI-enabled app that allows you to separate vocals and instruments from any song, and then create your own composition with individual tracks.
Moreover, there are other features on Moises to create your own music. But, there is a catch. Not all the features of Moises are free, there are some features of the app that are available with its premium plan.
Well, here are some of the features of Moises.
AI Audio Separation
Cloud Storage
Chord Detection
Smart Metronome
Audio Speed Changer.
That's all guys! These were the top 5 free apps for music composition for Android Phones. You can Install any of them for your entertainment. And if you are serious about becoming a musician, these apps are mandatory for you. These apps are the best platform to learn music composition.