Without mobile apps, the smartphone is almost useless. From education to entertainment, there're many kinds of apps are launching every day and making thousands of dollars. This is the reason many people want to create and launch their own app in the market but fail due to a lack of coding skills.
So, if you also want to create your own mobile apps but suppressing your dream due to the lack of coding skills, then let me tell you that you can make awesome smartphone apps even without programming skills.
In this article. I'm going to introduce you to the top 5 websites to build Android and iPhone apps without coding skills. So, why wait? Just move forward to know about these excellent websites.
Best Places To Create Mobile Apps Without Coding
Friends, are you ready to start making your Android, iPhone, or Windows Phone app? So, read about these websites and choose the best one for creating the mobile app without any coding.
Appsbar is a very useful online tool to create mobile apps without any programming knowledge. Appsbar was introduced in 2011 as the first cost-free way for anyone, at any skill level and with a limited budget, to make rich and personalized apps that reflect their own personality, business or event with direct access to app stores.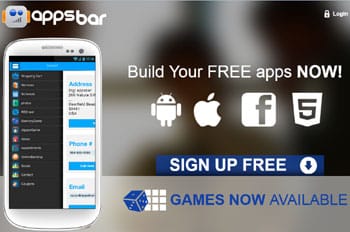 Appsbar helps you design apps for almost every operating system such as Android, iOS, Windows Phone, etc. It also allows you to create Facebook apps.
It takes three steps to create apps. In the first step, you need to select your app type (business, music, events, and more). The second step deals with designing and previewing your app as you go and in the third step Appsbar develops your app and provides you with the necessary tools to share your app with the world. Isn't it easy!
Buzztouch is another mobile application designing online tool where you can design both types of apps i.e, Android and iOS. It provides you every facility to design your own apps without any limitation. You can use pre-written plugins or create something custom without any limitations.
On visiting the website, it provides you a complete guide for how it works. You can watch the videos for how to create, download, and launch the apps. In the case of pricing, it offers you to create 3 apps hosted on its server free of cost. For more (50 hosted apps) facilities, you can go for a premium plan that takes $79.99/Year.
With Andromo, you can create your own Android apps very simply. It provides the facility to create your first app free of cost. To create your first free app, you'll need to sign up with Andromo.
If you want to create more Android apps, you'll need to pick a premium plan. It offers three plans, one is on monthly basis and the other two are on yearly basis. It takes $30 for a month and $99 for a year but with limited features. Instead, the third Professional plan takes $249 per year. In the professional plan, it will never show the Andromo logo on the About screen whereas the previous two plans include it.
AppMakr is another website to create mobile apps online without coding knowledge. It offers you to create Android, iOS and Windows Phone apps. It provides a very easy module to create a free mobile app. You just need to visit the website and type in your App title and move ahead step by step.
However, its free tool has some limitations such as shows contextually relevant ads, your designed app will be published to the AppMakr market, and more. So, you can hire its premium plan for creating professional apps. It uses three premium plans $1/month, $9/month, and $99 All-Time Free. Visit the website for more information.
iBuildApp is also a free online web tool to create Android and iPhone apps in just 5 minutes. No single coding is required to create these apps. There are several features of the apps created by a site such as GPS Notifications, Make money by placing ads, Create an app for selling goods and receiving payment, social sharing, and more.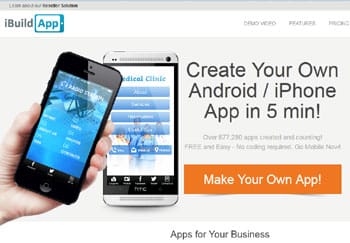 Its pricing ranges are higher than the above 4. It provides 4 types of pricing plans including Free, Basic, Business & Enterprise. If you want to create an app for your Tablet, then there is no plan to create a free tablet app. For tablet apps, it offers two premium plans – Business and Enterprise.
YOU MUST READ:
What Do You Think?
What do you think about these websites? After reading the above information about all of them, you can judge the best one for you very simply. So, let me know did you liked this post? Found it useful? I hope you should!
Wind Up
I filtered this list from a huge amount to mobile apps creating websites. This list of online web tools to create mobile apps is very rare and you all will definitely find it very useful.
In case you're not so good at programming or even don't have any knowledge of coding, nonetheless, you can create your fantastic, professional, and business apps using these websites.