Using Google is a very common activity for everyone. Don't know how many times we search things on Google throughout the day. But, do you get accurate results? If the answer is no, here are some tips on how to make Google search more effective.
It is very important to get the right result on Google as thousands of similar web pages are there on Google for any search keyword. So there are high chances of getting wrong or not–exactly what you want, and that is why you need to understand how to make Google search more specific. Meanwhile, the following could be the reasons you are not getting the right result;
No results available for your query
Entered a wrong query content
Sometimes Google may not understand what you are finding
Nonetheless, we are not focusing on the reasons, instead, we will talk about ways to know how to make your Google search results more effective or in other words, how to make a perfect query to get the relevant results according to your query. So, here are some best and most effective tricks by which you will make your Google search results more effective.
1. Use AI ChatBots
AI Chatbots have been in trend for the last few days. These chatbots are AI-enabled tools that have a large database of information from millions of web pages. Very different from normal search results, Chatbots provide results in a conversational way, where you ask your question and get the answer as if you are talking with a human.
Google has its own chatbot, Google Bard, that you can try for search. But, while searching on these chatbots, keep your eye on the sources from the results shown here.
2. Make An Exact Phrase
It may happen many times that you enter a wrong or inappropriate query on the Google search bar that ends with the wrong result. So, you should try to type an exact phrase or a group of your query. You can do it very easily by using double quotes on both sides of your query ("query"). This means if you want to search AllUsefulInfo on Google, try to search "AllUsefulInfo".
3. Search For the Keyword
It is the main thing while you are making a Google search that you should search for a keyword. It means when you type a query on the search bar, Google automatically shows you some relevant queries below the search bar. You should select one of them for the effective search results.
4. Use Google as Currency Converter
The search engine, Google, has many of its own tools that can really help you to get accurate results. One of these tools can be used as a currency converter. When you put any keyword related to Currency in the Google search bar, the first result will appear in a table format that includes that currency rate, past years' graph, and a section where you can convert any currency into your own currency. Or you can directly search for keywords like 100 USD to INR to get instant results.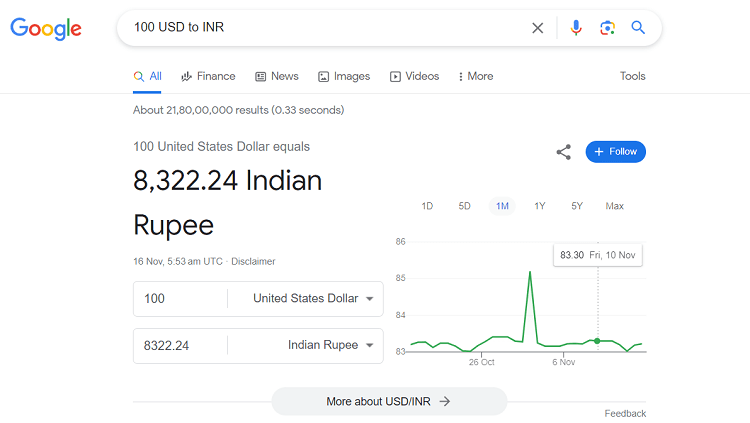 5. Internet Speed Checker
Like the currency converter, there is one more tool to check your internet speed directly on Google. You just have to type the internet speed test and search for it, the first result will appear with the Internet Speed Test title. There is a button, Run Speed Test. As soon as you click on it, a speed test will start running and the internet speed will appear on a meter.
6. Use Precise Location
Whenever you search for something best in your nearby area, use this feature for the best results. After getting the result, there will be an option called, Use Precise Location. You just have to turn on the location and tap on this option. You will get filtered results that will show the nearby best ones in your area.
7. Use * in the Place of the Missing Word
Often it happens, you forget the exact thing you want to search or any specific word in the search term slips from your mind. In this case, there is an asterisk sign * that can replace that word. You can use it in the place of the missing word and type the search term. Google will show you the relevant queries by replacing the * with different words. For example, what is * in mobile settings?
8. Use Google as a Calculator
You don't need to use any calculator for hard and puzzling calculations, Google has its own calculator. With the help of this feature, you can calculate directly through Google Search. You just have to type the numeric terms that you want to calculate and you will get the result. Not only does this type of calculation, it also works like a converter to convert Kilometers to Meter, vice versa, and more.
9. Check Share Prices
With Google search, you can directly get the share price. And not only the current share price, you can have a detailed study of the share with the current and pastime prices.
10. Check Related Search Section
If you have noticed, there is a related searches section on every search result page end, where related questions or searches are shown. You can use them for a detailed or exact search result if you are not finding what you exactly want to search.
11. Use Google Lens
Google Lens is Google's AI-enabled search tool that helps you to identify things you don't want to know. By scanning a particular object via Google Lens you can get a detailed guide and information about that object.
12. Get Quick Definitions
If you are searching for word definitions and not getting an effective result from Google, here is a command that you can use for word definitions. The command is defined: for quick definitions. For example, if you want a quick definition of Democracy, try to search define: democracy.
13. Quick Search For Movies
How can you give a quick search for movies? Here is the answer. Friends, you can search for movies on Google by entering their names but sometimes you may not get effective results. So, here is a command movie: that you can use before the movie name to get effective results. For example, the movie: ddlj.
14. Find the Time Of Countries
If you have tried to find the time of many countries, and cities around the world and didn't find the effective result, don't worry! I think you must change your written query to find the time of a country. The appropriate way is to Type Time in the search bar and then the name of the country. For example, if you want to get the time of New York, Enter Time New York.
15. Flight Status
If you want to get the US flight status or details but cannot find it on Google, simply use this way: First type the flight name and then the flight number and hit enter to see the effective search results. For example, to get the details of American flight number 13, try the keywords like American Airlines 13.
16. Flights Source To Destination & Price Comparison
Feeling difficulty scheduling flights? No worry, use these keywords flights from and flights to. For example, Flights from New York to Mumbai. Moreover, you can do the ticket price competitions directly with the help of Google search. Just type the Flight Cost Comparison and enter to compare the flight costs.
So, these are some tricks that will make your Google search more effective than before. Hope these tricks will help you to get the exact answer but one thing is as important as finding the result is the authentic information. Always make sure you get authentic information from reliable websites.