If you are passionate about decorating your things in your way, then here is something new for you to design and decorate, it's none other than your precious mobile phones. There are several websites that can help you to design your phone cases online, through which you can give your devices an uncommon and attractive look.
This time you are the artist who is going to design something new for your mobile phones, which could really be adorable. Are you excited to design unique phone cases for your devices? Then hop into this world of these best websites to design phone cases online.
Like My Case, aims to be the world's number one choice for personalized phone cases. And it is trying hard to be always at first by helping people create unique and stunning quality cases for iPhone, Blackberry and other devices.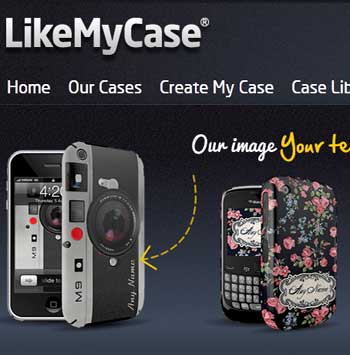 The site brings a very easy way to create your own phone and tablet cases. First, just upload your image or choose design from the library. Then select your device from the given gallery. Now the next thing to do is the selection of cases and here it completes.
The total fare of the case will be displayed on your screen as you complete the designing of your case. The site will send it straight out to you. Here you can also get the type of case you want for your mobile such as dual case, solo case, flip case and pouch case.
Create your own skins and cases with this famous website known as Gelaskins. It gives you a platform to express your individual design and customize your digital device with interchangeable, protective art prints that go anywhere.
The site also made it possible for you to be the artist and design your own phone case so that make it something one-of a-kind, just like you.
Now create your own phone case or skin with the Skinit customizer. You just have to upload and use a photo to make a personalized phone skin.
Skinit is the industry leader in consumer personalization of electronic devices with a few easy steps. Just choose your device, upload your image, add text and graphic to it. That's all you have to do.
Case Custom is a social design service to make the phone cases designed by you and the site will turn your design into a real case using advance technology.
Case Custom helps you to customize your unique case with the easy steps. Just upload your favorite photos from your computer, Instagram or Facebook, designing your case and finally receive the cases designed by you.
MyCustomCase.com makes it very easy to create unique, custom mobile cases that protect your phones and more. Here you will get cases for phones such as iPhone 4/4S, iPhone 5/5C/5S, Samsung Galaxy S3 and S4, iPad, iPad Mini and iPod Touch which are created with the exclusive color integration technology and made up of durable and flexible materials.
With My Custom Case, you can design the phone cases with latest design styles, names, monograms and initials or favorite photos.
MUST READ: Top 10 Waterproof & Shockproof Covers For iPhone
That's it! Hope you'll enjoy all these websites and they will also be proven very helpful to you for creating or designing your mobile phone cases online.