Facebook has now become the main part of our life. It's the habit and interest of most of people to share on Facebook what they do or other data such as photos, videos etc. Facebook integrates our best moments and memories of the past time in form of photos, videos and other content we share of Facebook.
It may happen many times that you wish to collect all your memorable moments spend on Facebook. So, I think everyone would know how to download a photo from Facebook but many people don't know how to download a copy of your whole Facebook data on just a click. Yes guys, you can do it simply just on a click. It is the best and very simple way to store your all Facebook data in your computer.
So, no your best shares and important photos will lose and rather you can save all of your Facebook content at one place. Continue reading the article to know how to download a copy of your Facebook data.
Download a Copy of Your Facebook Data
To download a copy of your Facebook data is very simple process. You can do it by following a few steps.
STEP 1: Visit the page facebook.com/settings and sign in with your Facebook account ID and Password.
STEP 2: Here you will see the link for Download a copy of your Facebook data. Click on this Link.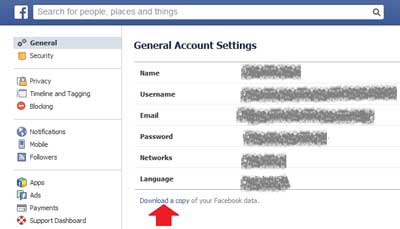 STEP 3: In the next page, you'll see the button named Start My Archive. Click on it. It will then prompt to confirm you to send request to start archive. Just after it will prompt again to tell you that an email will send you when your article will ready to download.
STEP 4: Now, you don't need to wait for email because it may take a lot of time. So, again visit the page facebook.com/settings and again click on the link Download a copy of Facebook data. You'll see the following page with the Download Archive button. Click on it to download your Facebook data at once.
STEP 5: Now, it will ask you to choose location to download your Facebook data. Confirm the location in your computer and you data will download in your computer in a short time.
Read Further:
That's all guys! I hope the trick is very simple and useful for all Facebook users. If you are having any problem to apply it on your side, feel free to speak your mind in our responsive comment box.