Yesterday, I brought a DVD of movies and copied the video files to my Android smartphone. But unfortunately, when I tried to play the movie, it said:
No apps can perform this action!
This is because, in the DVD the video files are in .VOB format and the media player app on an Android phone would not be able to support the .VOB format and that's why causing the problem.
So, I'm just writing this article because I found the solution to this problem and successfully played .VOB video file on my Android phone. So, in the further lines you'll read – how to easily play .VOB video files in your Android smartphone.
How to Play .VOB Video Files in Android
Now, learn how to play .VOB video files on Android phone. Actually, you all should notice the warning that comes when you try to play .VOB video file as mentioned above which says – No apps can perform this action! So, definitely, you need an app that can perform this action.
So, you just need a media player app that can play .VOB video files in Android. Isn't it guys! The perfect media player for playing .VOB files in Android is Wondershare Player. It is available on Google Play.
Wondershare Player can play all the popular video file formats including FLV, AVI, MKV, WMV, MOV, RM, RMVB, ASF, M2TS, MP3, WMA, AAC, FLAC, M2TS, VOB, F4V, 3GP, etc.
So, look at the following steps to learn – how to play .VOB video files in Android using Wondershare media player.
First of all, install the Wondershare player from Google Play on your Android device.
After installation, open it, finger tap on Local Menu (three horizontal lines placed vertically) and then tap on Gear icon for open settings.
In the next screen, find the Decoding Mode option and tap on it.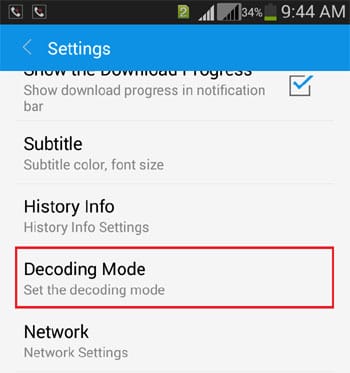 In the Decoding Mode option, you'll see the number of file formats that are supported by the Wondershare player. So, finally, look for VOB format, tap on it, and then check the term Auto and that's all!
That's all guys, now Wondershare Player will start supporting .VOB video files on your Android phone. So, open the Wondershare player and fetch the .VOB video files from the memory card or anywhere, and start playing without any interruption.
Further Reading:
Still, if you're having any problems, then feel free to speak your mind in our commenting system! I'm always here to do my best for your help!