It happens many times that you're watching movie on your laptop or PC at night and slept suddenly. In this condition, your laptop remains on till the movie finish and also after ending the movie the laptop remains on. This can damage your whole laptop, not only the battery life. So, I think you would have understood what I want to convey.
Actually, with this article I want to show off an amazing and very useful trick by which you can schedule your PC to shutdown automatically after a certain time. Yes guys, you can give your computer a time to make it shutdown automatically after that. So, this article provides you an ultimate guide on how to shutdown your Windows 7 computer automatically after a certain time.
Honestly, it is very to apply which you can learn in a few steps. Now, without clarifying more things, I just move on the shocking steps to make your PC auto-shutdown after a fix time. Have a look on them –
First of all, open Command Prompt. To open it, go to Menu button and type cmd and hit Enter or Press Win+R and Type cmd and hit Enter.
Type shutdown.exe –s –f –t 1800 in the Command Prompt.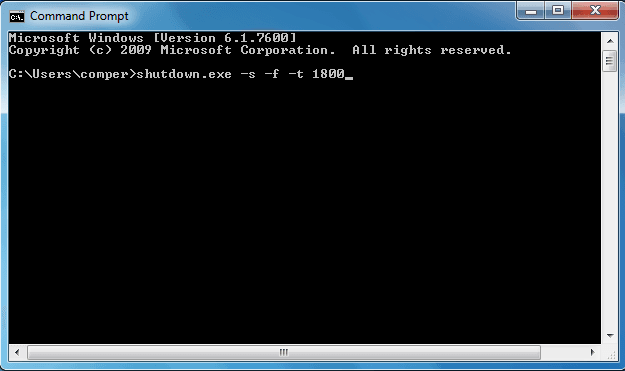 Now, hit Enter and close the Command Prompt. It means that your computer will be shutdown automatically after an half hour.
That's all guys! You've done! Now, I tell you the exact meaning of the command written above. Actually, the command shutdown.exe –s –f –t 1800 will shutdown your computer after 1800 seconds (30 Minutes). You can set up the time according to your need by replacing 1800 with any number you want.
MUST READ: 10 Reasons Why Does Computer Become Slow
Here, shutdown.exe is an executable file Here shutdown.exe is a executable program file that executes options –s –f –t,where –s causes to schedule your computer to shutdown automatically at a certain time given by –t option. Here –f used to force close the running applications without any warning.
In addition, you can replace –s with –r to restart your computer after a certain time automatically. Executable program file shutdown.exe will execute –r instead of –s and provide a schedule to restart your computer automatically after the you set.
Here's the video guide on the same topic: