You would mostly seen Google ads on All Useful Info but honestly only on two of its articles I'm running Media.net ads (Yahoo! Bing Contextual Advertising Program). And you will be surprised to know that only those two articles made $935 for me with Media.net ads. Of course both of those articles are most popular on All Useful Info and generate high search traffic.
It's just a report of my Media.net earnings of February 2015 when I was using only the total of 2 ad units of media.net ads (only 1 ad unit on 1 post). In this month, the total of 236,239 impressions generated from these two ad units and made $935 in return.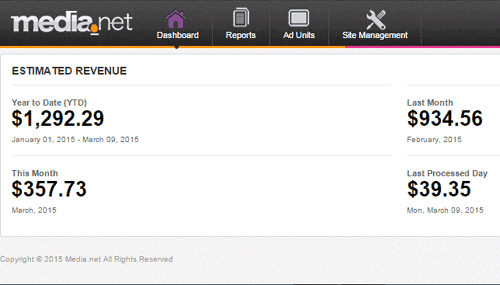 This revenue is much higher as compared to Google Adsense because, I'm using Google Adsense for whole the website and still it is unable to make $1000 per month now whereas Media.net ads are making approx $1000 with only two articles (total of two ad units).
In this moth of February 2015, I made these $935 from Media.net when the overall monthly RPM was $3.96 and total number of 236,239 impressions generated. You would know that Media.net doesn't let you know how many clicks you generate on ads.
The maximum RPM I generated on 2nd February i.e $6.49 and the maximum amount of US Dollars I made on 21st February i.e $65 when I generated 11,000 impressions and RPM was $5.90.
READ ALSO: My Single Article Made $200 in Just 7 days With Media.net
One more thing I wanna share with you that my Media.net account was approved long time ago but I didn't use it just because of the bad reviews on Internet. I read one of the reviews of Media.net ads that said that initially Media.net ads pay great but as the time passes out the RPM becomes to $0 and the time will come you will generate $0 for your hundreds of impressions. But, I didn't think so because I had almost 2 months of using Media.net ads and continuously getting dollars according to the number of impressions generated.
So, I will suggest you that without over-believing on others just give it a try and I hope you will find it awesome! You would know that "believe in yourself becomes strength and confidence but believing others becomes your weakness".