Wanna create a fantastic collage of your best collection of photos on Android, then I've previously published an article about "how to create photo collages in Android phone". I already told you too that by using this article you'll be able to create your photo collage in Android without using any app. But this is a built-in service in many Android phones and don't provide many attractive styles and frames to be added.
So, if you want to make your photo collage memorable, unique, and very attractive, then you can use some Android apps to create very attractive photo collages with new styles, frames, stickers, and many more things.
This article contains the top 5 apps to create photo collages in Android devices. Are you ready to go through these apps? I sure that you'll definitely like them all. So, let's start reading this stuff:
It is the pretty cool Android app that enables you to make a collage of your photos very amazingly and in a stylish manner. Once you've created your collage, you can share it to Facebook, Twitter, Instagram, and Pic Collage network too. So, this fantastic app provides many interesting features such as awesome stickers, fun fonts, self-portrait, and the ability to share to your social networks.
Recommended Posts: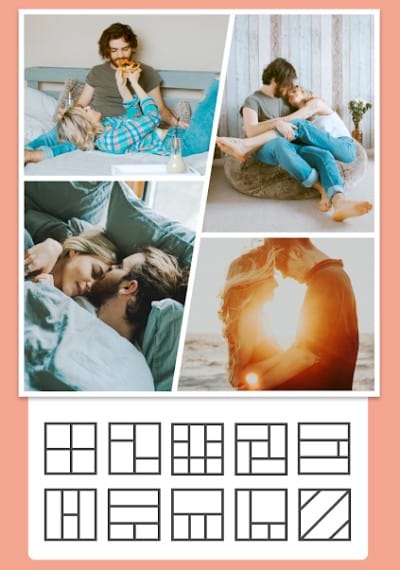 You can use this app to merge lots of photos into one photo very beautifully through a very simple operation. It enables you to customize styles and use templates to merge photos. The app also provides a lot of beautiful frames and background templates to make the resulting photo much more beautiful. This app also enables you to share your created collages on social media profiles.
If you are searching for an Android app for making a fantastic collage of your best photos collection, then all you must be searching for this app. This is an amazingly cool Android app to create wonderful, stylish, and attractive photo collages very easily. It has many outstanding features such as a variety of layouts for photo grids, wallpapers, photo walls, albums, and collages, and Editor is provided to move, swap, rotate, zoom, sketch, etc in the photo lab and many more features.
This app enables you to create wonderful collages of your photos very simply. This application includes about 100 collage templates and over 120 background options. You can perform many actions with photos such as rotate, move, or zoom. Not only this, you can also add text on your collage with different font and styles. All your completed collages can be saved in HD format in your SD card. This is the free version of KD Collage app and if you want more features then you can search for KD Collage Pro version.
It is really a lovely Android app for creating lovely photo collages very instantly. In this app, you can select from 100+ predefined layouts or create your own. Moreover, the app has 100+ stickers, over 55 different fonts, many background colors and patterns and many more attractive things to be used while creating an awesome photo collage.
Further Reading: Websites To Add Speech Bubbles To Your Photos Online
So guys, these are the best and free apps for creating outstanding, attractive, and wonderful photo collages in your Android phone. I hope you'll like these apps!