Do you want to add speech bubbles to images and your photos? So, you don't need to download/buy any software to make your photos speechable but I've come up with 5 comic and free websites to add speech bubbles to your photos online.
These websites are very easy to use. You just need to upload the photo, add a bubble, and enter the text inside. So, are you ready to try these sites to make speechless pictures and cartoons speechable? Yea! That's good.
Now, have a funnier look at these websites that will help you to add speech bubbles to your photos online:
Adobe Spark is a free and easy-to-use online photo-editing application that allows you to edit pictures, make thumbnails, photo collages, presentations, and much more. Adobe Spark also makes it simple to add speech buddles to your photos in no time.
As soon as you visit the Adobe Spark website, you'll need to sign up for an account on Adobe Spark to continue using it. Once, you're signed in to your account, choose a template to start over or just use a custom size to enter the Adobe Spark editor.
To add a speech bubble to any photo in the Adobe Spark editor, go to Icons, search for "Speech Bubbles", and add any suitable speech bubble by clicking on it. After adding the bubble, you can write any text on it.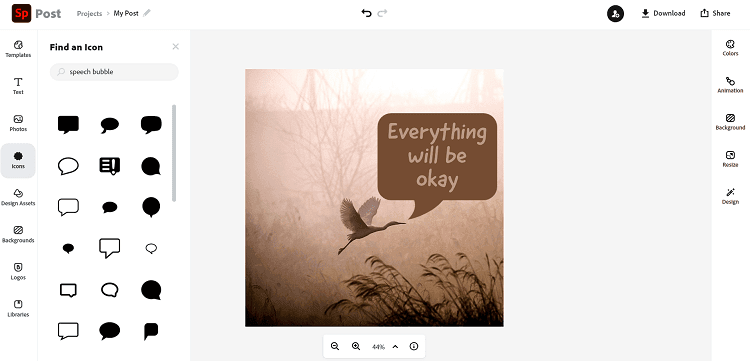 Recommended Posts:
2. SuperLame!
It is another fantastic website to add comic word balloons, speech bubbles, and thought balloons to your uploaded photos. Yes, as of Speechable here also you can upload a picture from your PC and add such bubbles and balloons to your photo.
First of all, visit the above link and then click on Start Here! Now, you'll move on to another screen. Here click on the Upload Image button and upload the picture. To add a balloon, click on the Add a Balloon button to add the balloon to your photo.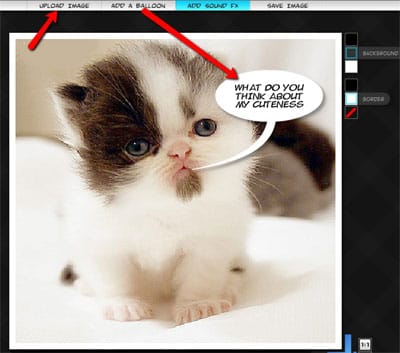 Now, you can save or share this picture anywhere you want. I hope you will find it very simple and interesting.
It is a very simple comic speech and thought bubble photo editor. After visiting the website, you'll automatically understand what to do.
So, you can simply upload a photo from your PC or Import a picture from Facebook, or use a random stock photo to add speech bubbles. After importing photos, you can add speech and thought bubbles. Only be careful about one thing is that it doesn't import low-resolution images and the resolution of the photo must be at least 640×480 px.
LunaPic is a great online photo editor where you can do almost everything with your photo. It provides several drawing tools, effects, and animations.
Now, if you want to add speech bubbles to your photo with LunaPic, then visit the website and move the cursor to the Draw category, and then select Speech Bubbles from them.
Now, you can upload your picture and add any of these speech and thought bubbles to your photo very simply. Another thing that is very important in this editor is that you can make the bubble area transparent.
It provides many photo editing facilities such as Cartoonize yourself, adds speech bubbles, and many other attractive bubbles to photos, and more.
To add a bubble to your photo, first of all, you've to upload your photo, and then you can add bubbles to your photo very simply.
Further Reading:
Finally, I just wanna say that if you want to add comic speech bubbles to your photos to be uploaded on your blog as a blog post, then the first and second listed sites are best. In addition, you wanna add different types of attractive and other bubbles such as heart bubble, etc, then you the last one and also the other listed websites are good too.