If you're a blogger or running any WordPress website, it might be the simplest task for you to add a Facebook like box to your website as there are lots of plugins available on WordPress Plugin Repository for adding Facebook Like Box very easily. But, if you don't want to use any plugin for the same, it becomes more easier! Yes guys, I will tell how to add Facebook Like Box to your website without using any WordPress plugin.
Adding FB Like Box Without Any WordPress Plugin
Adding a Facebook Like Box to your WordPress website without using any plugin is very easy task. All you need to use Page Plugin feature of Facebook Developers. Don't worry, I will guide you for everything.
Follow these steps to add Facebook Like Box to your WordPress site:
First of all visit this Facebook Developer's Page and enter your Facebook page URL. You can also set the width for your Like Box. As soon as you will enter your Facebook page URL, it will show you the preview (how your Facebook Like Box will look). Finally after choosing the desired settings, click on Get Code button as shown in the following screenshot.
As soon as you will click on this Get Code button, a new popup will open with two kind of codes – one is the Javascript SDK and another is your Like Box code.
According to that popup, it will tell you to include the JavaScript SDK on your page once, ideally right after the opening <body> tag. And another Like Box code will be needed to place where you wanna put the Facebook Like Box. BUT GUYS, as a WordPress user you don't need to put the JavaScript SDK in your <body> tag, in fact it is something more easier for you.
So, in your WordPress dashboard, go to Appearance > Widgets and add a HTML Text Widget to your sidebar where you wanna place your Facebook Like Box. And simply copy and paste both of the codes from popup one by one into your WordPress Text Widget.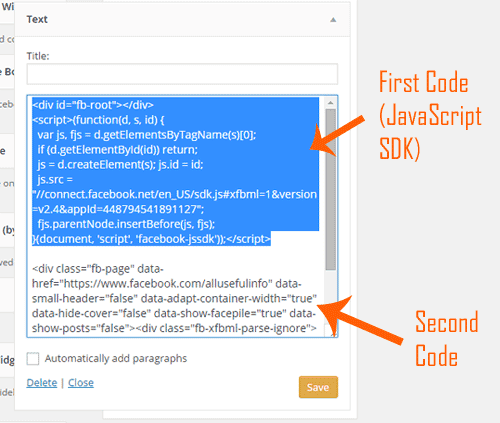 KNOW ABOUT: Facebook Page Promoter Lightbox WordPress Plugin
That's all. Finally click on the Save button to save the code in the Text widget and check out the website, Facebook Like Box will be shown at the place where you put the text widget.
Isn't it very easy? Let me know, if you still feel any problem in applying this method!