First of all, let me tell you that why I'm writing this article. So, the reason behind this is that the Facebook Page Promoter Lightbox WordPress plugin is very helpful and effective for increasing your Facebook page likes. Actually, it pop ups automatically when user visits your site and force the user to like your Facebook page. Still with the settings user can close that pop up if he/she don't want to like.
So, with this article I'm going to provide you an ultimate guide on How to install and set your Facebook page promoter lightbox WordPress plugin to increase your Facebook likes instantly.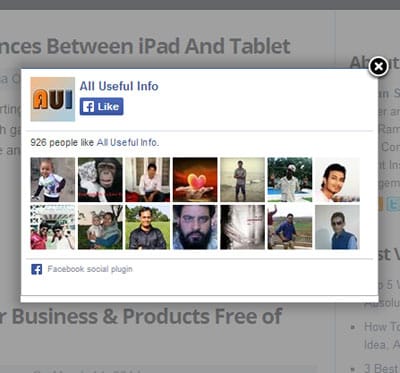 I know you are very curious to learn this guide to set up that awesome WordPress plugin. So, I won't take much of your time, just have a look on these simple steps.
Install The Plugin
As we all know that the one and only most common place to download WordPress plugins is WordPress Plugins Repository. But, you can also download this plugin by logging into your WordPress admin and search for this plugin by its name.
But, if you didn't found it there or because of any mistake in searching, then follow these steps:
Or, you can simply install it without going to any web link. To do so, just log into your WordPress admin and navigate to Plugins > Add New Plugin and Search for Facebook Page Promoter Lightbox in the search bar. Now, Click on Install Now and then activate the plugin.
How To Set Up
After activating the plugin, it needs to setup to work correctly. To do so, follow these simple steps:
After activating the plugin, Click on Arevico Settings placed just below the main Settings.
Now, you'll need to fill out your Numeric Facebook page ID and other settings. To find your Facebook page ID, visit here.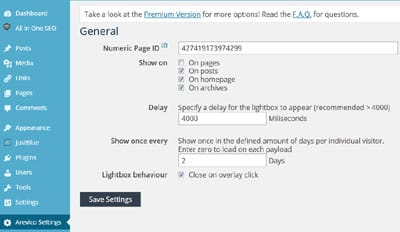 That's all, your Facebook page promoter lightbox plugin is setup successfully. According to the above picture you've setup that the plugin will show off on posts, homepage and on articles. It will pop up in 4000 Milliseconds and show once in 2 days according to the above picture settings. You can enter Zero to show this box on each payload.
FURTHER READ:
By the way, I hope you will like this article and it will be proven very helpful for you. If so, then don't forget to share to your social networks.