Your Facebook page or profile id is a numeric value used to identify the page/profile under Facebook's database. So, it may be useful for several places such as for setup any WordPress plugin etc.
Yes guys there may be several WordPress plugins like Facebook Fan Page Promoter Lightbox plugin need the numeric Facebook page ID to set up and work. So, now I tell you how can you find out your numeric Facebook page or profile ID.
Generally, there are several options to find out your Facebook page numeric ID in seconds. I've listed 3 best and most effective ways to find out your Numeric Facebook Page or Profile ID.
Now, have a look on these different methods:
Method #1:

Using Facebook Graph API

It is the most reliable and professional way to detect your Facebook page numeric ID. To do so, you just need to visit https://graph.facebook.com/allusefulinfo and instant replace allusefulinfo with your page/profile username.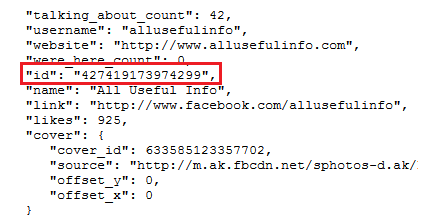 See Also: 5 Mysterious & Interesting Facts About Facebook
For information, let me tell you that by using the above URL, you will find my Facebook Page ID. So, copy and paste the above URL in your browser's URL bar by replacing allusefulinfo with your page username.
Method #2:

Profile Picture Method

This is another most reliable and simple method ever. You just need to visit your Facebook page or profile and Click on profile picture and wait to load it carefully.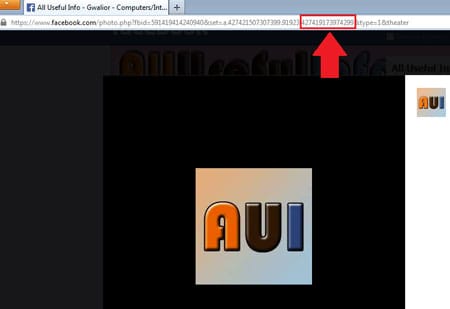 After the profile picture is loaded, look at the URL bar and find your Facebook numeric ID as in the above picture. I hope, you'll feel it very easy and fast.
Method #3:

Findmyfacebookid.com

It is very easy method to find your Facebook page or profile numeric ID. It is more simple than the above two but the only problem with it is reliability. I mentioned it because it found my Facebook page and profile ID absolutely correct.
To find your numeric ID with this source, visit https://findmyfacebookid.com/ and enter your complete Facebook page or profile URL in the box and Click on Lookup numeric ID. Hope it will work for you.
MUST READ: 5 Great Tips or How Tos for Facebook Page Admins
So, that's all guys. I hope it's enough to find your numeric Facebook page/profile ID on a few clicks. Still if you're having any problem, make me know about that in our comment box.