Business Mail is a service that enables you to establish a professional identity in your day-to-day communication. If you've spent days for searching business email providers to host your email account on your own domain, then you would definitely heard about one of the biggest business email provider i.e, Gmail for Work but it's not now free! Of course, it's my favorite business email hosting service, still in this post I'm going to show you 5 best business email hosting providers so that you can select a best one according to your need and budget. In this list of business email providers, one of them offers a free plan while other 4 are completely premium.
I found this free business email hosting service very rarely whereas the other 4 are common and you would know about them. However, the cost of different email hosting services are different and depending on their features.
So, lets see the following business email hosting services for your domain: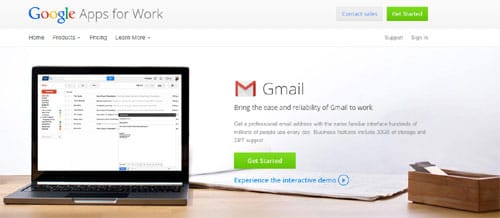 However as we all know that Google is providing most of its services such as Gmail, Google Analytics, Blogspot.com and more absolutely free of cost to its users but when it comes to business, the genuine money it costs you. Similarly, if you wanna use Gmail for business, it now costs some money. For more details, you can visit Google Apps for Work by following the above link.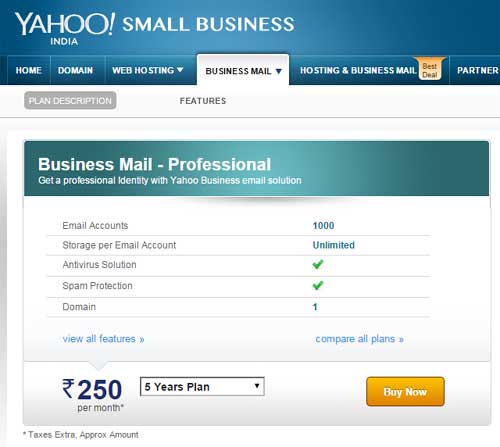 Yahoo is the second popular search engine as well as email service provider after Google and also lets users to host their business email for their own domain. Yahoo Business Mail solution provides you with up to 1000 emails with unlimited storage per account. For pricing and features of Yahoo Business email solution, visit the link above.
Rediffmail is another popular email service in India. For for your India base little business, Rediffmail will help you create a professional email account on your website domain. However Rediffmail is also not free, and comes with two different plans – Basic and Premium but both costs money!

Heard about Rackspace? Guys, it's also in the list of trusted business email providers! It lets you enjoy powerful and professional hosted email @ your domain, for just $2.00/mailbox/month. Access email from Outlook, your mobile, or webmail. Your first 14 days will be free to try it before going for a long time contract.
Just scroll up the page and look for the last line of first paragraph in which I said about a business email hosting service that you can enjoy free of cost. Yea friend, I was telling about Zoho Mail that lets you create your professional business email account on your own domain absolutely free up to 3 users.
Read Also: How to Create an Email on Your Own Domain in cPanel
That's all guys, these are the best business email hosting services and I'm sure you will be satisfied with their features. Still, I will recommend you to use Google Apps (if you're going for premium) and Zoho Mail (if want to use free business email service).