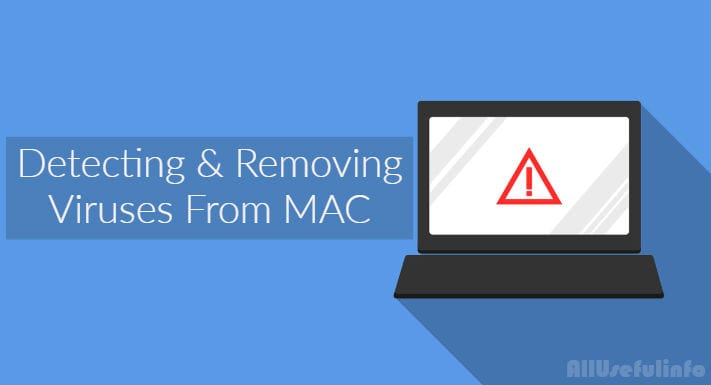 One of the longest-running positives when comparing Macs to PCs is that they are much safer to use. In fact, of all computer viruses and malware programs, only about 9% are specifically designed to attack Macs.
But considering how many millions of malware programs are being produced every day, 9% is an enormous number. An estimated 7.41 million malware programs will hit the Internet in 2018, meaning about 667,000 of those will target Macs. Not exactly a small number.

When a virus is present, Macs can be just as susceptible to malicious software as any other computer. Viruses slow your computer's processes, steal data, deploy spyware and malware, and send your information to any number of nefarious websites. If you want to keep your system clean, you'll need to know how to remove viruses on a Mac.
How to Know if Your Mac is Infected by Virus
Just like when you get sick, there are tell-tale signs that your Mac is infected with a virus. If one or more of the following conditions are met, you should take action to ensure your Mac is virus-free.
Your Mac is running very slowly despite only having a few applications open.
You see advertising appear on your desktop.
Programs open or close without your triggering them.
You find software programs or applications on your desktop that you did not install
Remove Viruses From Mac Using Built-in Antivirus Programs
Fortunately, Mac comes with powerful security options and has loaded up your machine with anti-virus programs to help get out of the trash if you're unfortunate enough to acquire a virus. There are three main tools to employ to remove viruses on a Mac.
Xprotect. This is your Mac's virus scanner. It can scan files you download from the Internet for malware and viruses that might be intentionally or unintentionally embedded in the file. When it's on, it will inform you of infected files, directing you to move them to the Trash.
File Quarantine. Does exactly what it says, and has been a standard feature since the release of OS X Leopard. It not only moves questionable files away from your main system, but if you don't see the move and try to open the file anyway, File Quarantine will give you a warning about the file's condition to make sure you want to open it.
Gatekeeper. The newest member of the Mac antivirus team, Gatekeeper aspires to keep your Mac free of unfriendly apps, as in the ones that don't come straight from the Apple store. If there's an app out there without a Developer ID on it, Gatekeeper will block its installation.
Methods to Manually Detect & Remove Viruses From Mac
In most cases, the built-in antivirus programs that come with Mac work like a charm. But if the built-in antivirus tool isn't solving your problem, you should do a manual virus checkup.
#1. Remove the Suspicious Browser Extensions
Viruses can enter your Mac in form of browser extensions. But, there's no need to worry because you can easily remove them from your computer.
Just launch the browser and open Settings or Preferences and look for the installed extensions. If you find any suspicious extension that you didn't install purposely in your browser, you should remove it.
#2. Uninstall Doubtful Applications From Mac
Most probably the viruses and hijackers inject into the computers in form of application programs. These are the programs that enter your PC without your permission.
However, Macs are highly secured to protect from such kinds of virus applications but still, you should double-check your installed Mac applications to make sure there's no virus installed.
If you find any application program that you've never seen before, don't remember when you installed it, and never ever used it, you should immediately uninstall that and restart your computer to see if there is a noticeable difference.
#3. Try a Third-Party Virus Removal Tool For Mac
Mac is however installed with its built-in virus removal tools as described above but if nothing works for you, you should give a third-party virus removal tool a try.
The Internet is full of software, some are good and some are bad, sorry extremely bad. So, I would suggest you first read reviews of the Mac antivirus software that you're going to use and then make a decision.
These are hopefully the best free methods to get rid of viruses that infected your Mac computer. There might be many other ways to remove viruses and malware from Mac and maybe some other great third-party virus removal tools to do so. If you get to know more methods for virus removal from Mac, do let me know via comments.