Have you ever thought that updating the old articles can boost your traffic? I say yes and it doesn't only boost your traffic, but you can also improve your search engine rankings. In case of mine, it has been a long time for updating my old articles regularly. From the day I started updating the old articles, my website ranking also started growing day by day.
The main reason behind growing the site traffic by updating old articles is that when you update any of your old articles, Google re-indexes it as a new URL by overwriting the old one so if that article was not ranking well in search results then it becomes a chance to get it on the top of the search results if you nicely updated the content. Don't worry I will tell you how to update the old articles to boost your traffic.
Here I will discuss everything about how I doubled my blog traffic and search engine rankings just by updating my old articles regularly.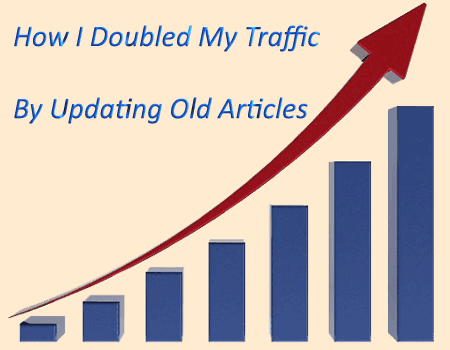 Recommended: Factors to Know How Google Ranks Your Website
It doesn't matter that how many articles you write a day but the only thing matters is that how search engine friendly your article is! But, I can understand that it is not always possible to write each and every article SEO-friendly and also if you write SEO-friendly content then after some time they may lose the rankings automatically. So, by regularly updating your previously published content, you can retain your search engine rankings at a high position or boost them further.
What You Should Update in Your Old Articles
Now, you might be thinking that if you've already published the content, what you can add new in your article. So, here I tell you how can you update your old articles.
Friends, there are several things to add to your old articles. For example, if you publish articles that contain the listings of software of anything, so you should keep the articles updated by add new related software or remove those who stopped the support. So, by keeping your content updated you can easily improve the traffic to your site and your visitors will also be happy with your work.
But, in case if you don't have anything new to update in your old article, still you can update them for inserting the internal links to your other posts that you missed linking in at the time of publishing. You know friends, internal linking to your other posts is another secret for strengthening the SEO.
Display Last Updated Date in Your Blog Posts
Did you think that how people will find it when you updated the content? For this, you should add the 'last updated' to your blog posts so that your visitors, as well as search engines, can easily find when the content is updated.
When I started updating the old content on my blog, I also added a little PHP code for displaying the last updated date in all my blog posts. You can see the I always display the last update date of every article (not the published date).
For displaying the last updated date on your blog posts visit this article. I made this guide very easy to display the last updated date in your articles.
Show Your Last Updated Posts in the Sidebar
Do you want to make your visitors see what you recently updated? In the case of mine, I show my recently updated posts in the sidebar under the "Old Made New" section. It is very helpful for increase the number of pageviews by engaging visitors on your site longer.
For this, you don't need to think more about it because a simple plugin does it for you. This plugin is called "Last Updated" and can be downloaded from WordPress Plugins Repository. After downloading and activating the plugin, all you need to do is go to Widgets in your WordPress admin and drag and drop it to the sidebar. After that, the plugin will do everything.
Read Also: The Best SEO Plugin I Use this WordPress Blog
So, friends by doing all these things I experienced that traffic of All Useful Info suddenly doubled without doing any more hard work. I hope by regularly updating the content and following the above tips will help you to boost your website traffic.