Subscriber are the RSS Readers. These are the persons who subscribe for your website to get daily updated articles on their email. The number of subscribers affects the traffic of your site.It depends on the site owner if he/she wants to show off their blog subscribers or not. But if anybody doesn't provide the number of blog subscriber on their blog, then still you can view subscribers count of any blog/website without their permission.
Yes, friends! I have two tricky methods to find out number of subscribers of any website/blog without their permission. So, Give a surprised look on the following methods –
Method #1: Google Reader Method
Google Reader is a place where you can read your favorite website feeds very easily. You can subscribe number of your favorite websites in Google Reader and you can browse articles in any websites like emails. So, before subscribing a blog, you can look number of subscribers of that blog/website.
By using this trick, you don't need to get permission of that blog's owner, just type the URL or name/keyword of the blog and get count. Now I'll tell you what to do to get subscriber's count through Google Reader Method.
Open Google Reader and sign in with your Google/Gmail Account.
Navigate to All items > Browse For Stuff > Search (Tab). For more ease follow the image.
So, type the site's Feed Burner URL to get subscriber count of that blog. In case if you don't know the URL of that blog, you may use the name or keyword of relevant blog.
Method #2: URL Method
This method is easier than Google Reader Method. You only need to use the following URL to get number of subscribers of any website or blog.
https://feeds.feedburner.com/~fc/XYZ
Just replace XYZ with the blog name like https://feeds.feedburner.com/~fc/labnol.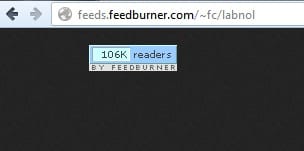 You can use this way only and only if the website is syndicating its RSS Feed via Feed Burner and enabled Feed Count for feeds. Otherwise the first method is suitable.
[su_note note_color="#fefaf3″ text_color="#222222″ radius="2″]
Don't Miss:
[/su_note]