Windows is probably the widely popular operating system in the market. Although popular, it is not perfect as there are many problems mostly arise in Windows computers such as freezing, not responding, crashing of programs and processes etc. As in one of my previous article, I focused on some effective reasons why does computer freeze whereas in this post I'm directly going to tell you some really very effective tips to fix the freezing or not responding problem in Windows PC.
Once you know the reason or cause of the problem, it becomes very possible to solve it out. Exactly because of this fact, I compiled some of the important reasons for why does computer freeze so often in one of my old articles. So, primarily I would recommend you to read the following article before you go ahead.
Some important reasons for why does you PC freeze? Read Here!
In most cases the above-linked article will also help you fix the freezing or not responding issues. But, still, if it doesn't help, following mentioned some tips will help you fix the problem.
How to Fix Freezing or Not Responding Issue in Windows – 8 Tips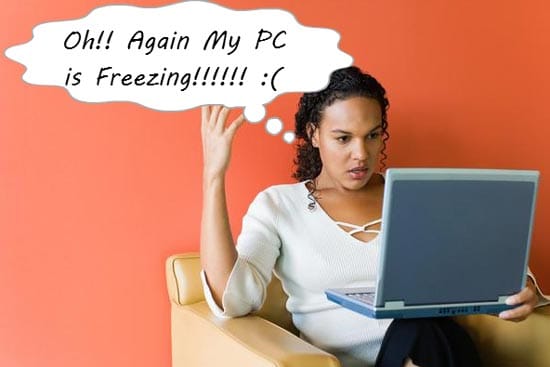 1. Scan your whole computer with antivirus
If you're having freezing or not responding problem in your Windows computer, then it may be possible that your PC is infected by a virus. So, you should run a virus scan. Running a virus scan depends on what antivirus software you have, but basically you should select drive C: and/or other disks (especially hard disks) that you suspect to have a virus.
2. Close the programs after you use them
It may be the habit of many people around us to minimize programs rather than closing them. Honestly, it's also the habit of mine but when I came to know about this fact that it may be the cause of freezing the computer, I stopped minimizing programs instead of just close them when I complete the task.
Each program or window you open in your computer takes some of the computer resources such as RAM in order to keep it running. So, as more as programs you run at a time, there will be as more possibility of freezing the computer.
To make sure whether or not the freezing of PC is due to opening more programs at a time, try to open one program at a time by closing the programs you are not using at that point of time.
Is your computer too slow? Click Here to know the 10 ways to speedup the PC!
3. Uninstall unwanted or useless programs from PC
There may be various programs available in your computer system that are useless or unwanted so you should remove them from your PC.
It may be possible that any of the useless program is keep running in the background of your Windows computer which can slow down or hang your computer.
To uninstall a program in Windows computer, go to Start > Control Panel > Uninstall a Program. Still, if you're feeling problem, Click Here to read how to uninstall a program in Windows.
4. Don't keep your computer turned on for a long time
If for a long time you didn't reboot or shut down your PC, it is possible that your PC start hanging and freezing. So, you shouldn't keep your Windows computer turned on for a long time because it may be possible that you are having the freezing and not responding issues just due to keeping PC turned on for long time. So, it will be good for you to forget this bad habit.
As you would know that most of the time restarting or rebooting the computer system solves all the issues. People knowing this fact don't keep PC turned on for long time and always time to time restart the computer when needed.
5. Keep enough space in your hard drive
The free hard drive space is generally the space in your hard drives that is not in use or you can anytime write inside. Hard drive free space is not only used to store files and data but it also functions to allow swap file space and virtual memory required for the programs to operate, for example, while creating temporary files.
So, if there is not enough space in your hard drive, your PC may start freezing. You should keep at least 20% of free hard drive space. If there is less than 20% of free hard drive space in your computer, you should increase the free space by removing useless files permanently, when possible.
6. Defragment of hard disk can fix freezing
Whenever you open, close, move or delete files, they jump around the part of disk physically and scatter everywhere resulting computer takes longer time to find them. So, the fragmented disks may be the prominent reason of freezing or not responding issue in a Windows computer.
To get rid of fragmentation, there is simple solution called defragmentation of disks. But, how? It's very simple! You can defrag a fragmented disk in your Windows computer very easily.
Navigate to START>PROGRAMS>ACCESSORIES>SYSTEM TOOLS>DISK DEFRAGMENTER. As soon as you will click on Disk Degragmenter, it will show you how much your disks are fragmented. So, click on a Fragmented Disk and then click Defragment Disk. It's all. 🙂
10 Reasons Why Does Your Computer Become Too Slow – Check Out!
7. Format and re-install your operating system
Formatting and reinstalling your operating system may fix all the issues. Yes, many times it works like a charm. So, if your computer is freezing so often or arising not responding problem and any of the above tips is not working at all, you should format your disks and re-install the operating system. It may fix all the issues.
8. Downgrade to a lower operating system
If nothing helps, it means either you should downgrade your operating system to a lower level (e.g Windows 8 to Windows 7) or buy a new PC. This is because your computer specs may be too low to run the operating system at a satisfying level.
If you your PC has the minimum requirement to be able to run the desired operating system, it is most probably possible that it will start hanging soon. So, in this condition, you should downgrade your operating system level to keep your computer running perfectly without creating unnecessary problems.
Further Reading:
That's all guys! I hope you will find these tips very helpful to fix the freezing and not responding errors in your Windows computer. If you need further help, leave a comment below and I will get back to you asap.