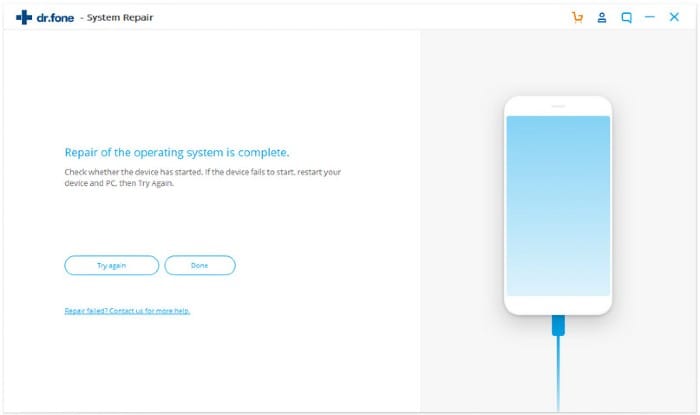 It always hurts when something bad happens with our devices. We all are very protective of our precious devices and data. When it's about the iPhone, we cannot really afford to lose it, right?
So, in this article, I'm going to talk about the most common problem iPhone users face i.e., iPhone's Black Screen. If your iPhone's screen is turned into the black screen of death, you would definitely be looking for a reliable solution.
And, to find out a solution, you must know what exactly the iPhone Black Screen is and its cause. Let me explain in short, the iPhone's black screen appears due to hardware and software-related issues.
Hardware issues happen because of any damage to a hardware component (most probably the screen) whereas a software issue could have happened if your phone has been affected by malware. A bad or corrupt update or unstable firmware can also cause the same problem.
So, if your phone's hardware is working absolutely fine and you're pretty sure that your iPhone's black screen is causing any software-related issue, I have a solid solution for you.
It's Dr. Fone – iOS System Repair, an iOS system recovery tool that lets you iPhone issues at home. It's a secure and reliable option to fix many kinds of issues related to an iOS device. Let's discuss it a bit.
Here's Why You Should Use Dr. Fone System Repair Tool
Dr. Fone – System Repair is a third-party tool that not only helps you fix the iPhone black screen but all kinds of iOS system issues and get your device back to normal. It's one of the most reliable solutions to repair your iOS system without losing any data.
Let me give you some of the best reasons why you should try Dr. Fone System repair tool for fixing issues with your iPhone.
1. Repair System Without Losing Data
When your iOS device starts having issues like black screen, boot loop, white screen, etc., iTunes restore is a general solution. But, this is only good if you've performed a backup because there's always a huge risk of losing your data with iTunes restore. But, with Dr. Fone System Repair, you can fix all your iOS system-related issues without putting your data at risk.
2. Easily Fix All Kinds of iOS Issues
Dr. Fone System Repair allows you to fix all the most common iOS issues, such as black screen, recovery mode issue, iPhone stuck on Apple logo, stuck DFU mode, iPhone frozen, boot loop, and many other issues. The best thing is that Dr. Fone made this process so easy that anyone can fix iOS like a pro without any special skills.
3. Downgrade iOS Without iTunes & Jailbreak
Downgrading iOS from iTunes is sometimes an annoying experience. There will always be a risk of data loss and jailbreaking the device. But, with Dr. Fone System Repair you will be able to downgrade iOS easily without any kind of data loss or jailbreaking your iOS device.
4. Trusted by 153+ Million Customers
This should be one of the most important reasons for using Dr. Fone – System Repair tool. When you realize that you're relying on a very reputed company, all the doubts and confusions fade away. With over 153 million customers, Dr. Fone is one of the most lovable software available on the Internet.
How to Fix iPhone Black Screen Using Dr. Fone System Repair?
Now, I hope you would now be pretty sure about using Dr. Fone System Repair to fix iPhone black screen issue. It is undoubtedly the most secure and reliable way to fix the iPhone black screen as well as many other kinds of issues with your iOS device.
It's time to know how Dr. Fone System Repair works and how you can fix your iPhone black screen using this tool. Since it's extremely simple to use Dr. Fone System Repair, you can easily fix the black screen of your iPhone by following the instructions below.
1. Download & Install Dr. Fone System Repair
The very first thing you need to do is download the Dr. Fone System Repair in your Mac / Windows computer and install it. To download it, visit this page, choose your operating system, and click the Download button.
2. Click on "System Repair" Option
Once it's downloaded and installed on your computer, launch it. On its welcome screen, you'll see different options to choose such as Screen Unlock, System Repair, Phone Backup, Data Eraser, etc. You need to click on the "System Repair" option.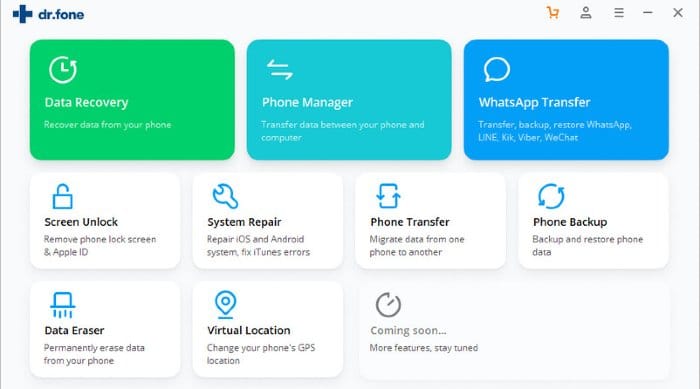 3. Connect iPhone with Computer
Now, it's time to connect your iPhone with the system using a USB or lightning cable and let it recognize your device. Once, your phone is detected by Dr. Fone, click on the "Standard Mode" to initiate the process.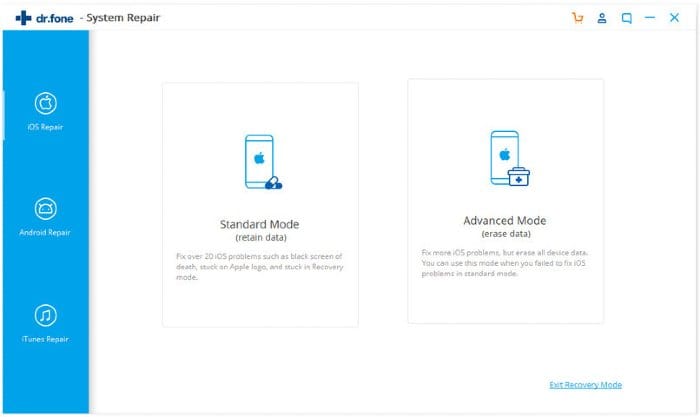 4. Provide the Basic Details
On the next screen, provide basic information about your phone (like device model and system version) and click on the "Start" button.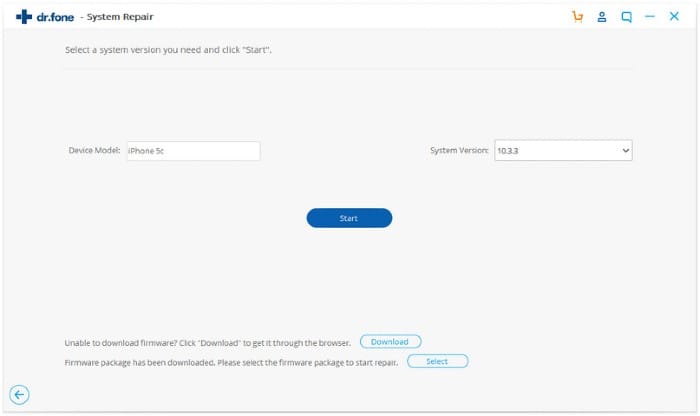 5. Automatic Firmware Update
As soon as you will click on the Start button, the software will start downloading the respective firmware update for your device. So, you just don't need to do anything, sit back and wait for its completion.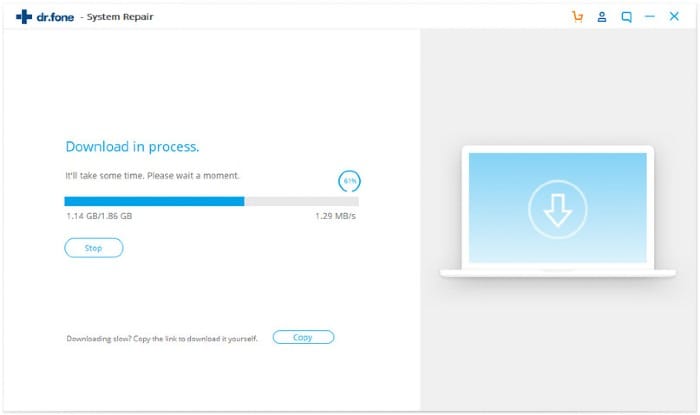 6. Fixing Will Start Automatically
Once the firmware update will be downloaded, the software will automatically start fixing your phone. You don't need to take any action. Just keep calm and wait for a while. All you need to make sure that your iPhone is connected to the computer during the process.
7. Safely Remove Your iPhone
And when it completes, the final screen will give you a message that says, "Check whether the device has started. If the device fails to start, restart your device and PC, then try again." So, if the overall process fixed your problem, click on Done and safely remove your phone.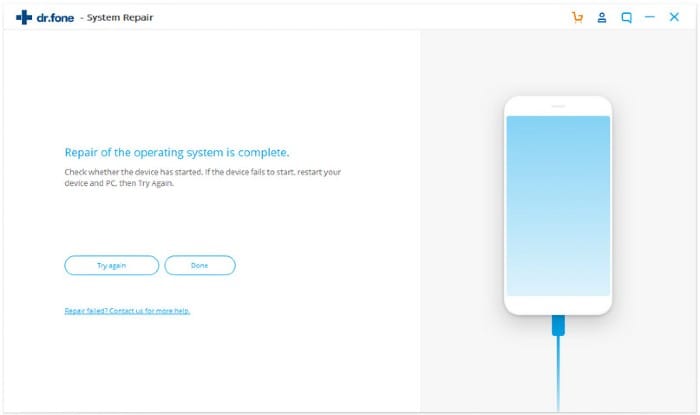 What Else?
Dr. Fone – System Repair is undoubtedly the best and most reliable method to fix the most common iOS issues including the black iPhone screen without data loss. You can still try to fix the iPhone black screen by restoring your iPhone with iTunes. But, before you proceed, you should know that with iTunes, your data will be lost.
If you think that the iPhone's black screen is due to a hardware-related issue, there's nothing much to do at home. You can only make sure that there is no issue with its battery and the charging port by charging your device. But, if nothing works, you should visit your nearby Apple Store or an Apple repairing center and get your iPhone checked for detecting and replacing the malfunctioning part.
To avoid the iPhone black screen and other similar issues in the future, you should always take some important steps such as, always keep a battery health check, installing third-party apps only from reliable sources, timely scan your device for viruses, avoid jailbreaking the device, etc.