Are you worried about backup of your phone contacts on your iPhone and iPad? Then here's the fantastic article for you. I'm going to show some free iPhone apps to backup your phone contacts instantly.
So, don't worry about losing the phone contacts mistakenly because these amazing and free iPhone apps will let you keep the backup of almost all the iPhone data including your phone contacts.
Free iPhone Apps To Backup Contacts
Now, here's the list of free iPhone apps that will help you backup your iPhone contacts. So, learn about these apps, their features and follow the link to install any of them on your device.
Your contacts are the most important data in your phone which may be lost in seconds. Easy Backup keeps your contacts in a safe place. It is a free iPhone app which is available in 15 different languages.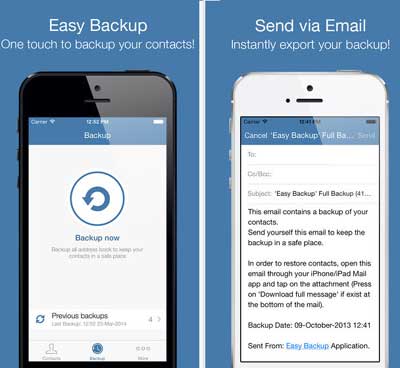 Its main features:
Backup your contacts with one tap.
Send back to your email
Restore contacts easily from any iOS device
This iPhone app requires iOS version 6 or later. It is compatible with iPhone, iPad, and iPod touch and optimized for iPhone 5.
This is another free iOS app to send your contacts backup to yourself. It means, this app helps you to backup your phone contacts very simply. My Contacts Backup is the easiest way to backup and restore your contacts all from your phone without needing a computer or synchronization. You can backup all your contacts with a single touch and send them to yourself as a .vcf attachment via email.
Some of its important features are here-
Offline Backup
No need to sync to any server
Easy restore
Just email backup file to yourself
Set reminder to backup regularly
More..
This app is designed for both iPhone and iPad and requires iOS version 7.0 or later. It is also compatible with iPhone, iPad and iPod Touch and optimized for iPhone 5 too.
IDrive Online Backup is a free and best iPhone app for syncing, backing up, finding and sharing contacts anywhere. It is easy to use app that combines your multiple address books with your iPhone/iPad contacts & delivers your entire contact network right to your iOS device.
It has some great following features:
Backup and restore contacts, photos, videos, and calendars
Easily sync files between all linked devices
Access data from anywhere
Backup and restore selected files
Share files and folders through a secure link
Private key encryption
Lock app with a passcode
Unlink lost of stolen devices.
So, this is one of the best iPhone apps to securely backup your contacts as well as other data with private key encryption which is the highest level of security so that only you can access the files.
Lookout is a free backup and security app that enables you to find your iPhone, Pad and iPod Touch. It also helps you to backup your contacts automatically. In the other words, Lookout is the best way to protect your precious iOS device from data loss, theft and other threats that put your personal information at risk.
Some amazing features of this app:
Backs up your contacts automatically
Automatically saves your device's location before it runs out of battery
Locates your lost device from anywhere, on any internet connected device
Notifies you if you have an out-of-date or insecure version of iOS
After looking out these features, I'm really shocked that how it can be available for free! This app requires iOS 6.0 or later. It is compatible with iPhone, iPad, and iPod touch. This app is optimized for iPhone 5.
Further Reading:
So guys, these are the best iPhone apps to help you keep the backup your iPhone contacts. Any other app that I missed here? Let me know via comments!