[Published on: Apr 17, 2014]  You'll be happy to hear that our loving and popular email service Gmail added a new fantastic feature that enables the user to insert and send multiple photos and photo albums instantly and interestingly. For me, Google made my day and I really appreciated this feature because I had been searching it for a long time. Are you also?
Never before but now, you can also insert pictures from any web address (URL). Today I tried it and felt that it is very fast, as you paste or enter the image URL, it instantly show the image and ask you to insert it to the message.
As you choose this Insert Photo feature to insert the photos or album, it shows your Google Plus photos and albums. You can select any of them to insert into the post. You can also insert photos from your computer like before.
How To Insert Photo Album Into Message
It is very easy to insert photo album into your Gmail message. Have a look on the following basic steps-
Log in to your Gmail account and Click on Compose.
Now, in the compose message box, move cursor to the + sign and you'll see Insert Photo option just after the "Insert files using drive" option.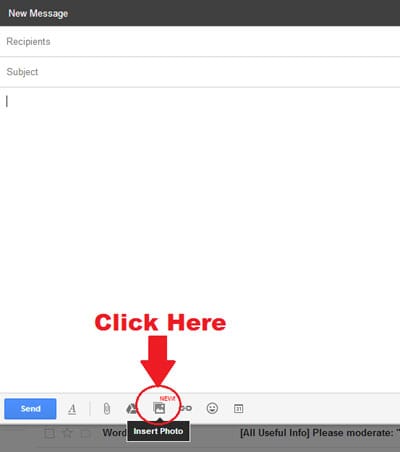 As you click on it, you'll see your Google Plus photos and albums. So, to create and insert photos and albums just select the photos by checking them one after another.
That's all guys, after selecting the photos, just click on Insert to insert them into your message.
How To Insert Image From Web Image URL
In the just above picture you can see the tab of Web Address (URL) for inserting image. So, to insert image from any web address, follow the under given steps-
First of all, right click on image you want to insert and click on copy image url.
Now, the image URL has copied, just click on the Web Address (URL) tab and paste the image URL. The image will be shown in front of you. Just Click on Insert to insert the image into message.
That's all, I hope you will also like this facility of Google. So, start importing your Google Plus and other web based photos into your Gmail messages very frequently and interestingly.