Email service has now been most popular in all over the world. Everyone is using this technology to send and receive emails. It is the best and free way to transfer information from source to destination. There are many affiliated companies like Yahoo, Google that provide electronic mail service. Many of my friends (including me) have a Gmail account. One of my friends was receiving emails from an unknown person and it was very essential to collect some information about the sender to reply to his/her message. So, he asked me, "how to find the location of Gmail sender?"
I searched and found 5 best and effective tricks to find the location of the email-sender in Gmail. It is really important to find the location of the email sender when you don't know anything about him/her. Here are 5 excellent ways to find the location of Gmail sender. You can choose one of them which is suitable for you.
Have a serious look on these tricks:
Trick #1: Find Location Using IP Address
If you find the accurate location of the Gmail sender, this is very helpful to you. This trick provides you the way to find the location of the email sender in Gmail using the IP address included in almost every Gmail message. So, everyone, don't be anxious! Read this trick comfortably.
What to do:
Open the sender's message in Gmail and Click on Show Original like the following picture.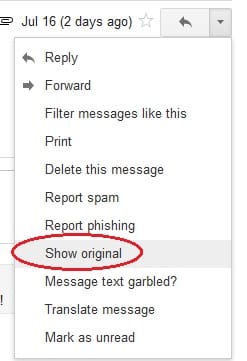 Now, in the new tab search for the line Received: from. In this line you'll see an IPV4 address of sender's computer.
Now, Go to Wolfram Alpha and paste the IP address in the Wolfram bar.
It is very easy and I sure you'll successfully find the location of the Gmail sender.
Trick #2: Find The Current Time Of Message Received
This is another trick to find the location of the Gmail sender. It is also very easy. In this trick, you need to find the time of mail received from the sender. This way is not more accurate as above but you can find similar results.
What to do:
Open sender mail and Click on the Show Details button below the sender's name.

Now Go to Time Zone Map and Enter the time of sender mail received as in the above image.
This map will show you the countries and cities of the related time zone. mane time it may also happen that you'll see various cities and countries for your entered time zone. That's why it is not more accurate.
Trick #3: Give A Facebook Search Of Sender's Email
Today thousands of people are connected with Facebook from every corner of the world. So, I think the person messaged you may be available on Facebook. You can find the sender's location as well as other information about the sender.
What to do –
Copy the email address of the Gmail sender and Log into your Facebook account.
Now, paste it in your Facebook search bar.
If any people exist on Facebook with the same email address, Facebook shows his profile in front of you. You can get the location and other info of that person by viewing his profile.
Trick #4: Search Email For All Social Profiles At Once
If you do not find any result by searching on Facebook, you can search for email for all social profiles at once. Here is a website where you can search a username or email to find whether this email is available in any of the social networks or not.
What to do –
If the sender's email is [email protected], use the term john_jemi to search and Go to KnowEm.
Now, use that term in the search bar and you may find profiles having that username.
Go to that profile and find the details including location.
This website enables you to search over 550 popular social networks. Try this. I hope it'll work.
Trick #5: Reverse Email Search
It is the best and free solution for all problems generated in the above tricks. I've two great websites where you can search for a name, email, or phone and you'll surely get perfect results.
Pipl : Go to this website and enter the sender's complete email address and you'll 100% find the places where that email has been used any more.
Spokio : Here you can also enter the sender's email id and get the related searches for that email. By clicking on the appropriate result, you can find the location as well as other details about that person belonging to that email.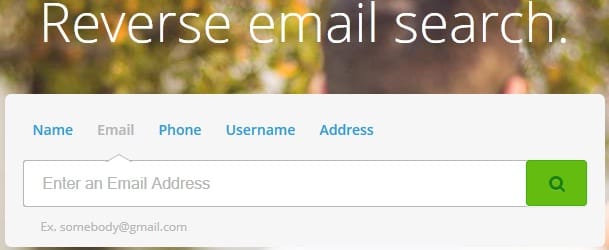 So, this is how you can find the location of the email sender in Gmail using these top 5 free and best tricks to find the location of the email sender in Gmail. I hope these tips will surely work for you.
More for Gmail Users: