Internal memory of the phone plays very important role to keep your phone run smoothly. I mean to say the more you will keep your phone's memory free, the better performance of your smartphone will be.  So, it's very necessary to keep your phone's memory free and clearing the cache is the best way to free up the memory. In this post, I will guide you how to clear your Android phone's waste cache stored in form of junk files and folders.
In my one of previous article, I wrote 2 best methods to keep phone's memory free and clearing the Android phone cache is one of them. So, this article will guide how you can clear the Android phone cache easily.
Here's How to Clear the Android Phone Cache
There are two different ways to clear cache in Android phone. You can either clear cache for individual apps one by one or do it at once for whole device. I will guide you for both methods.
Clear Android Cache for Individual Apps
To clear cache for different Android apps in your smartphone, you need to go to Settings > Application Manager and tap on the app whose cache you want to clear. Here, you will find the Clear cache button and once you will tap on it, the cache for the same app will be cleared. It's that simple!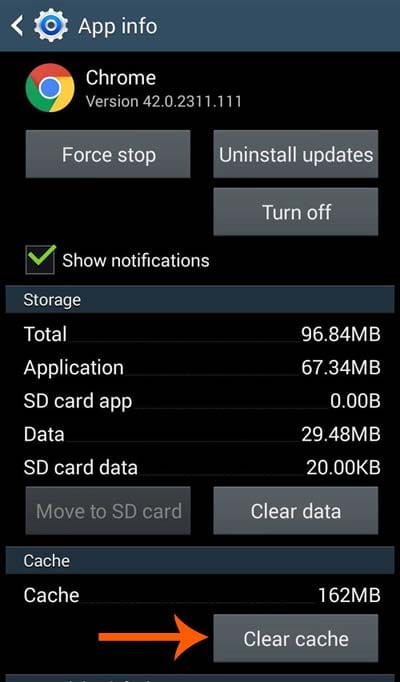 But, if your phone is slow and want to clear the whole phone cache, this procedure might be lengthy. So, you should use the following method to clear the whole Android phone cache at once.
Clear the Whole Android Phone Cache at Once
You can clear the whole Android phone cache at once to free up your memory from junk files and folders stored in form of cache.
To clear the smartphone cache go to Settings > Storage and here you will see the Cached Data option with the calculation of how much data is cached. Now, you need to tap on Cached Data option and again tap on Yes on the confirmation message.
That's all. It will clear the cache of your Android phone and will free up your memory. In the above screenshot, my Android phone phone memory was full of more than 800 MB cached data (garbage) but I removed that using aforementioned method and increase the size of memory.
FURTHER READING:
Let me know if you feel any problem in clearing the cache of your Android phone. Or you can freely ask any related question, I will be happy to give you quick answers.