You would know that a few days ago I've published an article on how to conduct opinion polls on Google plus and while publishing that article I was thinking that people spend more time on Facebook as compared to Google plus so why people don't publish polls there. In fact, on my timeline, I never seen any opinion poll. So, I noticed that is there any option for publishing polls on Facebook and found no option provided by Facebook. However, Facebook gives an option to create question polls on groups but not directly on the timeline. But still you can create and post opinion polls on your Facebook timeline.
Honestly, a Facebook app enables you to create and post opinion polls on your Facebook timeline so that you can collect the responses for your poll. So, get ready to start creating opinion polls for your Facebook friends!
How to Create & Post Opinion Polls on Facebook
The first steps is to login your Facebook account and then visit the app > https://apps.facebook.com/my-polls/start. Here you need to enter a poll title and click on Questions.
Now in the Questions section, click on Add Question and a popup will open in front of you. Actually, the popup is for choosing a polling question and the Answer Choices. At last, save the changes.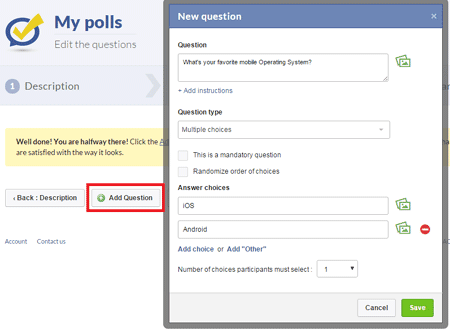 After saving the question, your poll question will be shown in front of you. Next, you will have to click on Share to get the share link for your poll.
Finally, copy the share URL and paste it to your Facebook timeline. By clicking this URL, your friends will be able to vote for your questions. The responses on your polls you can see under Results by visiting the app again.
Creating Question Polls on a Facebook Group
In the above lines, I've told you how to create opinion poll on your Facebook timeline for your friends. However Facebook doesn't provide any option for that so I've told you about a Facebook app to post opinion polls and get responses from your friends.
In case of a Facebook group, you don't need any app, I mean there is a built in option to post objective type questions and get responses from group members.
So, to start posting opinion polls on a Facebook group, look for Ask Question option on the status box inside the group. Now type your question in the box, add options and post.
Further Reading:
I think the article will be helpful for you to post opinion polls on Facebook. But, I again tell you that there is no option provided by Facebook to create opinion polls on your timeline and therefore in that case the above mentioned Facebook app will help you to do so.