You would know very well that how important it is to keep the complete backup of our website that includes all the important files stored on your server and the SQL database. As previously I told you how can you download your website database into PC, so today I will tell you the easiest method of downloading your website files into your PC.
So, if you feel lots of problems in downloading your website files from your server, this article is the great solution for you. Here, truly I will tell you how to download website files using FileZilla and I'm sure you'll find it very simple and hassle free.
FileZilla is free, cross-platform FTP application software, consisting of FileZilla Client and FileZilla Server. It is one of the widely use software for downloading important website files from web server.
How to Download Website Files into PC Using FileZilla
Now, it's time to learn, how to download website files into computer using FileZilla. So, first of all make sure that you've downloaded and instaled the FileZilla server on your computer. If not, just visit HERE and download and install FileZilla in your PC.
After you downloaded and installed the FileZilla, open it in your computer. Now, you will be needed to enter the following details to access your web server.
Host: Enter your website URL in this field, e.g. example.com
Username: Enter your cPanel username
Password: Enter cPanel password.
It's all. Finally, click on Quickconnect button to connect with your hosting server (where your website files are stored).
Once you're connected with your web server, it will start showing server files in Remote Site section (Right hand side). Look for the folder named public_html or www and then right click on any of them and select download.
For your information, both of these folders contain all your website files. So, you can download any of these two folders in your computer.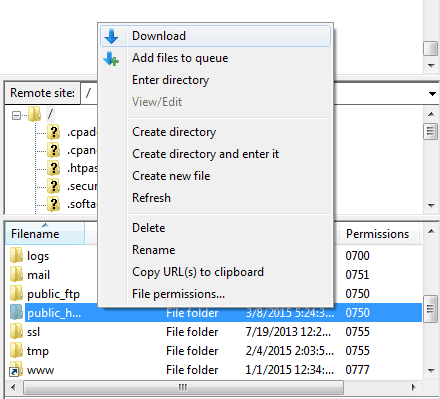 Further Reading:
That's all friends! As soon as you will click on Download, it will start downloading all the files contained in this folder. If you wanna download any specific file of your website, then go inside this folder and look for the file you wanna download, once you find the file, right click on it and click on download. It's that easy!