For a last few days I was having a surprising problem with my Android phone i.e the Untrusted Certificate Error! I was seeing the untrusted certificate error on my Android phone at the time of web browsing. I tried browsing different websites even Facebook and Twitter but still I was seeing the same error that was saying "The site's security certificate is not trusted!".
Usually this error comes when the website's security certificate is expired but that's not possible with most trusted websites like Facebook and Twitter. So, I thought that it's really something happening only to me and started finding out the solution.
That's not the only problem. In fact, at that time I was unable to enter Play Store to install apps in my device, unable to send emails, and even unable to browse social networking services like Facebook and Twitter. So, it was really a worth thinking matter for me.
Many times I thought that it's a virus attack on my phone or it's hacking attack. I thought somebody is trying to remotely control my phone and blocking me from doing things on my phone, and etc. etc.
But, when I searched on Google about the problem I found that it's not my own problem in fact many people are also having the same issue and on different operating systems such as iOS, Android etc. And there are different solutions available on the web but nothing worked for me.
But, you will be surprised to know that with a simplest task I fixed out the problem in my Android! Here I will tell you how I fixed the untrusted certificate error in my Android phone.
How I Fixed the SSL Error or Invalid Security Certificate Problem
Before telling you how I fixed this problem, let me tell you how or when this SSL Error entered my Android phone or what's the reason of this strange problem!
Reason of Getting SSL Errors on my Android
The reason behind this strange problem was incorrect date or time in my Android phone. The reason seems quite strange but its true. If your device's date and time is not correct, you might face this strange problem.
One day, I changed the SIM card in my Android phone many times and Automatic Date & Time feature was not enabled. So, due to changing the date and time in my Android phone I was start having the problem.
So, in simple words, if your mobile's time and date is not correct you might face this problem.
Here's the Simplest Solution to Invalid Certificate Problem
However, till now you would know the solution of the problem as I already disclosed the reason behind it. Let me tell you how I fixed the problem:
I randomly checked out that my date and time is incorrect and corrected them via Android phone settings. To correct your Android phone date and time settings, just go to Settings > Date and time and here you will be able to setup correct time. It's recommended for you to enable the Automatic Date and Time feature, because it will automatically update the time and date settings every time you will remove the battery for any reason.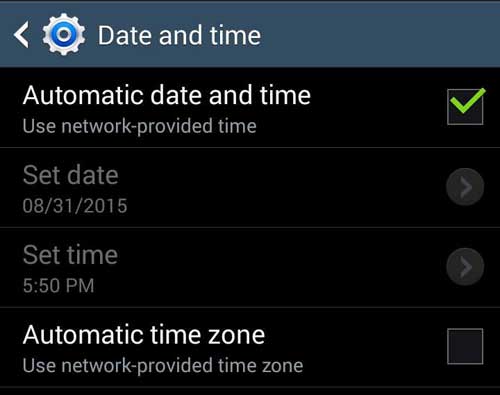 FURTHER READING:
That's all! This method helped me and fixed the problem of untrusted certificate error in my Android phone. I hope it will work for you too. Let me know whether it works for not.