If you use WhatsApp, then you all would be familiar with its last seen feature. This last seen feature tells your friends and relatives that when last time you seen his/her message on WhatsApp. So, many times you wouldn't want to disclose this last seen timestamp to your friends and wanna hide this fact that you seen his message. To do so, you can hide or disable last seen feature from WhatsApp privacy settings.
So, with the help of this article you'll learn, how to hide or disable Last Seen on WhatsApp very simply to maintain your privacy of availability on WhatsApp. In other words, you can say that privately access WhatsApp and read chat messages without notifying your friends about your last seen of their messages.
How to Hide Last Seen on WhatsApp
Now, without taking your more time, I'm moving on the steps to make you learn that how can you disable last seen time stamp on WhatsApp.
So, look at the following steps to disable last seen feature on WhatsApp:
STEP 1: Open WhatsApp and tap on the Options button and select Settings.
STEP 2: In the next screen, tap on Account to browse account settings.
STEP 3: Now, tap on Privacy in this step and move on the final step.
STEP 4: Finally, tap on Last Seen and it will instantly show a pop up. Initially it is set up for Everyone. So, tap on Nobody to hide or disable last seen feature.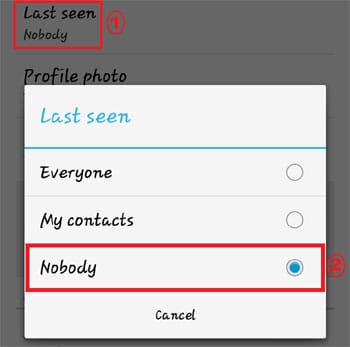 More WhatsApp Tips:
That's all, from now nobody will be able to see your last seen after applying these steps carefully. But one thing you should notice before disabling last seen on WhatsApp is that if you don't share your Last Seen with others, then you won't be able to see other people's Last Seen. So, if you agree about this commitment, then apply the above steps to hide or disable your Last Seen from others on WhatsApp.